9-Line Prediction: BYU v. UNLV
Updated: November 10, 2017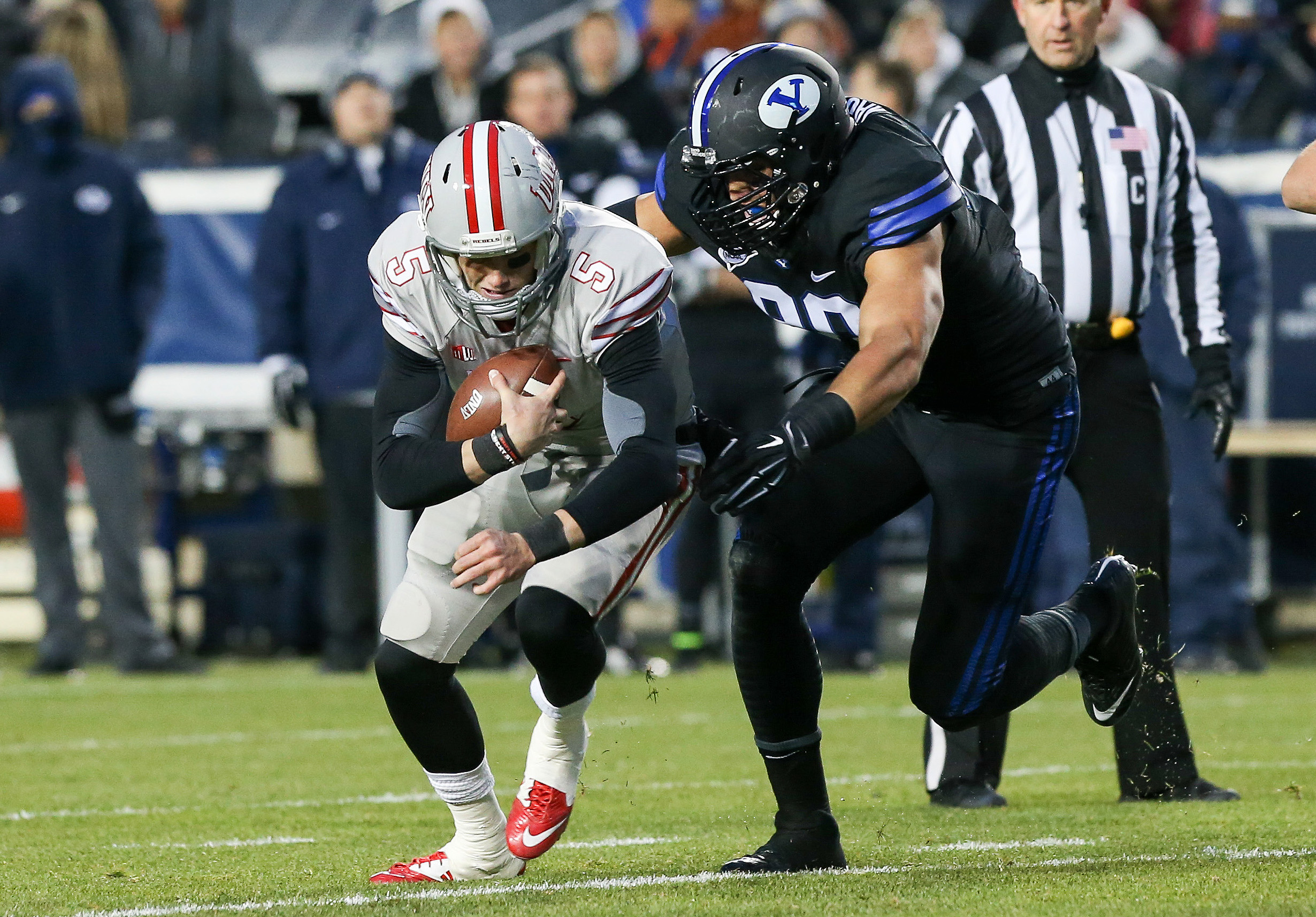 Loyal Cougars Editor Brandon Jones previews tonight's game against UNLV with the LC 9-line Prediction: nine specific predictions presented as over-under betting lines.
Game Capsule
BYU Cougars (2-8) vs. UNLV Rebels (4-5)
Sam Boyd Stadium, Las Vegas, Nevada
Kickoff Time: Friday, November 10, 2017, 7:30pm PST
TV: ESPN2 (Adam Amin/Dusty Dvoracek/Molly McGrath), BYUtv Countdown to Kickoff (Dave McCann/Blaine Fowler) 7:30pm MST
Radio: Nuskin Cougar Sports Network (Greg Wrubell/Marc Lyons/Nate Meikle): Sirius XM 143, KSL 1160 AM and 102.7 FM, and online at BYUcougars.com
BYU Game Notes, UNLV Game Notes
9-Line Predictions
Last week (v. Fresno State): 6-3
Overall Record (through 10 games): 47-40-3
With bowl eligibility off the table, BYU is out to prove itself better than the rankings indicate. The Cougars are also playing to send the seniors out on a relatively high note and to get some quality game reps for the underclassmen players in preparation for 2018. A road game against a UNLV team coming off wins at Fresno State and against Hawaii should give the Cougars the perfect opportunity to reach those goals. Tonight's game is the most challenging remaining on the Cougars' schedule, with the Rebels ranked 104th in the Sagarin poll, 100th in the S&P+ rankings, and 104th in ESPN's Football Power Index (compared against BYU's rankings of 117th, 111th, and 95th respectively in those rankings). ESPN has basically declared the game a toss-up, giving BYU a 48% chance of winning. Without further delay, here are nine statistics to watch for in tonight's nationally-televised game:
UNLV Rushing Yards – LINE: 210 – UNLV's rushing attack ranks 13th in the country, running for more than 250 yards per game. BYU's run defense is ranked 67th, allowing only 170 yards per game on the ground. The Cougars will need a big game from the front seven to keep the scoring low and allow the offense to play its game and not divert too much from the offensive game plan. BYU has held its last three opponents under 150 yards on the ground.  UNDER
BYU Rushing Yards – LINE: 165 – UNLV has seen a lot of rushing yards racked up in its games this season: on average, the Rebels and their opponents have run for 475 yards per game. UNLV's run defense is as bad as its run offense is good ranking 119th in FBS allowing 223 rushing yards per game. BYU's rushing attack, though improved, still only averages 110 yards per game on the ground (10th-lowest in the nation). With Tolutau absent again, BYU will need big numbers from Squally Canada, Brayden El-Bakri, KJ Hall (who is expected to play a few snaps), Austin Kafentzis, and Riley Burt to help the team win with a new starter under center. We're not expecting much through the air, and UNLV's defense does tend to give up some big numbers on the ground, so that's where the gains will need to come from to get BYU to 3-8 tonight.  OVER
Turnover Margin – LINE: UNLV wins by 0.5 – UNLV comes into tonight's game with the 30th-best turnover margin in the country, averaging a +0.44 per game. The Rebel defense has taken the ball away 16 times, 31st-most among all FBS teams. UNLV's offense has yielded 12 turnovers, which is not horrible at 46th-lowest. In contrast, BYU ranks 112th in turnover margin (-0.7), 51st in takeaways (14), and 122nd in giveaways (21). To win tonight, BYU may need to flip the stats and win the turnover margin: the Cougars are 0-7 when tying and/or losing the turnover margin this season.  UNDER (BYU win/tie the TO Margin)
BYU Passing Yards – LINE: 200 – Tonight's game features two bad passing offenses against two average passing defenses. BYU's offense averages 195 passing yards per game (ranked 90th) and a 105.7 pass efficiency (ranked 119th). UNLV's defense allows 242 passing yards per game (ranked 86th) and a pass efficiency of 136.1 (ranked 88th). Without Tanner Mangum, BYU will likely have a hard time continuing the streak of 200-yard passing games which currently sits at three.  UNDER
UNLV Passing Yards – LINE: 200 – UNLV has passed for even fewer yards than BYU this season; the Rebels' 172 passing yards per game and 117.5 passer rating rank them 106th and 104th respectively in college football. On the other hand, BYU's pass defense looks slightly better than UNLV's on paper, with the Cougars giving up 212 passing yards per game (ranked 54th) and a pass efficiency of 141.7 (ranked 101st). The Cougar secondary needs to hold the Rebels in check through the air and limit big plays to get the run-heavy Rebel offense off the field and keep the scoring low tonight.  UNDER
BYU 3rd Down Conversion Rate – LINE: 40% – A key match-up to watch tonight will be BYU's 101st-ranked 3rd Down offense (35.6%) against UNLV's 104th-ranked 3rd Down defense (44.4%). The difficulty for the Cougars in 2017 (especially without Tanner Mangum and/or Ula Tolutau) has been getting enough positive yards on first and second downs to create shorter distances on 3rd downs and give the offense a better chance at converting for first downs. Last week, BYU's average distance-to-go on 3rd Down was 5.86 yards, the second-lowest of the season for the Cougars. As a result, BYU was able to convert a season-high 50% (7-of-14) on 3rd Down. The offensive line will play a big role in opening holes for BYU backs and gaining yards on early downs to help bring up 3rd-and-short opportunities that Joe Critchlow can convert at a higher rate.  OVER
BYU 4th Down Conversion Rate – LINE: 50% – In a close game (like I expect to see tonight), 4th Down conversions can make the difference between a win and a loss. BYU's two failed 4th Down attempts last week played a big role in flipping the game in Fresno State's favor. In a field position battle, the loss of those 40 punt yards can be huge. BYU's 4th Down rate of 22% (4-for-18) is the 6th-worst rate in the nation. In contrast, UNLV has converted a 21st-best 64%, 9 of its 14 4th Down attempts. BYU will have a hard time getting a win tonight in a close game without converting half of its 4th Down attempts.  UNDER
Total Points – LINE: 49.5 – The combined over/under and spread would yield a final score of somewhere in the range of 27-23 in favor of the Rebels. With BYU experiencing further discontinuity at the QB position, I think the Cougar offense will again have difficulty scoring points, unless the defense or run game steps up huge. I think BYU's defense will play well, setting this game up as another low-scoring event.  UNDER
LINE: UNLV -4.5 – BYU COVER – With little left to play for other than pride, and the Rebels still hoping for six wins and a bowl game, a road game to Vegas will be a difficult task for the Cougars. And since there's not a lot of bright spots left for this season, I'm going to predict a close Cougar victory tonight.  BYU 20, UNLV 17
What do you think? Pick against the lines for yourself and let me know how you did. You can use the comment section below or join the discussion on Cougarboard.
Depth Chart/Roster
Lastly, here is a look at the projected Depth Chart for tonight's game.
You can download the JPG and PDF versions of the latest Depth Chart, as well as a current roster, at the following location:
https://www.loyalcougars.com/football-roster/depth-chart/
Go Cougs!