BYU Depth Chart/Injury Report – Week 1: at Virginia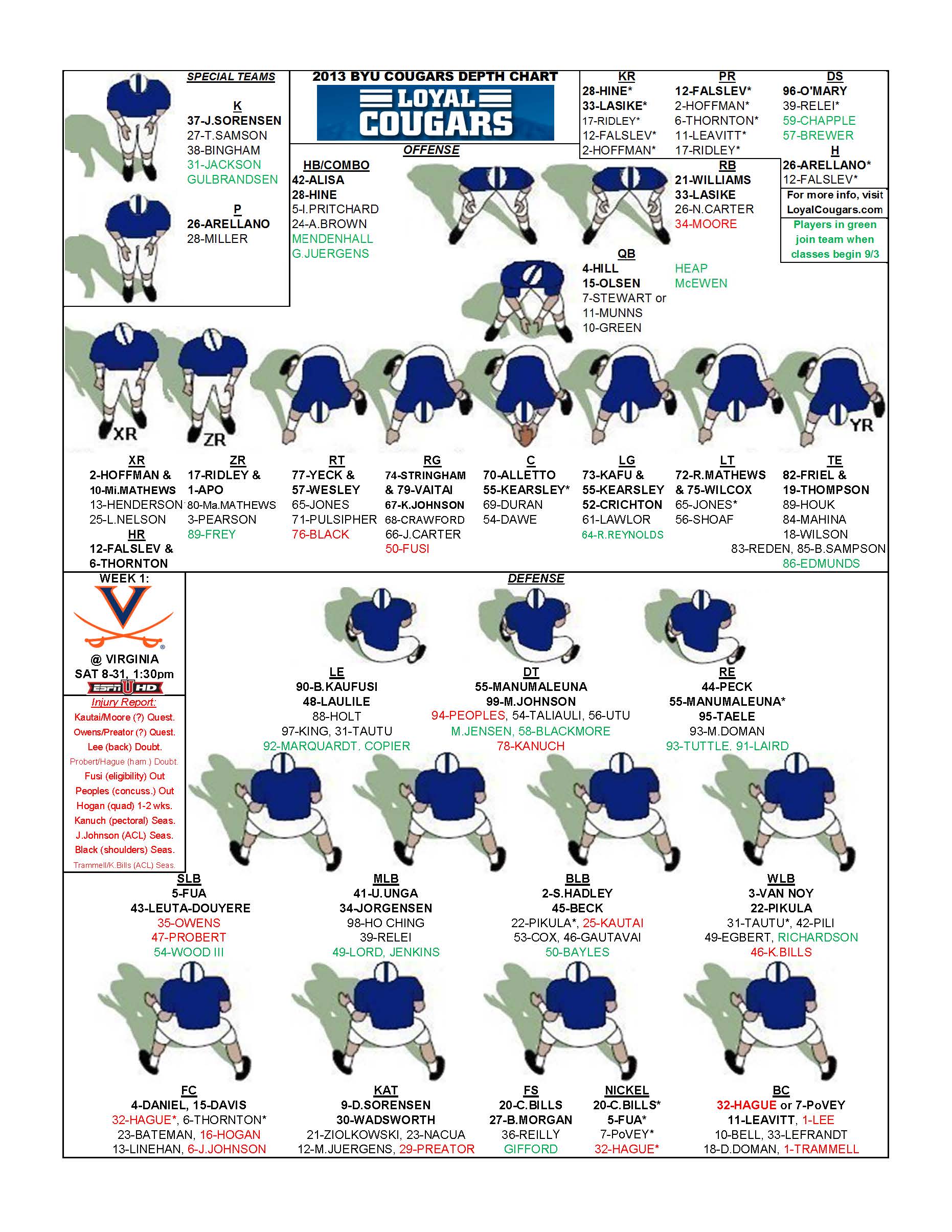 Review the Depth Chart and Injury Report in preparation for BYU's season opener.
How can we expect Game reps to be distributed?
Offense: We would expect Terry Alletto and Taysom Hill to get most (if not all) of the reps at Center and Quarterback respectively, with the exception being a garbage-time situation. At the other O-Line and Wide Receiver positions, we expect a near 60/40 distribution of reps between the first- and second-string players, varying slightly from position to position based on the players' ability to endure the go fast/go hard pace, the separation in talent and system knowledge between #1/#2, and in-game performance.  Expect the Running Back starters (Jamaal Williams and Michael Alisa) to get a slightly higher distribution of reps (70/30). It remains to be seen how the Tight End position will be used, but if Fall Camp was any indication, we may see a mixture of all the guys who traveled with the team: Brett Thompson, Kaneakua Friel, Devin Mahina, Richard Wilson, and Terenn Houk.
Defense: We should see the starters in the secondary getting most of the game reps (the Cornerbacks due to lack of experienced depth and the Safeties due to the difficulty of matching the talent level of the starters). Unless Virginia's passing game proves more effective than expected, we likely won't see a lot of nickel looks from this BYU defense. Also, due to the strength at linebacker, we may see a lot of 2-5 formations with the four LB starters joined on the field by Tyler Beck. We're likely to see a healthy rotation along the defensive front, with Marques Johnson, Tomasi Laulile, and Logan Taele receiving a solid dose of playing time. We anticipate significantly less reps to go to the other LB backups (Manoa Pikula, Jherremya Leuta-Douyere, and Austen Jorgensen).
Special Teams: Barring disastrous performances by the starters, don't expect to see many changes to this unit. Justin Sorensen will handle all placekicking duties, while Scott Arellano will take care of the holding. Arellano will also do all the punting, with Kevin O'Mary as the Deep Snapper. JD Falslev should be the primary Punt and Kick Returner, with Paul Lasike as the secondary Kick Returner.
Injury Report
Questionable: LB Teu Kautai (unspecified injury), RB A.J. Moore (unspecified), LB Joey Owens (unspecified), DB (unspecified)
Doubtful: DB Sam Lee (back), DB Mike Hague (hamstring), LB Seth Probert (concussion)
Out for this week: Edward Fusi (eligibility), JonRyheem Peoples (concussion), Adam Hogan (quad – out 1-2 more weeks)
Out for the season: OL Jordan Black (shoulders), DB Trenton Trammell (ACL), LB Kevan Bills (ACL), DB Jordan Johnson (ACL), DL Tuni Kanuch (pectoral)
Please comment below if you have any questions/comments/corrections or e-mail us here. You can view the Depth Chart at any time by following the "Depth Chart" link in the "FYI" tab. From that page, you can download a PDF document that you can print for your use while watching the game.