Who's fast in 2013? A quick look at Thursday's games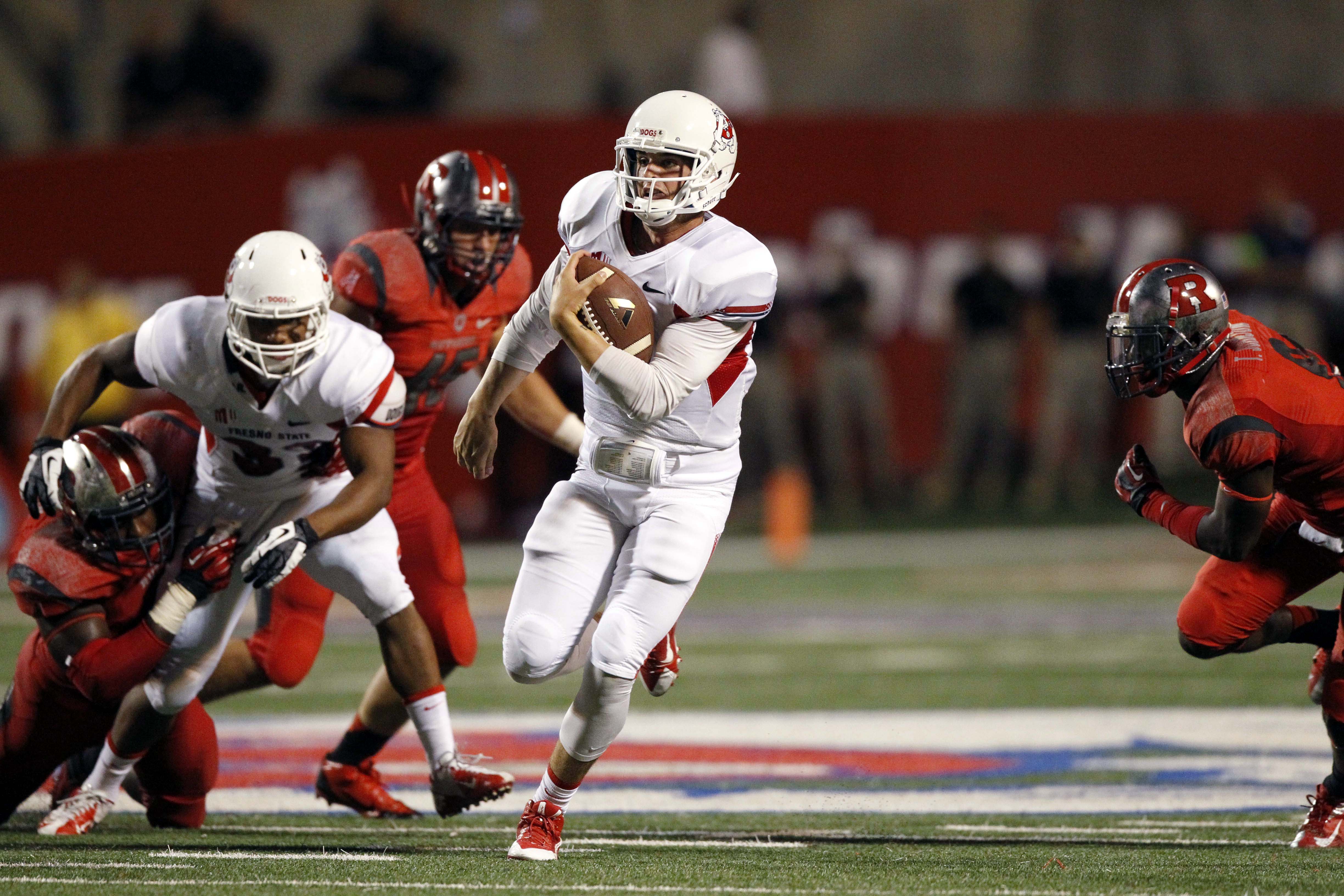 Examining Thursday's games to learn lessons about what it means to go fast on offense.
As the 2013 college football season begins, there are many teams that claim they want to go fast on offense. We got a glimpse of some of those teams on Thursday night and the results were mixed.  Here are some bullet point thoughts on the four games I saw either in part or in their entirety.
Utah vs Utah State
Both teams claimed they want to got faster on offense. USU ended up running 79 plays and Utah ran 72. So while neither was blazingly fast, both moved along at a brisk clip. USU had more yards and more first downs.
Both teams gave up two turnovers. In the end it was the USU penalties and a crafty onside kick from Utah that seemed make the difference in this one.
There is no question that the brisk pace of play and the mobile quarterback put a lot of pressure on both defenses. Even good defenses have trouble with that combo.
South Carolina vs North Carolina
The Tarheels are a fast paced team but that pace didn't make up for the talent difference in this game. The slower, more efficient offense dominated this game.
UNC ran 79 plays to USC's 59 plays. Yet the Tarheels had only 293 total yards compared to 406 from South Carolina.
The one thing the UNC fast offense did accomplish was to nearly completely neutralize superstar defensive lineman, Jadeveon Clowney. The big guy was so gassed that he became useless.
We see from this game that speed without efficiency is useless. Gotta have both to put points up. UNC's -2 turnover margin and paltry 3.7 yards per play did their offense in.
Vanderbilt vs Ole Miss
Ole Miss kept the pace high in this barn burner of a game with a healthy 84 plays for 489 total yards. Vandy's pace was more mellow at 69 plays for 426 yards.
Despite a -4 turnover margin Vandy kept this game tight with more efficient offense and by building up a 1st half lead. But Ole Miss sealed the win with a late long TD run.
This game served as a nice advertisement for a fast offense because the pace of play seemed to increasingly wear the Vandy defense down. Ole Miss used that fatigue to pull ahead for the win in the waning minutes of the game.
Fresno State vs Rutgers
Of the teams I saw last night, Fresno State was the most committed to going fast. The Bulldogs ran a surprising 97 total plays in the game. And lest you think that was because of the overtime, the Bulldogs scored in one play of OT so the play count was already in the mid 90s in regulation.
Part of the reason Fresno was able to run nearly 100 offensive plays was because they threw the ball 74 times so the game clock was constantly stopping for either first downs or incompletions
There is no doubt that running 90+ plays on offense was hard on the Rutgers defense. But the overall pace of the game was hard on the Fresno defense as well as Rutgers ran a relatively high 73 plays and was fairly efficient on offense. While the Bulldogs put up 52 points, they also gave up 51.
Thoughts Heading Into BYU's Opener
Lots of teams claim they want to move at a fast pace, but few prepare to actually pull it off. Last year BYU claimed they wanted to go fast, but in reality we mostly saw a few spurts of quick play mixed in with stretches of leisurely pace. This year, Robert Anae intends to be at a pace more like Fresno State — with 90+ plays per game — than these kinda quick teams that run 70-something plays. Based on my observations last night, there are a few good things about moving at a breakneck pace every offensive series:
Consistently going fast will probably lead to a bunch of BYU points. It is hard to stay fast consistently but even harder to defend it.
A fast pace wears defensive lines out fast. Good news for the BYU offensive line.
Consistently fast-paced play will likely neutralize defensive beasts like Jadeveon Clowney. They can't crush you if they are too tired to catch you.
The risks are pretty clear too:
If you are wearing out their defense, your defense might be wearing out too if you are leaving them on the the field a lot. It takes a very good and very well-conditioned defense to keep up with an offense that is truly committed to consistently fast play.
Fast play can lead to mental mistakes. If turnovers and penalties mount, most of the benefits of speed will be counteracted.
Overall, I came away from night one of 2013 college football as excited as ever for BYU's new Go Fast, Go Hard offense. I think the BYU coaching staff has both the offense and defense prepared to actually pull this off. If that really is the case, Virginia might be finding themselves stepping in to a buzz saw on Saturday.
What do you think? Any benefits or risks of Go Fast, Go Hard that I missed here? Did you see anything in the games Thursday that excited or scared you about the new strategy?  Comment below.