Road Trip Review: Virginia
Updated: September 3, 2013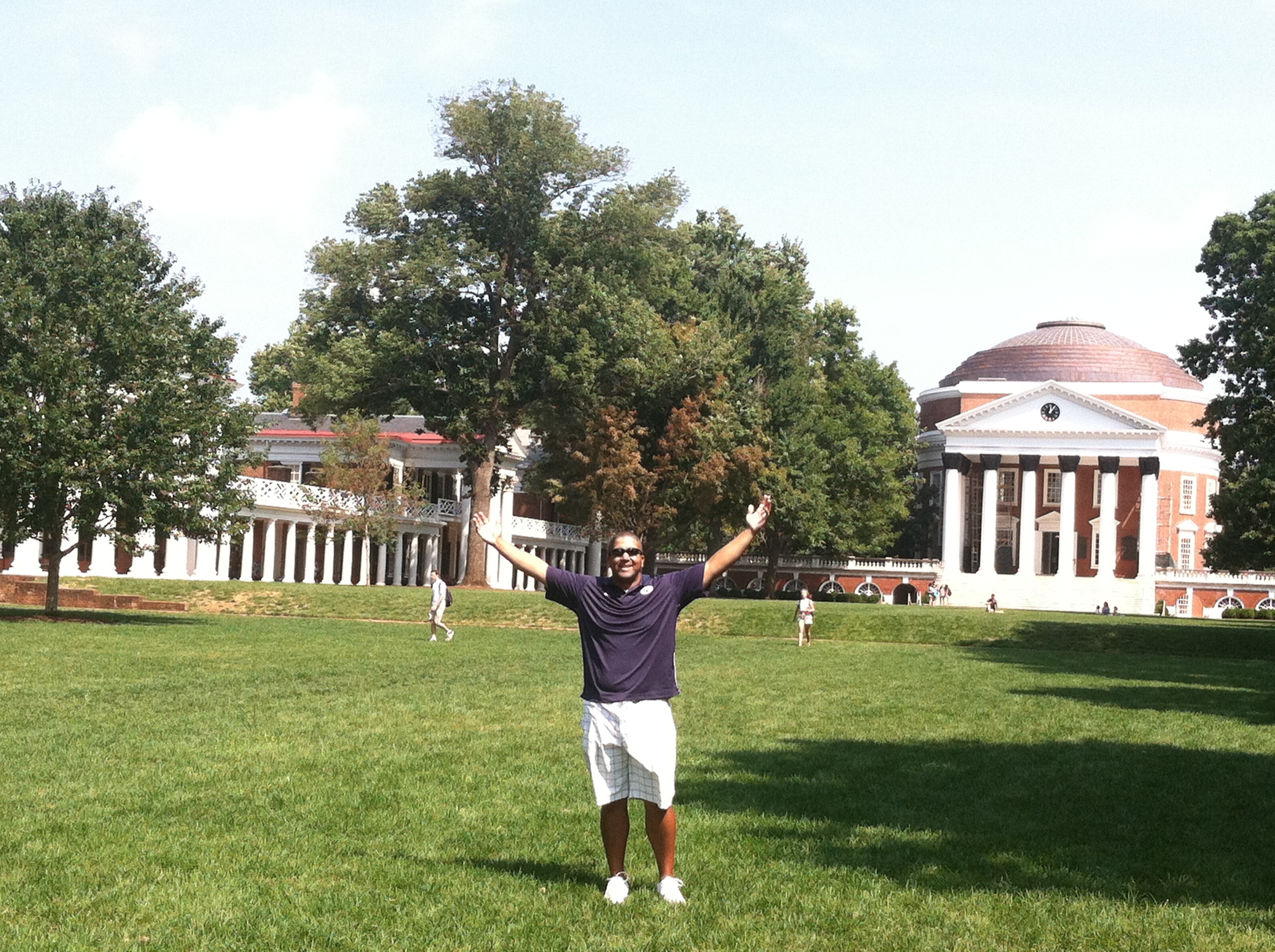 The Cougar Roadie reports on US History, tailgating — and surviving lightning, rain and sloppy football in Virginia.
I'm still partially in shock over the events of this road trip. Since I arrived in Virginia around 10 AM on Friday, I experienced just about every emotion imaginable in one trip. Excitement. Anticipation. Humility. Inspiration. Awed. Hopeful. Fearful. Bored. Annoyed. Wet. Happy. Worried. Shocked. Speechless. Numb. Tired. But that's what happens when you take in a ton of US History one day, then spend over 10 hours inside a stadium the next.
My trip to kick off the season in Virginia was one for the history books, both literally and figuratively. It was pretty cool to see so many historical sites and hear just how much of America was shaped by what transpired in Charlottesville, VA. I'm always amazed at the feeling when I tour these types of places.
Not to be out done by the local history, plenty was made on the football field as well. Between a record long game, and some absolutely astounding stats provided by @GregWrubell (UVA had 13 punts; of 36 combined drives only 3 were over 40 yards; 16 of BYU's 18 drives lasted 1:56 or less), Saturday was historical in its own way.
For many trips, I just fly in the day of the game, see the campus, go to the game and then fly out the next morning. However, on some of the more anticipated trips like Virginia, I head out early so I've got some time to see the sights and take it all in. For those who haven't read any of my previous travelogues, my flight plans can get a bit messy as I fly standby. This weekend went fairly smoothly though, which was nice. I left SLC on a redeye for Charlotte, NC. From there I connected to Richmond, VA. and then drove the 70 miles from Richmond to C-Ville.
The drive was pretty, but it got old in a hurry as it was pure trees. I didn't see a single building or store the entire 70 miles. Usually I don't mind tree lined highways back East, but thanks to the Virginia Highway Patrol, it wasn't the quickest expedition. In the first 50 miles of road leaving Richmond, we passed SEVEN troopers hiding in those trees. For someone with an 85 MPH lead foot in Utah, being forced to set my cruise at 70 in Virginia was torture.
UVA Campus
My first stop in C-Ville was the UVA campus. It's always best to hit campuses on Friday when possible, because gameday crowds can be insane. We stopped by the bookstore to pick up a few items and then walked the grounds. Add UVA's bookstore to the list of schools that dominate BYU when it comes to selection of items and apparel. Sadly, that list is getting quite long.
The UVA campus is unlike any I've ever been on. First, it's the only campus in America that is a designated UNESCO World Historical Site, which is kind of cool. Every building on campus, from the original six surrounding "The Lawn" to those built in the last 20 years, are all red brick with white columns and trim. It's a very colonial feeling campus and I like that they've kept that tradition alive.
It's also a fairly large campus. Since buildings have randomly been added as needed, there's no real pattern to the layout and it didn't take long for me to get completely turned around and walk in circles. It also didn't help that every building looks quite similar. The only real difference from one to the next was minor nuances in size and the number of white columns in front.
As we explored the grounds, we came across a kind security guard who saw our BYU gear and welcomed us with a huge smile and suggestions. He led us into the basement of a building that was housing a special collections exhibit of the largest private collection of Declaration of Independence artifacts. The collection housed two of the 25 original copies given to signers (Washington's and Adams'), it also held signed letters, notes and other correspondence from each of the Declaration signers. There was a reverence in the room, and as a fan of US History it really was cool to see first hand.
Monticello
Continuing on our US History kick, we left UVA's campus and headed a short five miles down the road to Thomas Jefferson's home at Monticello. We explored the grounds and watched a short video they show about Jefferson and his life. I never knew just how dedicated he was to learning, improving life and the cultivation of the mind. I was blown away at how much research he'd done on architecture, engineering, phlebotomy and gardening. His personal catalogs, experiments and designs have influenced our nation for hundreds of years. I have a new respect for Mr. Jefferson and the work he did not only as a President, but more so as a citizen.
Friday ended with a stop at UVA's campus hangout area, The Corner. Located on the edge of campus, The Corner is a string of small restaurants, shops, bars and college hang outs. The locals had all suggested a few Corner restaurants for us, and each was amazing. We had bagels from Bodo's (best I've had outside NYC) and a campus favorite, Gus Burgers from The White Spot. I'm always a fan of schools that have greasy spoon diners that are cheap, tasty and I'm sure it was all really healthy too, right?
Gameday
Per usual, we were back on campus early Saturday to get the full "Wahoo" experience on gameday. I was quite surprised at how many tailgaters
were setup by 10 AM. We parked almost a mile from the stadium and most lots were already packed with canopies and grills. Because of the spread out design of campus, there were tailgate parties stretched out over a square mile. It was impressive.
Our friends at Streaking the Lawn had invited BYU fans to join them for a fully catered tailgate on campus. I'd communicated with their crew quite a bit over twitter and email leading up to the game, so it was fun to finally put faces to names. They were all great people and very gracious hosts. I was happy to see quite a few BYU fans accepted their invitation and were mingling with the Hoos while munching on wings, chips, dips and drinks.
Our UVA friends were even sure to stalk up on water and non-alcoholic beverages for their new friends from BYU. I was very impressed with every UVA student and fan I met Saturday, they were all so kind and welcoming to everyone they met. There was also a great turnout at BYU's "Cougartown" tailgate hosted by the local Alumni Association. Lots of food, speakers and BYU gear for sale.
We got to the stadium two hours before kickoff to see the "Wahoo Walk", UVA's version of a team walk. Buses dropped the team off a litt
le over a block from the front gates. The band and cheerleaders were there to welcome the team, along with a few thousand fans. The path the team takes to the stadium was well marked with a many "Wahoo Walk" logos painted on the ground, so fans knew where to line up (hint-hint, BYU). The players and coaches made their way through the crowd high-fiving fans on their way into the stadium. Cavman was even nice enough to stop and take a pic with an opposing fan!
The Game
I'm sure you all watched the game and have seen many postgame reports, so I'll skip the painful details. I'll just drop a few quick thoughts that I had witnessing it unfold live.
1: Go Fast; Go Hard

I think GFGH is a great idea in theory, but I now question if tempo is more important than execution? At times it seemed we were so focused on snapping the ball quick, that tempo was achieved at the cost of making a clean play. I still believe GFGH can be very effective, but I think there critical moments in a game where we may need to slow down, huddle up, and make sure we pick up yards in key situations. In the end, I think tempo will help us more than it hinders us, but there are definitely some early season kinks to work out.
2: LIGHTNING!
Thanks to a 2:09 delay, this was the longest I've ever been in a stadium. When the announcement was made, fans were rather surprised as we hadn't seen a single strike yet and the clouds seemed far off, however it moved in FAST. They had instructed fans to completely exit the stadium, but many such as myself took that as a mere suggestion, not a rule. We packed the concourses and watched the storm roll by. I gotta admit, the lightning and thunder was no joke, it was a straight fireworks show for awhile. The only problem was the storm was only cool for about 20 minutes, the other hour and forty minutes was pretty boring. There's only so much you can do to entertain yourself with no concessions open (bad move UVA) and HORRIBLE cell service.
3: Then Rain…
If a two hour delay in the first half wasn't enough, we then had to get absolutely drenched in the third quarter. I'm not sure how it looked on TV, but that was no summer drizzle that rolled by, it was a 20-minute downpour. For the first few minutes, everyone tried to run for cover and watch the game on the video board while hiding in concourses, but eventually we realized that we were already soaked and had traveled 2,000 miles to be there, we weren't gonna watch TV's…time to play in the rain! In the end it actually was nice because it dropped the temperature 15 degrees and made the rest of the night quite nice.
4: BYU Fans
Well done, East Coasters. Well done. All the stadium ushers and UVA staff were floored at how many BYU fans made the trek to C-Ville. We left them with a very positive view of BYU and they all hoped this is a series that will be continued. I heard many compliments about the sheer number of blue clad Cougs, the great fan behavior and noise. For the most part I was proud to be included with y'all for the night. However, those of you who bailed early once UVA scored the go ahead TD, shame on you! Who leaves early when their team has the ball with 1:38 and a chance to win the game? 1:38 is an eternity.
5: Key Plays
Though there were many plays to discuss, a few will haunt me for years. First and foremost, I'll never forget the slow motion image of the ball deflecting off JSwaggDaddy's hands and hanging in the air for a UVA defender to pick off and return. Second, did anyone else have visions of the brutal Riley-to-Hoffman attempt in the 4th quarter at Notre Dame when Taysom over threw a WIDE OPEN Falslev late in the game? Making it even worse, Taysom's overthrown ball was at nearly the identical spot as Riley's in South Bend. Lastly, the fumble-safety. As I watched Taysom try to scoop the wet, slippery ball, all I could picture was Jake Heaps doing the same thing into the endzone versus Utah. Is it a requirement for BYU QB's to skip Football 101 on the day "covering a fumble" is taught?
6: KSL Sports

I can officially add KSL Cameraman to my resume. The hard working Jeremiah Jensen was a one man band covering the game for KSL. No one will ever know just how hard he worked to produce last nights coverage after being up for 36 straight hours. After the game I was able to stick around and help him with his live shots for the 10:00 news and SportsBeat Saturday. It was pretty interesting seeing how things are setup, filmed and produced. I have a new respect for how much sportscasters do behind the scenes to bring us what we see as the finished reports.
Signing Off
Overall it was a good trip to kickoff the 2013 season. It obviously didn't turn out like we'd hoped, but it was definitely a trip I'll never forget. Though we lost a game I believe we played well enough to win, that was just one piece of a memorable journey. From the US History, gorgeous campus, tailgates, lightning delay, rainstorm and post game TV work, I'm coming home with lasting memories.
Next week is another chance to get in the win column and hopefully the boys in blue come out ready to shock the world!
Go Cougs. Hook the Horns.
Photo Gallery: