BYU Depth Chart & Injury Report – Week 5: MTSU
Updated: September 27, 2013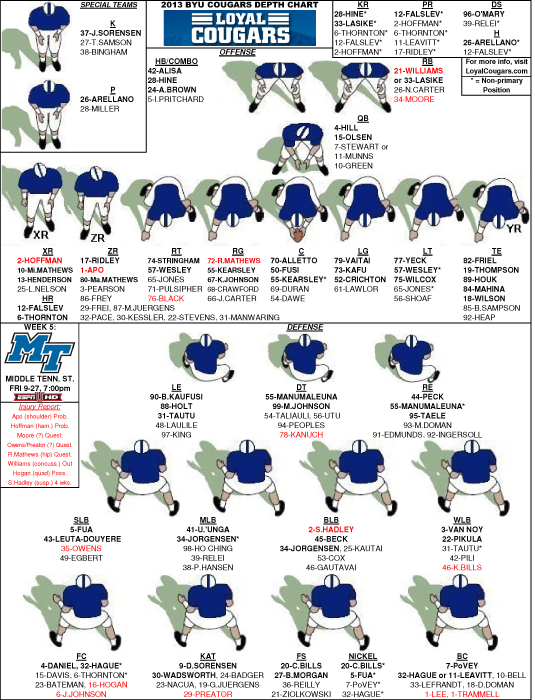 Review the Depth Chart and Injury Report in preparation for Friday's home game.
Offensive Injuries Continue
For the second game in a row, Jamaal Williams suffered a gruesome-looking injury as Williams was taken off the field on a stretcher to a nearby ambulance. After spending the night at Utah Valley Regional Hospital, Williams was released with a diagnosis of a concussion and a severe stinger (thankfully there was no spinal damage). His return was originally stated as between 4 days and 2 weeks, meaning that if he passed concussion protocol, he would be able to return in time for this week's game. However, a source in the program confirmed yesterday that Jamaal will be held out of Friday's game.
Cody Hoffman and Ross Apo are dealing with nagging injuries, but are both listed as probable. Ryker Mathews seemed to aggravate his surgically-repaired hip, but his status for this week is unknown.
Injury Report
Probable: WR Cody Hoffman (hamstring), WR Ross Apo (shoulder)
Questionable: RB A.J. Moore (unspecified), LB Joey Owens (unspecified), DB Jordan Preator (unspecified), OL Ryker Mathews (hip)
Possible: DB Adam Hogan (quad)
Out for this week: RB Jamaal Williams (concussion/stinger)
Out for 4 weeks: LB Spencer Hadley (suspension)
Out for the season: OL Jordan Black (shoulders), DB Trenton Trammell (ACL), LB Kevan Bills (ACL), DB Jordan Johnson (ACL), DL Tuni Kanuch (pectoral), DB Sam Lee (back)
Please comment below if you have any questions/comments/corrections or e-mail us here. You can view the Depth Chart at any time by following the "Depth Chart" link in the "FYI" tab. From that page, you can download a PDF document that you can print for your use while watching the game.