BYU Depth Chart & Injury Report — Week 7: Georgia Tech
Updated: October 11, 2013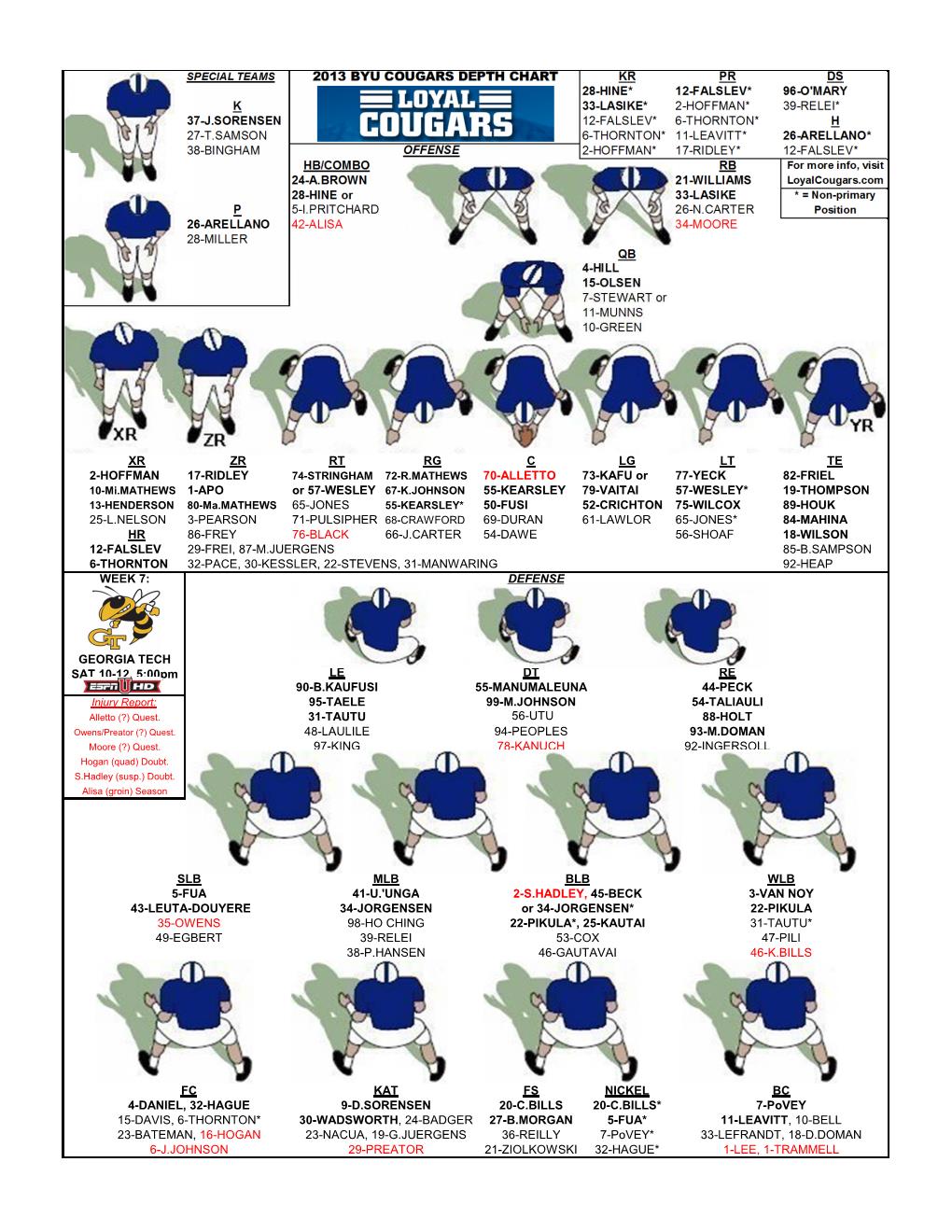 Review the depth chart and injury report in preparation for Saturday's homecoming game against Georgia Tech.
Team Health at Season-High
BYU emerged from the Utah State game without any serious new injuries. In that sense, it was similar to a bye week in that several players have been rested and are expected to return from injury for Saturday's game. These players include running back Adam Hine, offensive linemen Brock Stringham and De'Ondre Wesley, and inside linebacker Tyler Beck. Jamaal Williams is also inching closer to full strength after being carted off the field three weeks ago against Utah.
O-Lineman Terry Alletto suffered an unspecified practice injury this week and is considered questionable for Saturday.
Today, the school announced that ILB Spencer Hadley has been cleared by the Honor Code office to resume participation with the team. It remains to be seen whether or not Coach Mendenhall will cut his suspension short (has served three of original five games), but Hadley will likely be out at least another week given he has not been practicing — and there's always the possibility he completes the additional two weeks remaining.
Coach Mendenhall made clear that he and Hadley had put together a list of items that must be completed/addressed before Hadley could return, so the ball remains in Mendenhall's court. Jay Drew reported that football's SID, Brett Pyne, is "not anticipating" any further announcement on Hadley's status between now and the game. I've listed him as doubtful for this week; while it seems unlikely, it's also not outside the realm of possibility for him to play.
Coaches also announced just before last week's game that RB Michael Alisa is suffering from a nagging groin injury and will likely not return to full strength this season. As such, they have decided to sideline him and use his redshirt this season, allowing him to rejoin the team in 2014 for his final year.
With most of the offensive line healthy (or close enough), this may be our best chance to see the current pecking order and which five linemen the coaches consider at the top of the heap. Pay close attention to how the reps are distributed along the front this week as it may give an indication of we can expect for the rest of the season.
Injury Report
Expected to Play:  OL DeOndre Wesley (concussion), LB Tyler Beck (hamstring), OL Brock Stringham (shoulder), RB Adam Hine (concussion)
Questionable: Terry Alletto (unspecified injury), RB A.J. Moore (unspecified), LB Joey Owens (unspecified), DB Jordan Preator (unspecified)
Doubtful: DB Adam Hogan (quad), LB Spencer Hadley (suspension)
Out for the season: OL Jordan Black (shoulders), DB Trenton Trammell (ACL), LB Kevan Bills (ACL), DB Jordan Johnson (ACL), DL Tuni Kanuch (pectoral), DB Sam Lee (back), RB Michael Alisa (groin)
Please comment below if you have any questions/comments/corrections or e-mail us here. You can view the Depth Chart at any time by following the "Depth Chart" link in the "FYI" tab. From that page, you can download a PDF document that you can print for your use while watching the game.