Opponent Notebook: Summer Links – UConn Huskies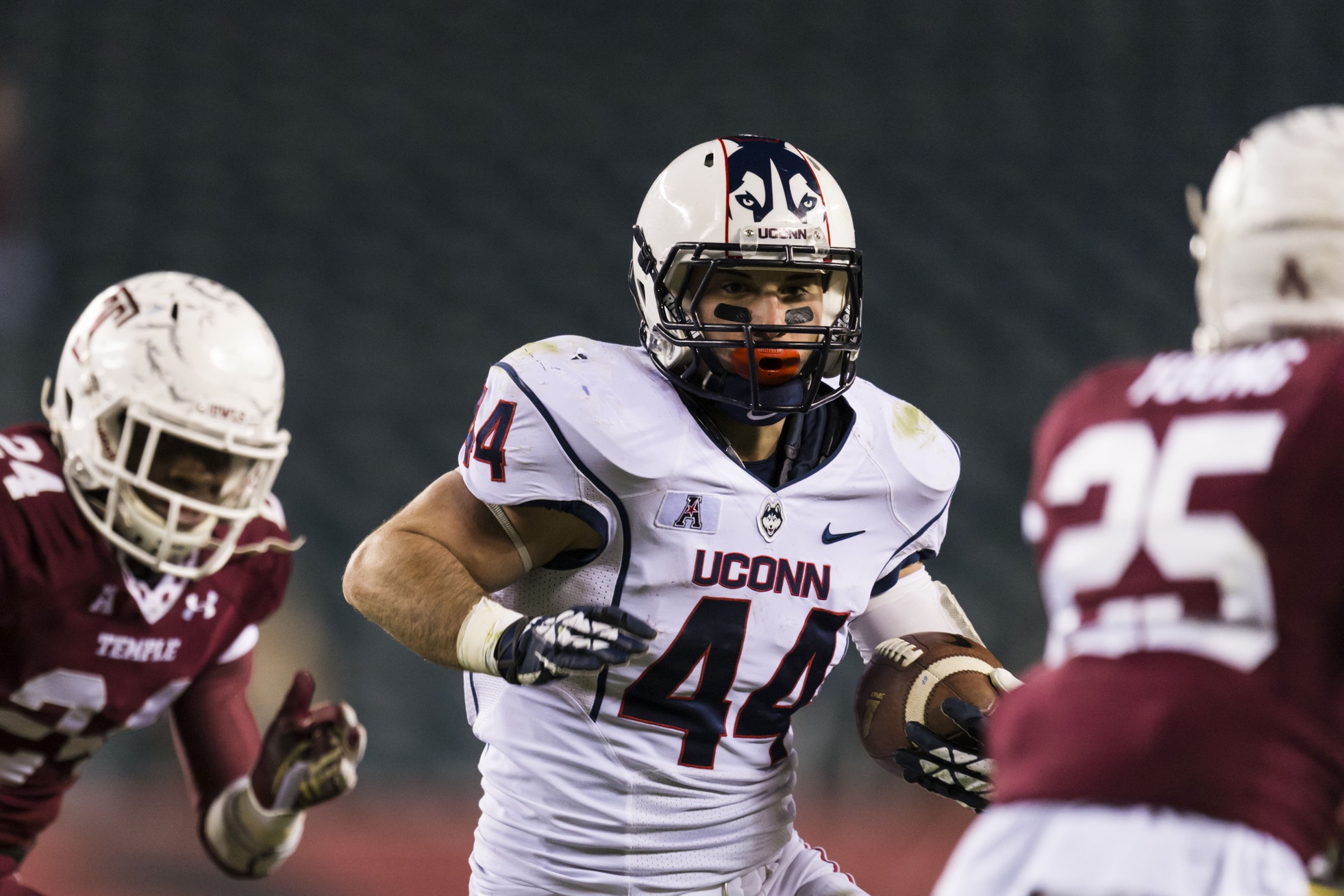 Checking in on summer news for BYU football's first 2014 opponent, the Connecticut Huskies.
Here are news and blog items for the happenings around the UConn Huskies this summer, who BYU will play for the first time to kick off the 2014 season.
Desmond Conner does a great job covering the Huskies for the Hartford Courant, so most of what we know about UConn will come from him.
The biggest story of UConn's offseason has been the dismissal of leading rusher Lyle McCombs. The running back was set to lead the Huskies as a senior after leading the team in rushing for the past three seasons. He stands as the fourth all-time rusher in program history.
New head coach Bob Diaco said of McCombs, "Your football resume is not going to circumvent your academic resume, your social resume, your character resume." McCombs had a marred history while at the school, including pushing and spitting at his girlfriend in a fight, getting in a fight at a gym, and a drug arrest.
Diaco gave an explanation of the dismissal here.
So who will be stepping up to take carries with McCombs gone? There are three likely options. Junior tailback Max DeLorenzo is by far the most experienced on the roster, playing in all 12 games last season, carrying the ball 99 times for 367 yards and five touchdowns. The only other returning back with any carries is sophomore Jazzmar Clax, who appeared in three games and gained 11 total yards. Not much experience coming back for the Huskies.
That's why UConn fans have high hopes for incoming freshman Arkeel Newsome, the program's first-ever Parade All-American. Sure, he's only a 5'7″, three-star recruit, but take a gander at these stats: In just his senior year, Newsome racked up 3,867 rushing yards (258 per game) and SIXTY FOUR rushing touchdowns. In four years at Ansonia High School, Newsome carried the ball 943 times for 10,685 yards and 172 touchdowns. Yeah, he kind of holds some state records for high school ball in Connecticut.
* * * * *
Speaking of new head coach Bob Diaco, who comes from UConn after being Notre Dame's defensive coordinator, he had some harsh explanations for why the program's motto this season is Rise Up Together.
The fact of the matter is when I got the team I couldn't tell the difference between the seniors and the freshmen physically or mentally. Now how is that OK? How is it OK? In what world is it OK that a young man shows up here at 17 years old, goes to school here, comes to meetings every day, trains, eats and at 21 and 22, basically looks the same as when he was 17 – and acts the same and dresses the same?
It's a good read on what Diaco is trying to change in Storrs. Diaco details what he's had to help change and educate his players about in this piece from Conner as well.
This mailbag question and answer is also interesting. It highlights why Diaco's culture change should work based on reactions to it so far.
* * * * *
Last season, UConn suffered some terrifyingly awful losses. The Huskies were depantsed by Buffalo (a 29-point loss), Cincinnati (25 points), and UCF (45 points) on the road. UConn also lost the season opener at home to Towson by 15 points and coughed up a late lead against Michigan after leading by 14 points with 20 minutes remaining.
Over at The UConn Blog, Sean OLeary explains that the first step for Diaco and building the program will be avoiding blowouts and staying competitive. Interestingly, he places the measuring stick for the BYU game at "needs to be close at halftime."