BYU Roster: Fall Camp 2014 Personnel Tracker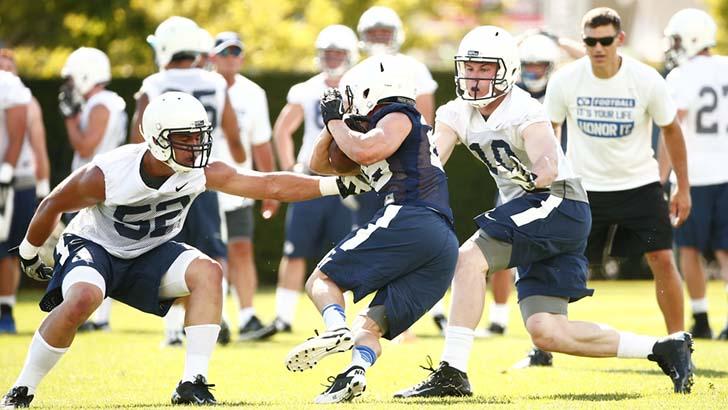 Loyal Cougars roster guru Brandon Jones takes a look at the changes to the 2014 BYU football roster as the team enters Fall Camp.
For roster gurus like myself, the offseason is spent poring over Twitter feeds and message boards trying to find any little tidbit about scholarships, suspensions, transfers, mission calls, and whatever player information we can find to piece together the upcoming season's roster. The opening of fall camp is one of the few times each year that the puzzle appears clearer.
By NCAA rule, exactly 105 players are allowed to be dressed for the 29 allowable practice sessions between the beginning of August and BYU's opener at Connecticut. The roster handed out at Saturday's open practice provided the first public look at BYU's 105-man roster, but a few changes were not even represented there. BYU's online roster hasn't been updated, but Greg Wrubell provided an exceptional analysis of the current 105 in his Saturday practice report.
The best picture of the 2014 roster will come after walk-on tryouts, when new players are added and the roster is rounded out to the 123 that will be carried through the season. This year's walk-on tryouts will take place on Labor Day, September 2 and those players who make the team by tryout will be added the following day (along with any scholarship players who missed fall camp due to injury) to fill in the remaining 18 spots on the 123-man roster.
With practices being restricted more and more to fans and media, public information is at a premium. Our goal at Loyal Cougars is to provide a single location where fans can come to get the latest roster, depth chart, and scholarship information. With that in mind, I've updated our Google documents to reflect the latest personnel news:
2014 Roster (105 + Players to be added in September)
Here's a quick rundown of some of the surprise personnel changes that were revealed when camp opened last week:
Unexpected absences (scholarship players):
Corey Edwards (will join team when classes begin)
Sam Lee (still rehabbing back injury)
Corbin Kaufusi (will play basketball this season)
Tim Duran
Kalolo Utu
Algernon Brown
AJ Moore
Joey Owens
Tui Crichton
Unexpected absences (non-scholarship players):
Chase Frei (last-minute changes)
Jordan Miller (last-minute changes)
Khalil Bell (transfer to Idaho State)
Unexpected additions (scholarship players):
Adam Pulsipher (expected to miss camp rehabbing Achilles injury)
Brad Wilcox (able to rejoin team after injury)
Sione Takitaki (previous reports of removal from team)
Unexpected additions (non-scholarship players not previously with team):
Joshua Whippy (rugby player attempting to play RB)
Chasen Brown (true freshman P expected to join team in September, instead takes Miller's place in the 105 as the backup punter)
Bracken El-Bakri (true freshman DL from Brighton H.S.)
Chase Larson (OL transfer from Snow College, backup deep snapper, Remington Peck's mission buddy)
Kamalani Kaluhiokalani (RM defensive tackle, brother to former DL walk-on Kalama, returning from Taiwan Taipei Mission)
Andrew Mikkelsen (RM kicker, former Oregon State walk-on, returning from Samoa Apia Mission)
Position changes:
Jake Ziolkowski (walk-on had been playing DB, returns to his originally-recruited WR spot, played WR at Wauconda H.S. for coaches Dave Mills and Glen Kozlowski, former BYU wideouts)
Trey Dye (shown at RB, may see playing time out of the backfield, in the slot, or returning kicks)
Grant Jones (played TE pre-mission, was not originally invited to fall camp, Coach Howell heard good things from player-run practices and snatched him up to compete at Free Safety)
Harvey Langi (playing LB per his request and despite heavy attrition to the RB group)
Stay tuned to Loyal Cougars for updated roster and depth chart information as the updates happen throughout camp and heading into the season.