Open Letter from a BYU Fan
Updated: December 5, 2014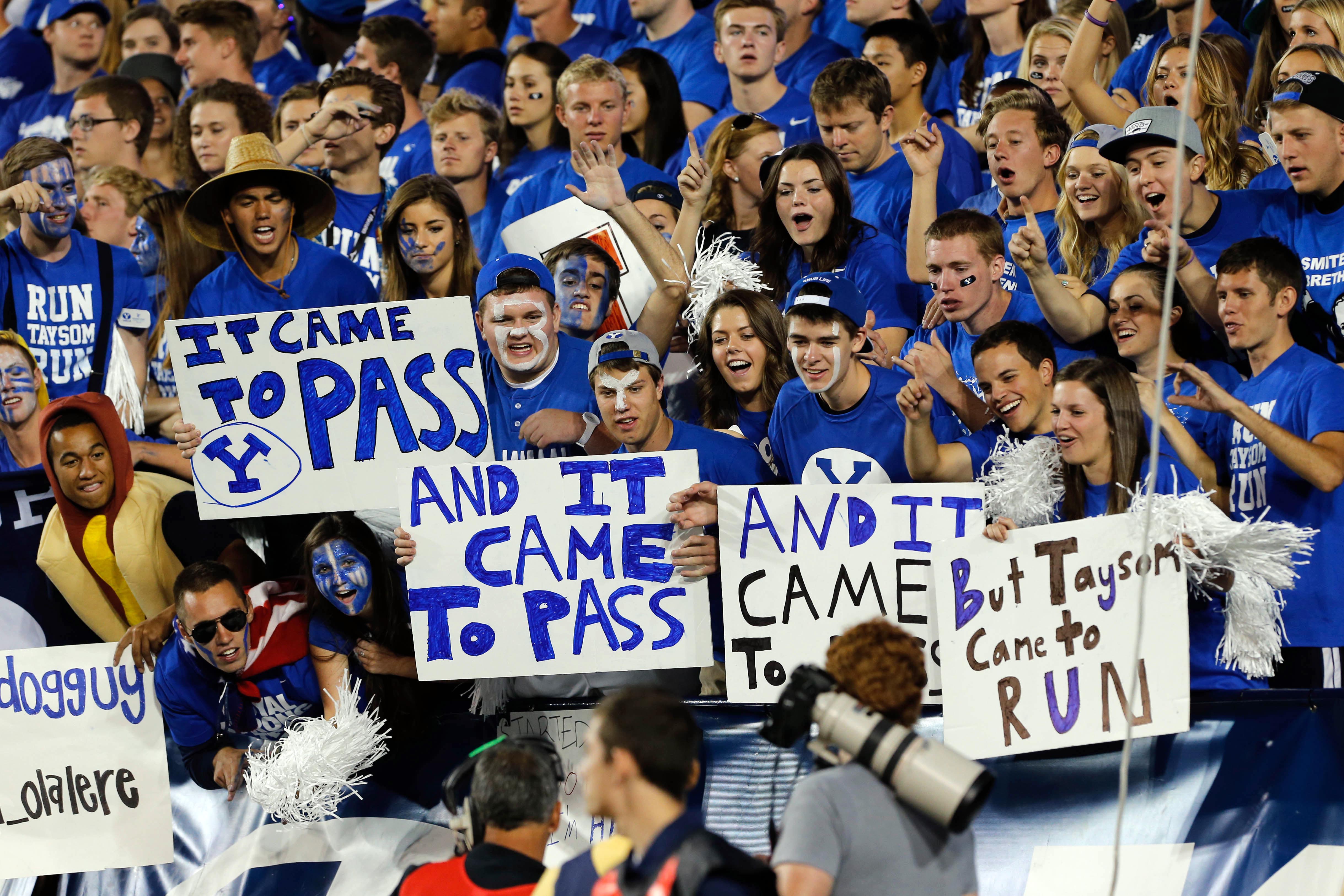 Dear Fellow BYU Fans,
I am taking a turn at the now popular "Open Letter" format to get some thoughts out. I don't have the same pull or power as Derik Stevenson or Bryan Kehl, but I want to acknowledge that I appreciate both of their letters.
Honestly, both make great points. While reading through the two letters, there were a number of facts that were presented on both sides that I found myself agreeing with, as I'm sure many other fans did. The point of my letter is to share that it is okay for the fan base to be conflicted; there is more than one solution to the current problem BYU faces.
I see a lot of the opinions shared on sites like Twitter and Cougarboard, the most passionate portion of our fan base. But what I hate to see is the division that is created; many fans believe that there is only one way for BYU to succeed and if others don't agree then they don't care about the program. This belief is wrong. Every fan wants to see BYU succeed.
Bronco has done a good job as a coach. I was a young fan in 2005 when he was hired. Through 2006 and 2010, my favorite memories consisted of attending BYU games in the fall with my Dad. I loved what Bronco had done with the program, I was too young to truly remember the disaster that was the Crowton years, but looking back at the changes that Bronco orchestrated is truly amazing. He stepped in, turned around a program that had a ton of talent but some serious discipline issues.
Personally, I am tied to Bronco as the coach, he is what I have always known and is the safe choice going forward; I think all fans can agree with this. Bronco has done a good job but not the job that people expect from him (and what he says he expects from himself).
Bronco has set three pillars for BYU to reach every year:
Win 10 games in the season
Go to a bowl game
Finish the season ranked in the top 25
The last time BYU finished the season and was able to check this off was 5 years ago. If Bronco can't meet his own expectations then yes, fans do have the right to be upset. But along with Bronco's expectations, BYU fans have set their own, some of which take place over a 5-year period but go hand-in-hand with what Bronco has said he wants.
Here are expectations I've seen from fans:
Win 10 games in the season
Go to a bowl game
Go to an NY6 game at least once every five years
Finish the season ranked in the top 25
Finish within the top 10 at least once every five years
Beat Utah
Put players into the NFL
Again, the last time Bronco was able to accomplish all five goals was 2009. He has yet to accomplish the two five-year subgoals which fans have set, but it is critical for BYU to take steps to accomplish these if they want to ever move up in the college football landscape.
While failing to hit these goals doesn't make BYU mediocre, the four most recent seasons under independence have been disappointing. Under him, they have been able to reach 10 straight bowl games. But there are a number of fans who are worried that is all he can do, that his career has peaked, and he isn't capable of making much more progress.
As I said before, there are a number of fans who feel that it's time for BYU and Bronco to go their separate ways, that bringing in a new coach will make an immediate impact in the culture of the program. Fans can agree that sticking with Bronco is the safe choice, there's a ten year window where fans know what he brings to the table, but bringing in another coach would be a huge move whether for good or bad depending on the changes being made (i.e. Gary Crowton). The fact still remains that BYU is in a desperate situation at this point to be included in a P5 conference. And this desperation is forcing BYU to play their hand to make some immediate changes in the importance of BYU football.
The program needs to win now and there are four things that can happen going forward:
Keep Bronco and hope he can return to 10-win seasons putting BYU in a position to be included in the P5.
Keep Bronco and continue on having 8 and 9 win seasons but be left out of P5 inclusion.
Hire a new coach who is a home run hire and immediately reignites the team, similar to what Bronco was able to do in 2005.
Hire a new coach which sets the program back 2-3 years as they rebuild.
This is a difficult decision, which I'm glad I don't have to make. Hindsight is always 20/20 but the decision for setting BYU up for P5 inclusion probably should've happened in 2010. The initial move was going independent, but there needed to be a definite 10-year plan going forward including coaching staff and personnel decisions.
There are a number of coaching aspects with which Bronco has been successful. He's done a great job with Thursday's Heroes and keeping the program clean. Thursday's Heroes is by far the best thing about BYU Football and is a great way for the team to give back to the community and those who are facing more serious challenges than football.
But, Bronco isn't without fault. There are a number of former players who have said that they have felt alienated by BYU under Bronco's tenure as he has tried to separate his success from Lavell's success. This has led to issues that former players have in the way that Bronco runs the program when compared to Lavell. Under Bronco there has been an emphasis on building young men of high character who win while playing under the conditions of the Honor Code. It is a known fact that Bronco places an emphasis on players serving missions at BYU.
This all comes after a self-professed "life changing" meeting with President Eyring upon being hired as the Head Coach. During this meeting, Bronco was told that BYU needs to run a clean program that places an emphasis on the Honor Code once again.
I hate to play the "what if" game, but how would Bronco's perspective of running the program change if he did serve a mission and play at BYU? Would he have taken this meeting so much to heart? Would he have run the program similar to Lavell?
I'm not discounting Bronco's experience prior to BYU as it helped shape him to become the coach he is today; I just wonder what position former players would take on Bronco if he were one of their own.
Generational players have long been the life blood of BYU. They are former players who continue to support BYU after their playing days, so much so that they want their entire family to carry on the tradition that was built by Lavell. Losing these players has inhibited BYU's progress as a program. An essential step for the program going forward will be to rebuild these bridges.
Progress can be made with Bronco at the helm, but there will need to be intervention by the governing board at BYU, most notably by Tom Holmoe. He and Bronco need to sit down and set realistic goals over the next two seasons which will determine his future at BYU going forward. There needs to be a plan with clear goals set to determine if it's time for them to go their separate ways, or to grant another contract extension.
As a fan, all I ask is that BYU does what it can to create some excitement for the program. Whether you are Pro-Bronco or Anti-Bronco, I'm sure that we can all agree that BYU needs to make improvements going forward.
Yours in Fanhood,
Zak Hicken