Mountainous Mo Langi wins the Internet
Updated: February 4, 2015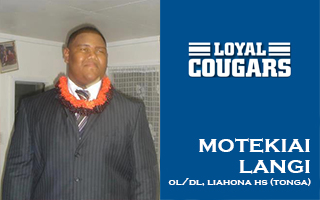 BYU fans got a huge surprise on signing day this morning with the commitment of Motekiai Langi. The Tongan native and cousin of current player Harvey Langi signed with BYU this morning, but will be serving a mission in Arizona for the next two years.
Mo comes to BYU having only played football in camps, but he has played rugby while at the Liahona High School in Tonga. BYU fans will hope his football development parallels Ziggy Ansah, who also came to BYU without a football background.
Apologies for the repetitive images, but that sneer really doesn't get old. There was just too much attention, often from national writers to not put together a quick archive for posterity's sake.
Geoff Martzen told Loyal Cougars that the football staff only learned about Langi a week and a half ago when he was preparing to enter the MTC. He only spent a few hours in the football offices, but it was long enough for the coaches to give him a shot with a scholarship offer. Coach Mendenhall said that Motekiai is the largest human being he's ever seen. The coaches did manage to get him on a scale and verify his 410 pounds. He has never played football before, but has a lot of rugby experience.
BYU commit Motekiai Langi is 6 foot 7, 410 pounds ??? pic.twitter.com/Yyuk7mercV

— SportsNation (@SportsNation) February 4, 2015
The 410-pound lineman BYU signed today is apparently serving a mission in Arizona. If he asks if you've heard the good news, you have.

— Andy Staples (@Andy_Staples) February 4, 2015
Hey big fella RT @BYUCougars: Welcome Motekiai Langi to the #BYUFOOTBALL family!! #BYUNSD15 pic.twitter.com/c6OP7bohzy

— Dr. Saturday (@YahooDrSaturday) February 4, 2015
410?!? Mercy RT @BYUCougars: Welcome Motekiai Langi to the #BYUFOOTBALL family!! #BYUNSD15 pic.twitter.com/TTEU57MkcW

— Bruce Feldman (@BruceFeldmanCFB) February 4, 2015
HEY MEMPHIS, YOU WANT TO FIGHT NOW?? http://t.co/lxcMLgYXcRpic.twitter.com/2ylv7kuTF4

— Matt Brown (@MattSBN) February 4, 2015
pic.twitter.com/OhUCLklYDO Shawn Oakmen , give me your lunch money!
Ok Sir!

— Cbruse (@CoreyBruse) February 4, 2015
BYU lands the country's *BIGGEST* prospect, surely. http://t.co/0wvHszASWG pic.twitter.com/o9g6pJCQaB

— SB✯Nation CFB (@SBNationCFB) February 4, 2015
Not sure which Ohio State assistant recruits Tonga, but missing on Motekiai Langi has to hurt. pic.twitter.com/hL6oFTsG7G

— Doug Lesmerises (@DougLesmerises) February 4, 2015
BYU's Motekiai Langi is a mountain in a football uniform http://t.co/wzGzI4uaj9 pic.twitter.com/M4PUBNAJKM

— CBS Sports CFB (@CBSSportsCFB) February 4, 2015
An entire line… himself RT @CBSSportsCFB: BYU's Motekiai Langi is a mountain in a uniform http://t.co/Wv0cPr9wfC pic.twitter.com/WtvTTJO3nP

— The Solid Verbal (@SolidVerbal) February 4, 2015
Is BYU trolling us? No video or pictures of him playing on the Internet. Four total photos on Facebook pic.twitter.com/z7GmNR7Gwm

— Darren Rovell (@darrenrovell) February 4, 2015
Plays guard and tackle. Simultaneously MT @CBSSportsCFB: BYU's Motekiai Langi is a mountain in a football uniform pic.twitter.com/BPyvLJWiJN

— Jerry Palm (@jppalmCBS) February 4, 2015
There are a lot of pancake blocks – and pancakes – in this kid's future: http://t.co/pYxjy2PoKg But mostly pancakes. pic.twitter.com/l8HdqGSxeE

— Jim Weber (@JimMWeber) February 4, 2015
Proud to say we have signed the nations biggest recruit!! 6'8" 410 pounds! #BYUFootball pic.twitter.com/WwILCbavyy

— BYU Football (@BYUfootball) February 4, 2015
pic.twitter.com/TdiGOVN6dC I'm shocked by the pure mass of this KID! Sorry people, but that's not a fat 400+. He's going on a mission 1st.

— Hans Olsen (@975Hans) February 4, 2015
Dude on the left is 6'7", 265. Thanks, @brettpyne for the pic. pic.twitter.com/Z5VKTe9ASm

— God Bless Football (@dougmcbot) February 4, 2015
Motekiai Langi even has his own rap https://t.co/NBjRQwhPJy

— Brandon Gurney (@BrandonCGurney) February 4, 2015
And I'll be rooting for this kid pic.twitter.com/Op2z95Yg9G

— Zac Jackson (@AkronJackson) February 4, 2015
@brettpyne AND may we use this pic, too: pic.twitter.com/TXm6uWLcbW
Thank you again

— ESPNAssignmentDesk (@ESPNAssignDesk) February 4, 2015
Bronco: There is no film of this kid.
I've never heard of him

Motekiai: I want a scholarship

Bronco: here…have two pic.twitter.com/iFbDfYpYV2

— Jeremiah Jensen (@JJSportsBeat) February 4, 2015
So BYU apparently signed a city bus. pic.twitter.com/WeuZD7Gh8X

— Complex Sports (@ComplexSports) February 4, 2015
fair to say the legend of Motekai has completely stolen the BYU NLI day spotlight for at least the last hour

— Brandon Gurney (@BrandonCGurney) February 4, 2015
Motekiaki Langi just made Dan Smith wet himself. #BYU #NSD2015

— hobo (@hobocita) February 4, 2015
MO Langi #BYUFootball commit from Tonga. 6'7" 410 lbs #byu #tonga #brutesquad pic.twitter.com/fAhEG0EC91

— nathanmills (@nathanmills) February 4, 2015