BYU Football 2015 Upset Watch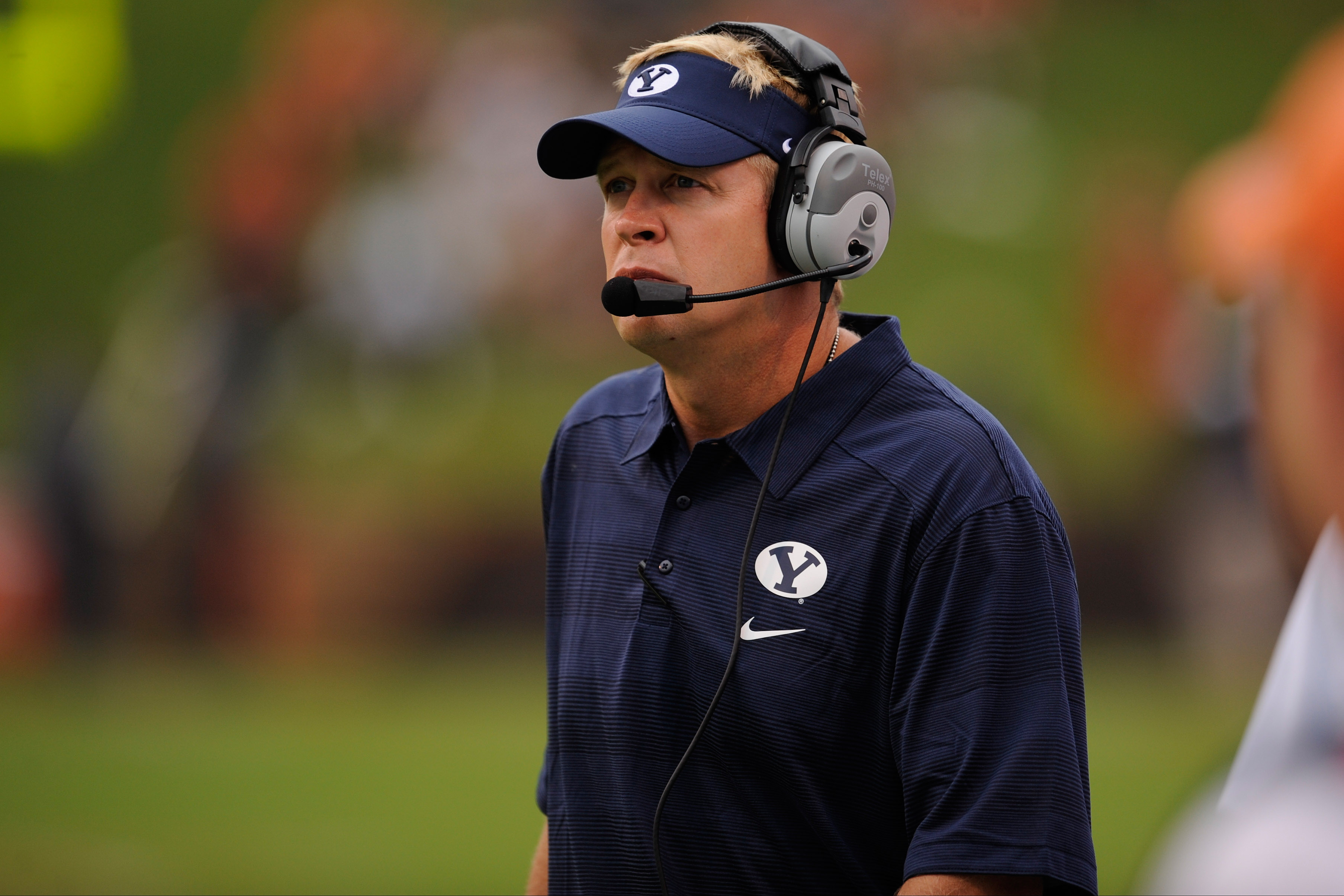 Loyal Cougars previously broke down BYU Head Coach Bronco Mendenhall's overall record as both favorite and underdog by taking BYU's final ranking in Football Outsiders' S&P+ ranking for each season and comparing it to the teams BYU beat or lost to that year.
A common criticism levied against Mendenhall is that he only wins games he's expected to win and never pulls off the upset against the higher-ranked teams. The numbers showed that's not quite the case.
In 2014, BYU finished ranked 47th, Bronco's lowest ranking in S&P+ during his tenure at BYU (the Cougars finished 2005 ranked at #46). A team with a lower ranking ends up with more chances to pull upsets, since there are more teams ranked above them. BYU notched two upsets in 2014 according to this system, beating Texas (#33) and Virginia (#42). The Cougars were also expected to lose to Boise State (#18) and lost handily, going 2-1 overall on the year against higher-ranked opponents.
Bronco's career record against higher-ranked teams is now 7-18 or 28%, which compares pretty favorably to other long-term tenured coaches.
Looking at BYU's numbers, pulling upsets is really less of a concern overall than the number of times Mendenhall's teams are being upset. Lower-ranked teams have now beaten the Cougars four times in 2012, three times in 2013, and four times in 2014 after his teams did not lose more than two such games in any one year from 2005-2011.
In 2014, Memphis (#49), Utah State (#52), UCF (#71), and Nevada (#81) all finished the year ranked below BYU but beat them on the field, although Memphis is a near tie. October was a rough month for BYU as the team adjusted to the loss of Taysom Hill.
Bronco's record against teams that finished the year ranked lower than his teams is now 80-21 or 79%, which also lines up pretty well with other successful coaches, but 2014's 5-4 performance against inferior opponents wasn't pretty.
---
Looking ahead to 2015, BYU's difficult schedule breaks down into three clear tiers based on the end-of-year 2014 rankings.
The "bottom tier" has Wagner (FCS), UConn (#119), San Jose State (#114), and Fresno State (#100). These should all be wins for BYU in 2015. Even if these opponents manage to make a phenomenal 30-point improvement this year, BYU should still beat any of them, home or away.
The "middle tier" teams are East Carolina (#72), Utah State (#52), Michigan (#45), Cincinnati (#38), and Nebraska (#33). Going by recent history, BYU should end the year ranked higher than these teams, but could end up below any of them. Michigan and Nebraska will each be debuting new head coaches, but BYU has lost three or four games to teams ranked in this ballpark in each of the past three seasons. As is often the case, BYU's performance against these five opponents will likely be the difference between a disappointing 6-6 season and a successful 9-3 campaign.
Some may say that at #72, ECU should be a sure win for BYU. Since 2012, BYU has lost to Utah (#78 in 2012), Virginia (#76 in 2013), and Nevada (#82 in 2014). One head-scratching loss can be considered an anomaly; one a year for three years is an issue that needs to be addressed.
Finally, the "top tier" has Missouri (#23), Boise State (#18), and UCLA (#9). Based on recent results, BYU is likely to finish ranked below these teams at the end of the year and any win over the top three would likely be considered an upset, of course depending on exactly how highly ranked BYU finishes at the end of 2015.
Taking Bronco's historical averages, it's not hard to see the games that would turn an average 2015 season into a good or great one. Winning one of the three "top tier" games would put BYU at 1-2 for 2015. Winning 80% of the remaining nine games would be 7-2, which puts BYU at 8-4 going in the bowl game. Sounds familiar.
To get from an average year to a good year, BYU will need to either pull an extra upset or Bronco's team will need to perform better than his historical average against lower-ranked teams. Better play against the bottom two tiers could maybe get BYU to 9-0. If the Cougars were to then have an average performance against the top tier, it pushes them to 10-2 and a likely Top 25 ranking.
Asking for this year's team to outperform averages in both areas is probably too tall a task, but if this year's team could pull that off, great things could be in store for the Cougars in the 2015 postseason and beyond.
It's still a long way until 2015 starts and we'll have a better idea what kind of team BYU has and what kind of opponents on the ever-changing independent schedule they will face.
But, until then, what good is the long offseason but to debate the "what ifs?"