Breaking Down Manase Tu'ungafasi Signing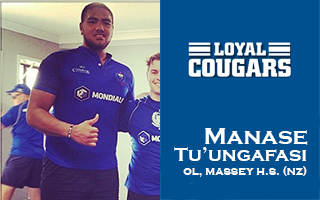 As we've all noticed by now, late Friday evening BYU announced the signing of another massive Polynesian athlete, 6'7″ 322-pound New Zealander Manase "Die Hard" Tu'ungafasi. In doing so, Manase becomes the second behemoth rugby player with Tongan heritage and no major football experience to join BYU Football's 2015 recruiting class. The main difference between Tu'ungafasi and Motekiai Langi is that while Langi left immediately for a mission and won't join the team until the 2017 season, Tu'ungafasi will join the team immediately for fall camp with full eligibility. Indications from Coach Tujague are that Tu'ungafasi will begin his football career competing for a backup position at Offensive Tackle. In an interview this morning on BYU Sports Nation, Tujague also stated that Manase is athletic and strong with a bit of a nasty side.
Based on current information, my scholarship count shows Tu'ungafasi taking the final spot for the 2015 season. I believe this is the spot the coaches were using to pursue J.C. cornerback Khari Vanderbilt. Since it has now been taken by Manase, it seems clear that the coaches have moved on from Vanderbilt and have filled the limit of 85 scholarships for this season. Those 85 players, plus 20 select walk-ons, will comprise the Day 1 roster when the players report for Fall Camp on August 7. It should be noted that walk-ons do not sign any official paperwork with the school, so the inclusion of the word "sign" in the press release (not to mention Tu'ungafasi's addition to BYU's signing day release) would indicate that he has signed a National Letter of Intent or scholarship agreement.
The chess-playing giant was also recruited by Oregon State and the University of Utah, though it is unclear if either school extended an offer. Interestingly, several Facebook and Instagram photos seem to indicate that Manase was a supporter of the Utes in recent years. If Utah (and Oregon State) did not extended an offer, Tu'ungafasi's selection of BYU makes perfect sense. But if Coach Whittingham was willing to give Manase a full-ride, it is encouraging that BYU was still able to win him over, perhaps based on a history of Tongan and Kiwi athletes, not to mention the development of a handful of players initially unfamiliar with the game of football. And if Ziggy Ansah's story isn't the greatest national example of the latter, then I don't know which program can boast one that's better.
There's one final link between Langi and Tu'ungafasi: Tonga's attempt to increase exposure for american football in the form of the Kingdom Bowl. The 2014 game was played on the island of Tonga and we know that Mo Langi participated in what was perhaps his biggest previous exposure to the game of football. He's shown here in the back row wearing a black shirt:

A 2015 game was played in San Mateo, California on January 3. And while there is no evidence that he saw any game action, Manase Tu'ungafasi was rostered for the game and can be seen below wearing #78 on the sidelines.
A second 2015 Kingdom Bowl will be played in Tonga on July 4. It will be interesting to see if any coaches from BYU or another college football team will spend the holiday weekend in the Pacific islands in hopes of discovering the next round of Tongan athletic talent.
Either way, add another story line to the list for BYU's Fall Camp in August: Will Tu'ungafasi be able to learn the game fast enough to earn his way onto the travel list for BYU's season opener at Nebraska? And if he does, how much hype will surround him as he begins his football career and continues to develop his game?
If you haven't already, be sure to follow Manase on Twitter and offer our congratulations to BYU's latest football signee: @M_Tee05