5 Ways Magic Happens for a Special BYU Football Season in 2015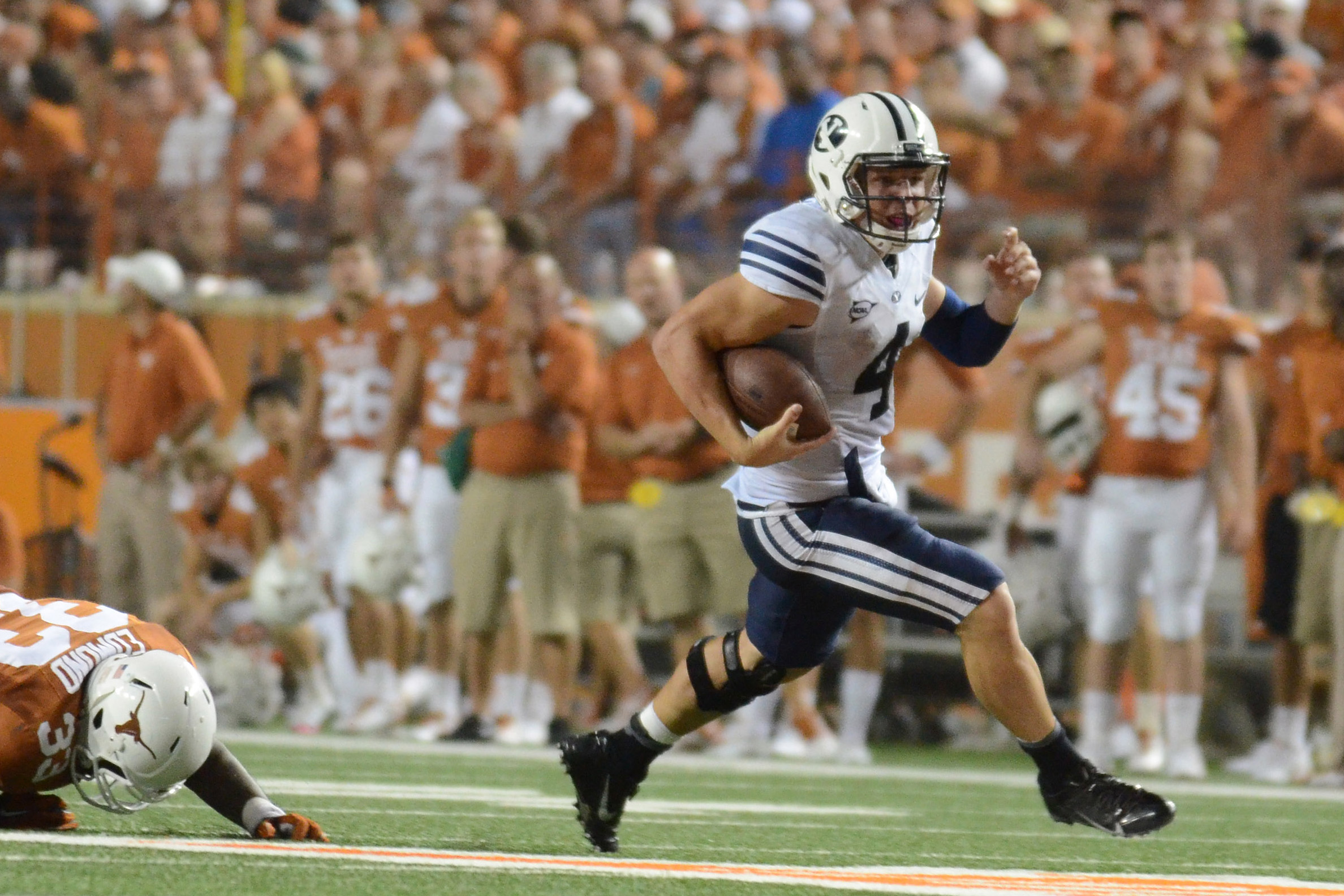 If you are one of those fans who hates the ridiculous hype that builds up around BYU football every summer, I recommend that you avert your eyes. What follows is egregiously blue-goggled, irrational exuberance…
By my tally, BYU is due for a "special season". The definition of special season is undoubtedly subjective but I'd say it could range between an 11 win/Top 25 finish and another national championship trophy on the mantle. To achieve a special season of this kind in 2015, BYU probably needs a little Austin-Collie-style "magic". So I've come up with a list of some of the magic BYU will need in order to put 2015 in that elusive category:
1. Bronco Mendenhall's renowned sorcery must rejuvenate the BYU defense: It turns out that Bronco's system works best when Mendenhall himself is running it. The 2014 defense had talented individual players but, in the heat of battle, it didn't seem like all eleven guys were consistently, as they say, "assignment sound". When a Bronco D is running smoothly it stops the run cold, gives up some inconsequential underneath passes between the 20's, and never gives up long passes over the top. When opponents do get into the red zone, a good Bronco D tightens the screws and forces field goal attempts. BYU must field an above-average Bronco defense to have any shot at 11+ wins in 2015. With the head man back in the role of defensive coordinator, a good Bronco defense doesn't seem unlikely.
2. Frank Wintrich's alleged wizardry has to live up to its hype: New strength and conditioning coach, Frank Wintrich, has been training the BYU players for months now. Rumor has it that his methods are improving the speed, agility, and explosiveness of BYU's players. Plus, Wintrich's systems are designed to help BYU players avoid injuries. BYU needs all of those rumors to be true to make 2015 a special season. They say football is a game of inches, so if BYU guys are able to get to the right spots just a little faster this season, it could make a big difference.
3. Taysom Hill and his inhuman abilities need to be on full display in all 13 (14?) games: When a healthy Taysom Hill is taking snaps, opposing defensive coordinators tremble (and sometimes lose their jobs soon thereafter). The kid is a freak. BYU's offense is always dangerous when Hill is healthy. The Cougars will have the best chance of winning each game on the schedule with an unhindered Taysom Hill under center.
4. Order up a round of health potion to the rest of the team: BYU's starters are talented enough and its schemes solid enough to beat any team on the schedule on a given day. But BYU can't afford to have many starters go down to injury as we saw in 2014. Taysom Hill is not the only player BYU needs to stay healthy to achieve "special season" status this year. In many cases, the dropoff between a starter and his backup could make the difference between a win and a loss.
5. The mystical "BYU Bounce" must make a reappearance: A "BYU Bounce" is what folks used to call those lucky bounces and breaks BYU seemed to get a lot of in the 80's. A good break here or there can be the difference between a 9-3 and 12-0 record, as the 2008 Utes can attest. Between 2006 and 2010, the Cougars put together a streak of 14 straight wins in games decided by 7 points or less. BYU hasn't had the same luck over the past three seasons, with a 4-9 record in such games. Bronco Mendenhall's players will need to pray that the luck returns in 2015 if they have any hopes of bringing another special season to Provo.
Sadly, magic isn't real.
So in lieu of magic, let's hope that more mundane things like relentless hard work and position mastery can combine with talent, mental toughness, and just enough good luck to produce another one of those "special seasons" in 2015 for BYU instead.