Boney Fuller: My Friend, the Bruin Legend
Updated: September 18, 2015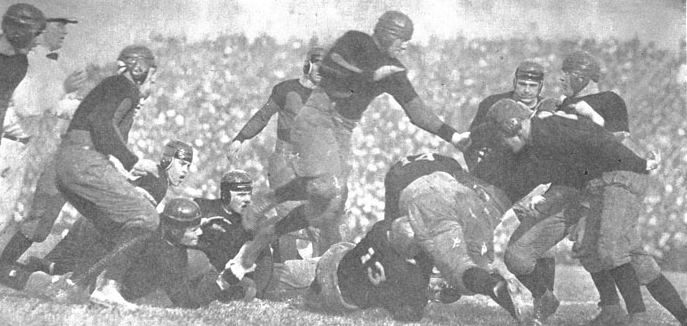 The sensational Boney Fuller, revered both in heaven and on earth (or at least the Twitter portion thereof) returns to provide Loyal Cougars with an anecdote from his life in preparation for BYU's meeting with #10 UCLA in the Rose Bowl this Saturday. Follow him on Twitter: @boneyfuller.
A few years back, I was looking to expand my door-to-door multi-level marketing encyclopedia sales business, so I hopped a train in Ogden and headed east. As luck would have it, one of the last remaining steam locomotives was leading the way. It reminded me of my younger years when steam was the norm and the newfangled diesel engines weren't even around. Somewhere in the middle of flatland America the engine had to fill up at a water stop which provided the passengers an opportunity to relieve some water pressure of their own.
There were a few groves of small trees near the water stop tin to which the ladies and gents were dispersing to heed the call. I noticed a couple of tall Live Oak trees off in the distance on the Western horizon a few hundred yards away. I figured it would be a prime opportunity to stretch my legs a bit, so I decided to mark my territory there. I wasn't too far into my trek when I noticed that I was not alone. My companion and I sidled up to our respective trees; not a word was said, not a glance was exchanged– the way it should be. I'll tell you this, though, I haven't seen that much bark fly since the time that cat got into the dog pound.
We made our way back to the train and settled down in the club car at a table right across from each other. Wanting to break the silence between us, I reached out my hand and said, "The name's Livonia Fuller– but everyone calls me Boney. Darn fine to meet ya." He reciprocated with a firm grip and said, "Hello Boney, the name's John Wooden. Sorry I don't have a nickname to share with you but it's a pleasure to make your acquaintance."
"Heck," I said, "If you're looking for a nickname, I'll give you one based on our little foray to the trees – how does 'Whizzer of the West Wood' suit you?" He grinned and with that a friendship was born.
The rest of our time together on the train was pretty much a non-stop question and answer session. He was on his way to become the head basketball coach at a high school in Indiana and he wanted to know more about how I ran my successful business. I told him things like "Things turn out best for the people who make the best of the way things turn out" and "It's the little details that are vital. Little things make big things happen" and "Whatever you do in life, surround yourself with smart people who'll argue with you" and "If you're not making mistakes, then you're not doing anything. I'm positive that a doer makes mistakes." All the while he was taking notes in this rolled up notebook he had with him. I probably shared a couple hundred nuggets of wisdom that I had gathered over the years. I'm sure the folks around us were bored to tears but it really made the time fly.
We eventually got to his stop and he went his way while I went mine. We both ended up serving our country during The Big One. We both, thankfully, came home to our families. I did lose touch with him a little over the years but I hear that he turned out to be fairly successful himself. A half dozen years ago or so I got a rather terse message from The old Whizzer; I guess he wasn't too happy about UCLA's football team losing twice to BYU over the course of 9 months – the 59 to zip game must've really put it over the edge. It saddened me and I didn't hear from him after that until we bumped into each other last night. "Boney my old friend!" he boomed, "I've seen your Cougars play these last two games and it looks like your young men really have something special going on down there in Provo. It really pains me to say it but come Saturday night it'll be BYU by 5…"
To close out this week's edition, I go to the mailbox for a little candlelight reading:
---
On a scale of one to Jason Pierre-Paul's hand how bad is BYU going to beat UCLA?
Dave Sapids, St. George, UT
Dave,
Much like JPP's hand, I think it will be single digits. I won't go as far as my friend John and call a winner but I do think it will be closer than many believe.
---
Boney, True or False: The percentage of gold diggers, floozies, and men with neckbeards in the state of California hasn't actually changed since the 1800s.
Bored & Bitter in the Mid-West
I know for a fact there were lots of beards and tons of people digging gold. I also saw more than a handful of ankles during my time in California. True.
---
What was it like playing against a Dennis Erickson coached team?
Anonymous
Dennis was always a good coach but he seemed to be a bit off his game during my playing years. Things seemed to turn around for him during bowl season of 1933.
---
The mailbox was full of several different iterations of the same basic question from Boise, UCLA and BYU fans:
Boney Fuller, why are you so mean and offensive?
Nothing I do is done with malice, it's all in good fun. My hope is that opposing fans and players have as much fun with it as I do. If anyone has truly been offended, well, that wasn't my intention. I really look forward to interacting with more players and fans in the future.
---
Mr. Fuller: You're old an you're wise, is there anything better than Arby's?
Bob Waymon, Nampa ID
In Nampa, Idaho? Probably not.
---
Send your questions to @boneyfuller or email him if you'd like to see your question answered in the future.