BYU v. Utah Game Preview
Updated: September 10, 2016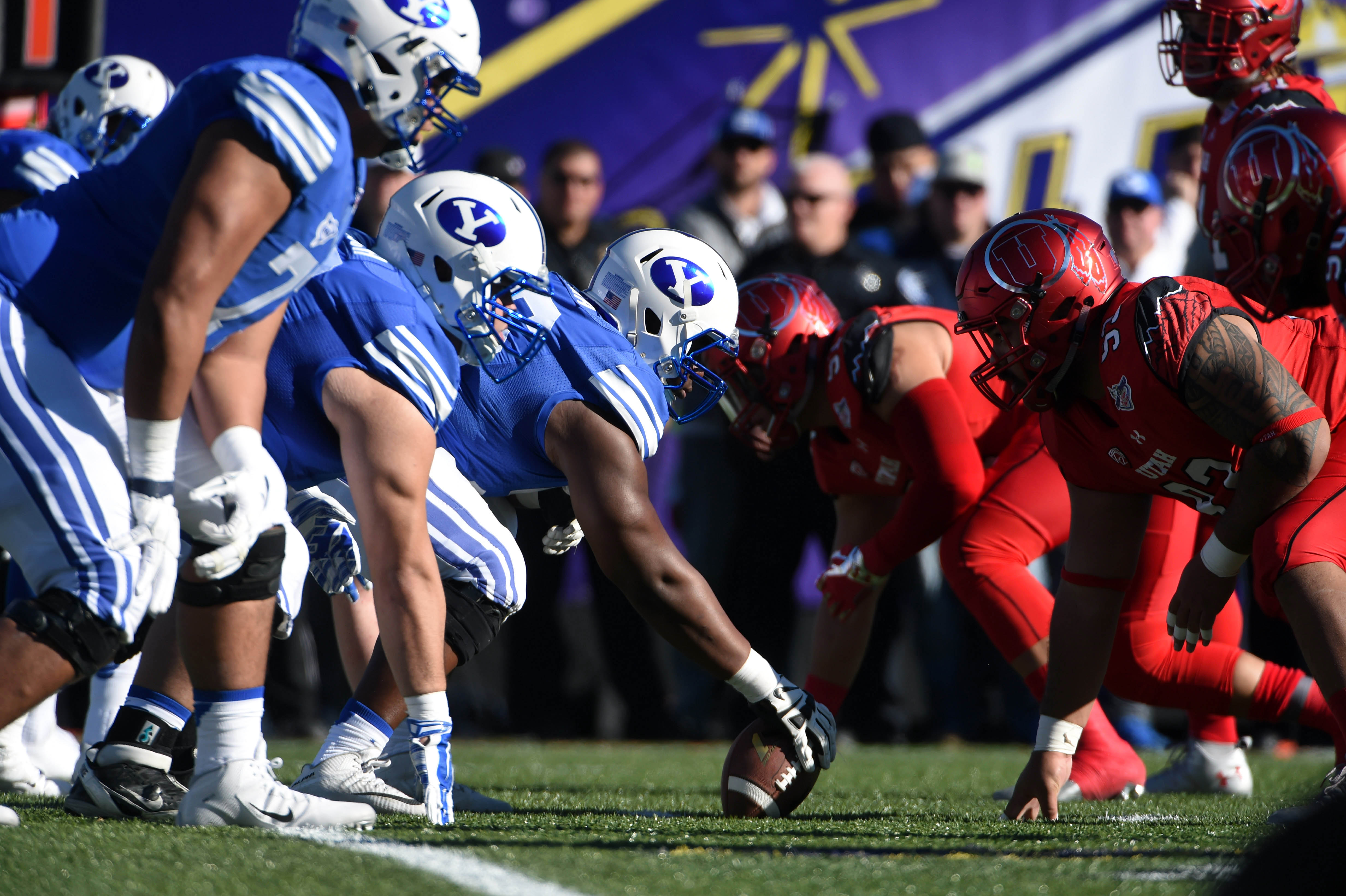 Game Capsule
BYU Cougars (1-0) at Utah Utes (1-0)
Rice-Eccles Stadium, Salt Lake City, Utah
Kickoff Time: Saturday, September 10, 2015, 5:30pm MDT
TV: FOX (Gus Johnson/Joel Klatt/Shannon Spake), BYUtv – Countdown to Kickoff (Dave McCann/Blaine Fowler) 4:30pm MDT
Radio: Cougar IMG Sports Network (Greg Wrubell/Marc Lyons): Sirius XM 143, KSL 1160 AM and 102.7 FM, and online at BYUcougars.com
Utah Statistical Preview
Past games against Utah have involved so many statistical anomalies that it's difficult to pinpoint many trends over the course of the rivalry. Only two keys are immediately obvious when reviewing recent history against the Utes:
Turnover Margin: There's no better place to start than with the most telling statistic of the Holy War: In the ten BYU/Utah match-ups of the Bronco Mendenhall era, the Cougars held a 3-0 record when winning or tying the turnover margin and an 0-7 mark when losing the turnover battle. BYU was +1 in its 3 wins and -21 in its 7 losses. In the last five games of the Holy War, BYU has lost the turnover margin by an average of 3 takeaways per game! That's quite the predictor. And there's no reason to think that this metric's importance will be any less with BYU's new coaching staff in place. I believe it's safe to say that BYU will lose yet again if the Utes hold the turnover margin edge. For BYU to have a chance at a win today, the Cougars will need to at least match Utah's turnover number. And, if BYU wins the turnover battle, I predict a victory this evening in Salt Lake City.
No Defensive/Special Teams Scores: In BYU's last 4 games against Utah, the Cougars have surrendered 5 defensive touchdowns (and nearly a sixth last year on an interception that was returned to the 1 yard line). In case it's not obvious, those four games have not ended so well for BYU. And so, if the Cougars do turn the ball over, the focus needs to immediately shift to not giving up any big returns and allowing the Cougar defense to take the field and limit the damage as much as possible. BYU's defense has played well against the Ute offense of late, allowing 20 offensive points or fewer in 4 of the last 5 games. But, BYU's own offensive futility has combined with the turnovers to lead to losses in all 5 games. Keeping the Utes from scoring on plays where they didn't start with the ball will help BYU's chances immensely. If BYU can hold the Utes to offensive scoring only, I believe that BYU will win the game.
So, there you have it. Those are the two most important areas that I believe could shift a close game one way or the other. Of course, I'll be interested in a lot of other things as well. Just one game into the 2016 schedule, it's difficult to know exactly what to expect from each team. But, here are the unit-by-unit breakdowns for what we can expect to see in today's game:
BYU Pass Game: In Week 1, Taysom Hill and the Cougars completed 21 of 29 passes (72%) for 202 yards. But, the Cougars will be hard-pressed to duplicate those numbers against Utah's much tougher pass defense. In their opener, the Utes only allowed 42 yards through the air on 6-of-18 passing (33%). And while some of SUU's offensive struggles can be blamed on losing its starting QB to injury, the Utah pass defense showed well even before McCoy Hill's exit. Much like the Arizona game, I believe that BYU will look to complete short, high-percentage throws (with a few deep balls for good measure) and finish with a slightly lower completion percentage than last week and a lower yardage total as well. Look for the Cougars to finish the day with around 150 yards passing and a completion percentage in the 60-65% range.
BYU Run Game: In the opener against Arizona, BYU ran for 213 yards (4.5 yards per carry). Jamaal Williams accounted for 162 of those yards (76%) with Taysom Hill running for most of the remainder (37 yards – 17%). In Utah's opener against Southern Utah, the Ute defense held the Thunderbirds to 116 yards on the ground and 3.6 yards per carry. BYU should be able to surpass that total (and average), but probably not for as much as we saw against the Wildcats in Week 1. I would expect BYU to finish with around 200 yards on the ground and average around 4 yards per carry. The Cougars will likely find more success in the run game than through the air, but look for Ty Detmer to attempt to establish a good balance to keep the Utes guessing.
BYU Run Defense: Last Thursday, Utah ran for just 138 yards and 3.7 yards per carry against a tougher-than-expected SUU defense. Against the Wildcats, BYU's run defense allowed only 115 yards on the ground and 4.4 yards per carry. I expect the Cougar D to improve upon last week's performance against the run. I see Utah running for only around 100 yards today.
BYU Pass Defense: In the first game of the season, Utah quarterback Troy Williams passed for 298 yards, completing 23 of 39 attempts. BYU's defense allowed Arizona's Anu Solomon to complete 20 of 30 passes for 213 yards. I see Utah's total dropping significantly with BYU bringing a variety of pressure and frustrating the inexperienced signal-caller Williams. I see the Utes passing for around 200 yards on the day.
Adding those up and you've got 350 yards of offense for the Cougars and 300 yards of offense for the Utes; that's likely a close, low-scoring game as expected (especially if turnovers don't play a huge role either way).
I'll also be watching how BYU comes out in the beginning of the game. In the past five games against Utah, the Cougars have come out tight and have not matched Utah's energy level. I want to see how the coaching changes will affect BYU's energy. Will we see a similar start to what BYU has done in recent history against the Utes? Or will the Cougars finally be motivated to come out and play aggressively with Coach Sitake now leading the way?
The funny thing about close games is that one big play can make the difference one way or another. And, since Utah is playing at home, favored to win, and has won five straight against the Cougars, it seems that the slight edge would go to Utah. Kyle Whittingham does an excellent job of preparing his team for this game each year. And at this point, the Utes can play confidently knowing they've won five straight and the pressure is on BYU to end the recent trend. The question is: how well can Kalani Sitake duplicate Whittingham's formula for success in Provo? I'm hoping that Coach Sitake is able to neutralize the mental advantage that the Utes have held in the rivalry and that the Cougars can make the one extra play needed to leave Salt Lake with a win tonight. But, until BYU proves otherwise, I think Utah will somehow find a way to get the win yet again. I predict a 17-13 Utah victory. Please join me in praying that I'm wrong.
Depth Chart/Roster
Lastly, here is a look at the projected Depth Chart for today's Holy War game against Utah.
You can download the JPG and PDF versions of the latest Depth Chart, as well as printable offensive and defensive rosters, at the following location:
https://www.loyalcougars.com/football-roster/depth-chart/
Go Cougs!