Former Cougars Rep the Y
Updated: September 16, 2016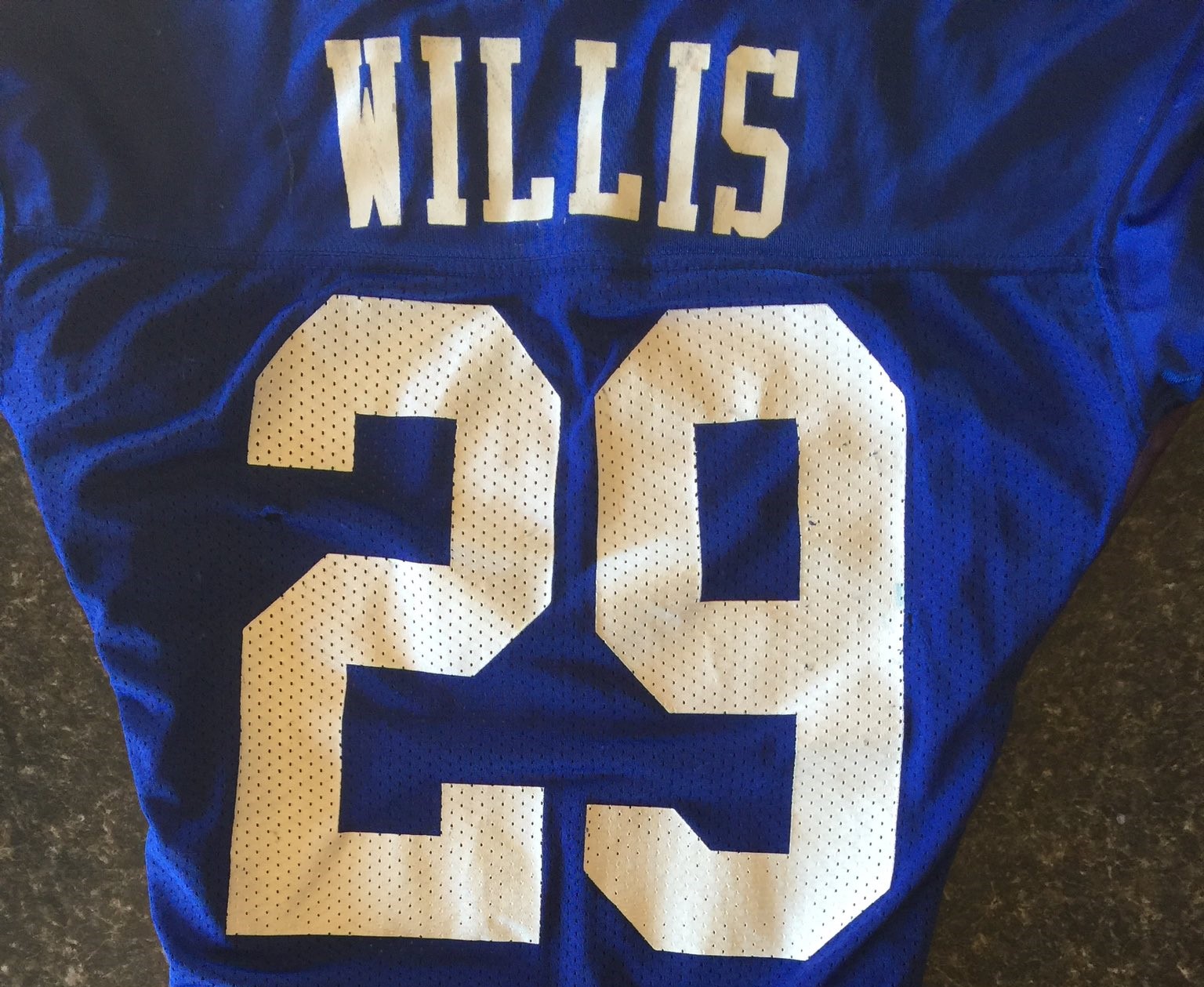 Prior to last week's BYU-Utah football game, former BYU running back Jamal Willis invited all past BYU football players to post a picture on Twitter of the jerseys they wore as players at BYU. Willis kicked off the trend by tweeting out a photo of his own jersey:
?Former Cougar RB Jamal Willis is Rocking the Jersey!Former cougs Rock yours!Go Cougs!!! Retweet,start the movement? pic.twitter.com/pT3fxF6wZW

— Coach Jamal Willis (@cutbackelite29) September 10, 2016
Here are some of the responses that rolled in. First was BYU DB (1989-1992) Derwin Gray:
Let's go @BYUfootball! Beat utah!@TotalBlueSports @BYUSportsNation #BYUvsUtah pic.twitter.com/S0nz33f8lD

— Derwin L. Gray (@DerwinLGray) September 10, 2016
Earl Kauffman, kicker during the Ty Detmer years sent a picture for Willis to post:
Earl Kaufman showing support for Kalani/BYU football. Players and fans rep your jersey and post at #repcougsjersey pic.twitter.com/DstuLUW57g

— Coach Jamal Willis (@cutbackelite29) September 14, 2016
Tim McTyer, DB from 1995-96 posted his uniform:
@cutbackelite29 #repcougsjersey #ThisIsY pic.twitter.com/lqdIDxHGtr

— Tim McTyer (@timmctyer) September 14, 2016
Another DB, Corby Eason (2009-2011) was the next to tweet:
@cutbackelite29 Here you go @BeezyHD its your turn pic.twitter.com/Q7lgnSuPRB

— Coach Corby Eason (@ceason88) September 15, 2016
BYU fan Steph Odle posted a pic of her dad's jersey. Phil Odle was a Defensive End from 1965-1967.
#repcougsjersey Takin it way back to my Dad's onesie jersey! #odle88 #crotchsnapper #1965-1967 #ThisIsY #RepTheY pic.twitter.com/qch2jBN7kQ

— Steph Odle (@StephOdle88) September 15, 2016
Another kicker, Joe Herrick (1990-1993) was next to join the mix:
@cutbackelite29 @KauffmanQuotes we are are all behind you @kalanifsitake @TyDetmer14 #repcougsjersey #ThesisY pic.twitter.com/hetWCDa2m7

— Joe Herrick (@JoeHerrick_) September 15, 2016
Willis called out Derik Stevenson (LB, 1992, 1995-98) and he, of course, responded:
@cutbackelite29 what's up Jamal. Always repping my squad. #BYU #4life #repcougsjersey pic.twitter.com/NCZgevZaI7

— Derik Stevenson (@derikstevenson) September 15, 2016
Former OG Tim Hanshaw (1988, 1991-1994) added a twist by having his son, 2017 BYU TE commit Bentley display Tim's uniform:
@cutbackelite29 #repcougsjersey The past and the future ! @TotalBlueSports @Rivals_BYU @BYUfootball @TBSrecruits pic.twitter.com/ok4ZlZxSWC

— Tim Hanshaw (@TimHanshaw) September 16, 2016
The "Arvada Flash," QB Marc Lyons (1965-1969) posted a picture of his #15:
#repcougsjersey pic.twitter.com/WmryGQ920j

— Marc Lyons (@marclyonsksl) September 16, 2016
And you just knew #IAmJackDamuni (DB, 1993-1994) was going to post a picture:
@cutbackelite29 I'm sucking in dat gut just for the pose #repcougsjersey

GO COUGS!!! pic.twitter.com/cJBpOcwHLu

— Jack Damuni (@JackDamuni) September 16, 2016
Another former Cougar active on Twitter, former WR Margin Hooks (1996-2000) wore both navy & royal blue for the Cougars:
Reppin the Y multiple ways… Royal, Navy & Cougar Tan pic.twitter.com/gxWXJOzRMN

— Coach Hooks (@SkysTheLimitWR) September 16, 2016
Hans Olsen (OL, 1996-2000) added his jersey:
.@cutbackelite29 spent the best days of my life in this. I know it's not the bib, but it'll work. pic.twitter.com/a5QzysPBAN

— Hans Olsen (@975Hans) September 16, 2016
That's all we've seen so far, but we encourage former Cougars everywhere to join the movement by tweeting a jersey picture with the hashtag #repcougsjersey. This is a cool trend that hopefully only grows stronger this week and throughout the season.