Top 10 True Freshmen to Make an Impact for BYU in 2017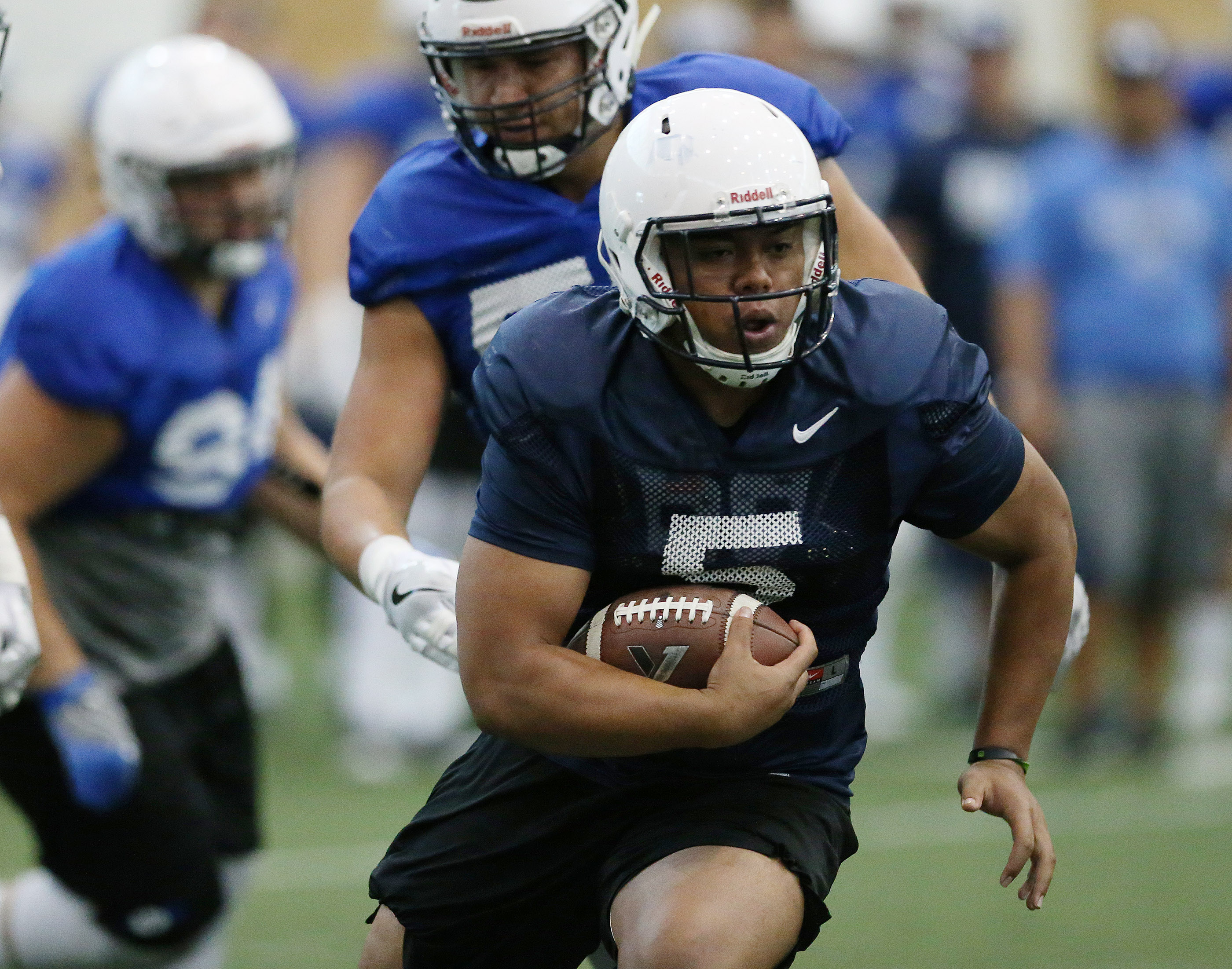 If the theme of the 2016-17 BYU football offseason could be condensed into a singular phrase, it is this: Roster restructuring. Of the 137 players currently shown on the Loyal Cougars roster, 48 are newcomers to the team for 2017 (35 of which are projected to be on scholarship). And of those newcomers, an incredible 36 (28 on scholarship) will participate in their first season of football post-H.S. as true freshmen in 2017.
Perhaps the best way to estimate how many of these newcomers will contribute in 2017 is to look back on the 2016 season. By comparison, the new 2016 BYU coaching staff added 34 newcomers (23 on scholarship) and of those, 23 were true freshmen (17 on scholarship). During the 2016 season, a total of 88 players saw playing time for BYU in 854 games (286 starts). Of those statistics, 18 newcomers accounted for 179 game appearances and 58 starts. So, around 20% of BYU's 2016 contributors were newcomers. Of the 18 newcomers to get playing time (12 on scholarship), only 8 were true freshman (with Austin McChesney and Jake Oldroyd being the only walk-on true freshmen to see the field).
With that in mind, it seems unlikely that more than 10-12 or so of 2017's 36 true freshmen will see the field this season. Several factors could boost a player's chances to contribute this season: participation in spring camp, minimal time away from football, post-mission recovery time, and the simple luck of playing at a position with less depth (for example, wide receiver and not middle linebacker). Without further ado, here is the list of BYU's 36 true freshmen in 2017:
And now, the list of the Top Ten most likely contributors in 2017:
Honorable Mention
There were three players just outside the Top Ten that merit inclusion for possible playing time. Langi Tuifua and Lorenzo Fauatea were both highly-recruited defensive ends in the high school class of 2017. The fact that they are still in football shape and not coming off a mission may help one or both work their way into the rotation during fall camp and into the season. Also, no walk-ons cracked the Top Ten, but of the 8 listed, I like Neil Pau'u's chances for playing time the most. He's a mature returned missionary (graduated in 2014), he's been home from his mission for long enough to return to playing condition, and he's had the benefit of participating in workouts and practices with the team since January. He also plays at a position of need (wide receiver) and his height may help him stand out enough to earn some reps this season, particularly down the stretch against some of BYU's lesser opponents.
10. Alden Tofa, Defensive End

Originially expected to serve a mission prior to joining the team, Tofa was the most highly-recruited among the Class of 2017 defensive ends. At 260 pounds, he also possesses the most college-ready body type among the bunch. There is a lot of depth at the defensive end position, but not a lot of experienced depth. The coaches have stated repeatedly that they will play the best guys regardless. Tofa may not see time against Portland State, but I could easily see him passing the third-stringers Cody Savage and Rhett Sandlin as the season rolls on, especially when injuries strike the top six and force coaches to turn to inexperienced, yet talented guys like Alden.
9. AJ Lolohea, Defensive End

Of the six newcomers looking to add depth at Defensive End, Lolohea is the one who has been with the team the longest and the only one to participate in spring ball this year. If the coaches value knowledge of the schemes, AJ should hold the edge over the other true freshmen. Lolohea signed with Weber State out of high school and returned from his mission to Tonga last year. He battled some injuries during spring practices, but if he's able to enter fall camp at 100%, he should be listed above guys like Tofa, Tuifua, and Fauatea on the first depth chart. From there, all he would need to do is hold off that bunch and he'd almost be assured to get some playing time this season.
8. Khyiris Tonga, Defensive Tackle

Tonga held mutliple Pac-12 offers out of High School prior to signing with Utah. Depending on how quickly he's able to return to football condition following a March return from a mission to Kansas, Khyiris should challenge for playing time at DT. The defensive tackle group is packed with talent, and they've got more game experience than the ends, but the coaches are still looking for that dominant, Travis Tuiloma-like, every down player. The battle to make the rotation will be heated through camp and into the season, and Tonga (not to mention #6 on this list) should have as good a chance as anyone, to fight his way into the mix.
7. Tariq Buchanan, Wide Receiver

Tariq Buchanan and Keenan Ellis were similarly-rated prospects in the Class of 2017. Buchanan's good fortune of beginning his BYU career with the wide receivers will likely allow him to see the field sooner than Ellis, who will face a much more daunting challenge for playing time as he starts out with the cornerbacks. Adding to the possibility for 3-4 wide receivers on the field at the same time, the group is also much more wide open than the CB mix. Buchanan will be competing with guys like Inoke Lotulelei, Mack Richards, Rickey Shumway, and Neil Pau'u for the dregs of WR playing time, instead of going up against more established and experienced corners like Michael Shelton, Isaiah Armstrong, Austin McChesney, and Chris Wilcox in order to even get some garbage time at corner.
6. Keanu Saleapaga, Defensive Tackle

Saleapaga, originally a member of the 2016 class, greyshirted the 2016 season to work on some academic issues, and was finally able to enroll and join the football program this January. You can bet he's hungry for playing time heading into the 2017 season almost 2 years after finishing his high school career. Listed as a 265-lb Defensive End out of high school, the coaches' plans to beef him up to play D-Tackle are apparently progressing nicely, as Keanu was listed at 285 on the spring roster and should hit 300 entering the season. Keanu was the highest-rated recruit among the D-Line newcomers, with seven P5 offers. Add to that the fact that he's been with the program the longest, and he would seem to be a safe bet to see the field as a defensive tackle this season.
5. Chaz Ah You, Safety
Likely the highest-rated high school recruit of BYU's 2017 class, Ah You will be welcomed to BYU with an open competition for the starting safety spot vacated by recent graduate Kai Nacua. And, though it's likely that one of the four returning safeties (Zayne Anderson, Matt Hadley, Austin Lee, or Tanner Jacobson) wins the job for the opener, Chaz will have a good chance to work his way into the mix for playing time and potentially even starter's minutes as the season wears on.
4. Earl Tuioti-Mariner, Defensive Tackle
The first of four true freshmen listed on the post-spring BYU depth chart, Tuioti-Mariner is currently in a great spot heading into the 2017 season. He'll likely face some competition from fellow true freshmen Keanu Saleapaga, Khyiris Tonga, and Mo Langi as well as 2016 redshirt Kainoa Fuiava, but his position as #3 DT on the depth chart means that the spot is currently his to lose. And a third-string D-Tackle will almost assuredly see the field for the Cougars with all the rotations and injuries that tend to occur along the line. All Earl will need to do is hold his spot and he should see significant time this season.
3. Garrett England, Flash Linebacker
It may seem odd to have a member of BYU's class of 2013 listed as a true freshman, but after a greyshirt year in 2013 and an October mission call to Italy that eliminated his participation in the following three seasons, that is where Garrett England finds himself. England's spot at #3 Flash means he probably won't see any linebacker reps this year, especially with Fred Warner taking the lion's share as the starter. But, Garrett has two things going for him: first, his inclusion on the depth chart likely puts him on the travel squad and gets him time with the special teams and second, there's basically no one else behind him on the depth chart to get reps at Flash. If the position is hit with injuries, England would be the third man in after Morgan Unga. All these factors combined tell me that Garrett England will see significant time in 2017, likely appearing in each of BYU's 14 games in some form.
2. Ula Tolutau, Running Back
Already listed as the #2 running back in a wide open "by committee" rushing corps, Tolutau will have a great chance to not only see the field, but record a high quantity of touches in 2017. Ula's daunting task of shedding the mission weight is the only thing holding back expectations for his potential this season. Even at his current weight, running back coach Reno Mahe has been giddy about the possibilities with Tolutau toting the rock. Multiple pundits even project Ula to lead the team in rushing yards this season. It seems that Tolutau would fill the Manase Tonga/Fui Vakapuna role quite well as the others battle for the speedier/shiftier role in the mold of Jamaal Williams.
1. Matt Bushman, Tight End
Though listed as the #3 tight end on the post-spring depth chart, Bushman's ascension to starter or co-starter seems like a foregone conclusion following his stellar performance in the spring scrimmage and a recent viral one-handed catch. His uncanny Dennis Pitta-like ability to find space in the middle of the field should make him a valuable weapon for the Cougars in 2017. Several BYU fans place Bushman atop the projected receptions list in 2017, making him an easy pick for the biggest contributor among true freshmen. Bushman was just announced as #14 on ESPN 960's list of the Top 25 BYU players in 2017, the highest of any BYU newcomer or true freshman.
What do you think? Is there anyone else you think should be included in the top ten? Or are any ranked too high or low? Join the discussion in the comments below or on Cougarboard.