All-Tradition, Spirit, Honor Team: Offense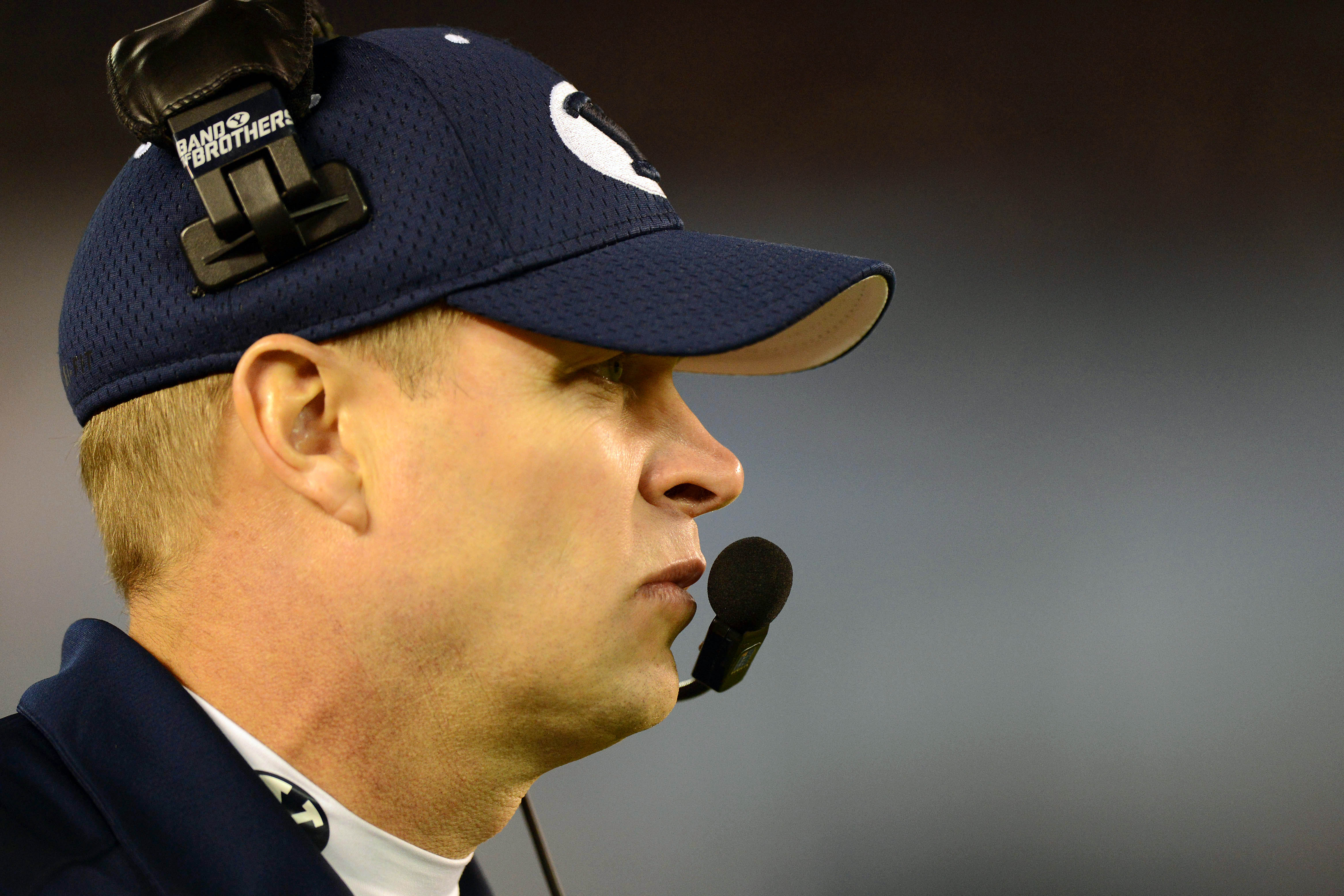 The All-TSH Team turns to the offense, listing who embodied the phrase under Bronco Mendenhall.
Yesterday, Zach introduced the All-Tradition, Spirit, Honor team and gave us the nominations for the team's defense. Here is the offense.
Captain – Scott Johnson: I know that this is supposed to focus on the offensive side of the ball, but I wanted to choose a captain for the team — and I had to go with the former defensive back. If there was ever a guy that whole-heartedly bought into what Bronco was selling, it was Scott Johnson. I'm fairly certain there are multiple holes in walls in the student athlete building that Scott ran though per Mendenhall's request. He played just about every position in the defensive backfield during his tenure, essentially filling in wherever there was a need. His versatility was not a testament to his athletic abilities as much as it was his determination. He wasn't particularly fast or strong, but no one fought harder and played smarter than Scott Johnson. 
QB – Brenden Gaskins: Although he never saw much of the field, it was clear that Brenden was committed to the program. On the sidelines he had the demeanor of a coach as he called in plays and talked coverages with Max Hall. Also, the fact that he was a flag bearer of the TCU game in 2009 says a lot about his contribution to the team. As a senior, he voluntary moved down from backup to third-string to allow Riley Nelson to get more reps.
RB – David Foote: The first thing I remembered about David was in 2010, he had a great 31-yard run for a touchdown against Colorado State. The next year he would come in during mop up time and all he did was bust off long runs (he a 20+ yard run in four games in 2011, including a 56 yard run against Hawaii). In his senior year, he was the special teams captain and did all of the little things for the BYU offense. He was never expected to see the field at BYU, but in the end, the former walk-on was a vital cog in the machine.
FB – Zed Mendenhall: If anyone ever thought that Zed got his spot on the team due to nepotism were proven wrong when he stepped on the field. As a walk-on he proved to be a very serviceable fullback despite his lack of size. At the end of every game you would see cuts and scrapes on his arms and blood on his face. There was no doubt that Mendenhall was a warrior.
WR – J.D. Falslev, Nate Meikle: Two-for-one deal here. Both of these guys didn't received much fanfare when they arrived on BYU campus. Both walked on at BYU and were considered too small to contribute at the next level. Their quickness and versatility proved valuable as they became the reliable jack-of-all-trades type players. They have set such a precedent at the scat back / slot receiver position that there will be a definite void to fill when Falslev graduates.
WR – Parker Mangum: There are few people outside of the program that remember Parker's contributions and it's probably true that his brother Tanner, who has yet to play a down for BYU, has already overshadowed him. Regardless, Parker was a great example of the type of players Bronco Mendenhall brings into the program. He  joined the team in 2007 after transferring from St. Mary's where he played both football and baseball. He never earned a scholarship or saw significant playing time but coaches and other staff members always noted his contributions to the scout team and rewarded him by making him the flag bearer for the New Mexico game in 2009.
TE – Dennis Pitta: If anyone is still harboring ill feelings towards Gary Crowton, just remember the former coach gave Pitta the chance to walk-on and eventually receive a scholarship. Coming out of Moorpark High School, Dennis was a tall-but-scrawny wide receiver that received interest from the likes of Oregon and Oklahoma State, but he didn't receive a D1 scholarship offer. The rest is history. He came to BYU, filled out his 6'4" frame, and dominated. I almost wanted to leave him off this list because he nearly dislocated my shoulder during a pickup game of basketball in the Richards Building, but there is no denying Mr. Pitta's legacy.
OFFENSIVE LINE
OL – Braden Brown: Brown arrived at BYU as a tight end, but midway through the 2009 season the coaching staff asked to him make the switch to right tackle. The move worked out well as Brown went on to start 39 consecutive games, but moving from a high profile position such as tight end is never easy. He had to give up catching touchdowns for trap blocks and pass protection. It was no easy task but Braden took it in stride.
OL – David Oswald: Tell me if you have heard this story before. BYU lets a player with extremely limited football experience walk-on to the football team and see them develop into key player. Well before Ziggy Ansah there was David Oswald. While his journey is nowhere near that of Ziggy, the narrative is similar. Oswald only played one year of high school football before joining BYU. Despite his inexperience, Oswald went on to start his final 26 games and earn ESPN the Magazine Academic All-American honors.
OL – Famika Anae: We never got to see the full potential of Famika, but to no fault of his own. He battled through multiple injuries only to start his first and only game against Hawaii in 2012. After that game he had to step away from football due to a variety of injuries. But it was Famika's performance in that Hawaii game that puts him on this list. After struggling all season long, the offensive line needed a boost and got it from Anae. He played like a man possessed, leading the offense to a season high 396 rushing yards.
OL – Matt Reynolds: Nothing says Spirit, Tradition and Honor quite like throwing a menacing block without your helmet on to help spring a touchdown.
OL – Marco Thorson: Anyone who has the nickname "Moose" is cool in my book. After walking on and paying his dues on the scout team, Marco contributed as a backup for three seasons, starting 3 games in his final year in 2011. He was that guy who did whatever coaches asked and was always prepared when called upon.
Zach Bloxham: The All-TSH Defense