All-Tradition, Spirit, Honor Team: Defense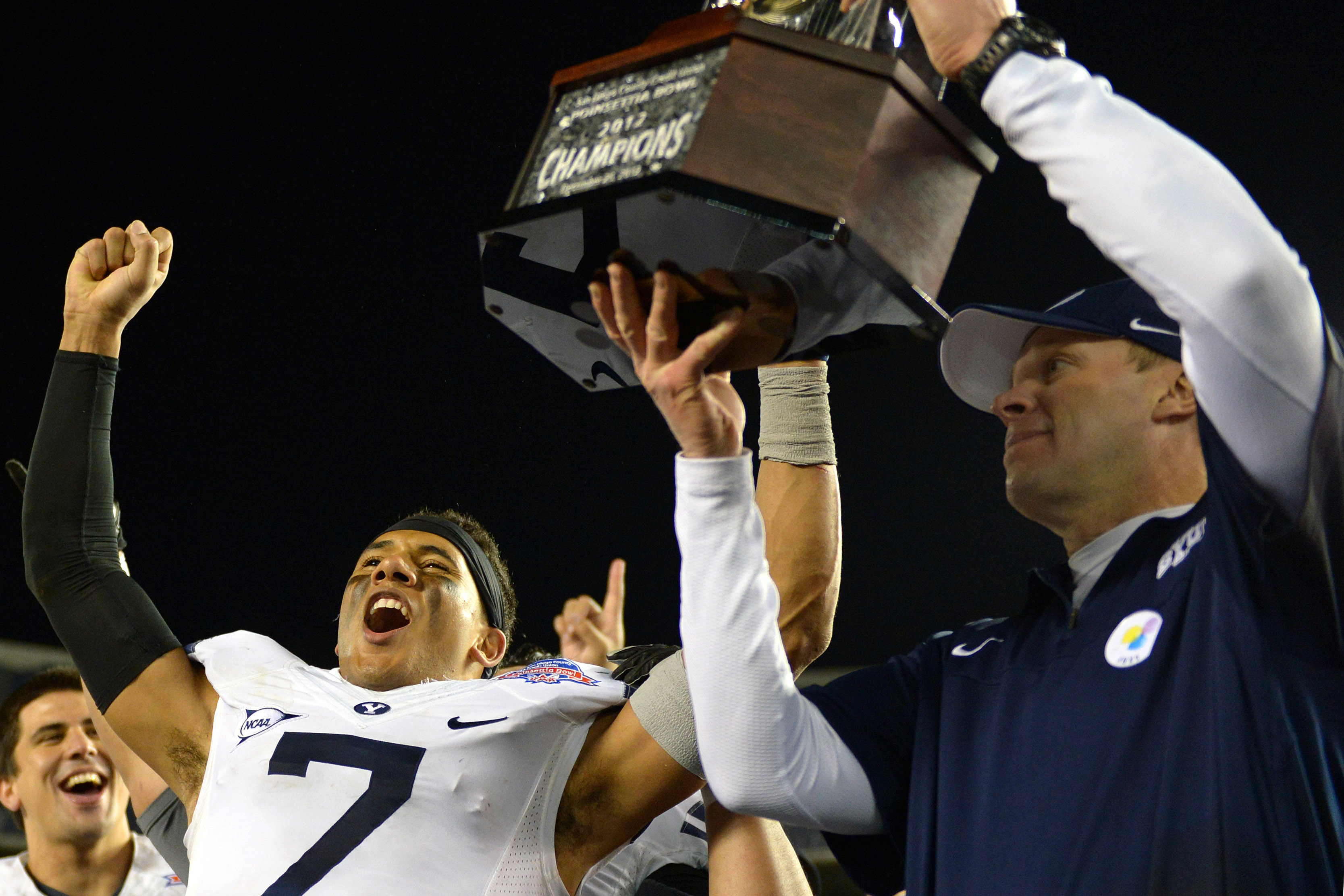 Lost in the outrage over something as trivial as uniforms is that Tradition-Spirit-Honor is much more than a throwaway idiom.
Tradition, Spirit, Honor has become a BYU staple, and after JerseyGate, a punchline in some corners of the sports world. The phrase itself is layered and succinctly defines the kind of program Bronco Mendenhall has brought to BYU.
Lost in the outrage over something as trivial as uniforms is the fact that TSH is much more than a throwaway idiom. It defines BYU under the current coaching regime, as evidenced by the mission statement created by the coaching staff:
 "We will be the flag bearers of Brigham Young University through football excellence, embracing truth, tradition, virtue, and honor as a beacon to the world."
This can manifest in many ways. Jake Welch and I will give you the All-TSH Squad: An offensive and defensive unit with individual players who define what it means to be everything Bronco.
First, my nominations for the defense.
DEFENSIVE LINE
Ziggy Ansah – We have all heard the story but that does not make it any less of the near-fable it continues to be. From Ghana to Dave Rose's cut sheet and from Football Pads 101 to the 5th pick of the NFL Draft, Ansah has become the most recognizable BYU sports alum since Jimmer Fredette.
Jan Jorgensen – A kid from the small town of Helper, Utah went on to become a four-year starter and finished in career in Provo as the second-leading sack artist in the history of the program.
Russell Tialavea – Big Russ came to Provo a talented kid with a bad attitude. He started his freshman, sophomore, and junior seasons on the defensive line. Still, the pride remained. After reading the Book of Mormon, Tialavea decided he needed to serve a mission. He informed Coach Mendenhall, who cried tears of joy. How unique a reaction from a coach who would be losing a three-year starter.
LINEBACKER
Kyle Van Noy – The heralded recruit from Reno received a DUI a few days before signing day. With the ability to go anywhere else in the country to play football, Van Noy decided to stick to his original commitment, a decision that would force him to delay college entry for a full year. He did so with Bronco's blessing and well, the rest is history.
Matt Bauman – The former Skyline high school athlete walked-on at BYU and moved his way from the seventh-string to the starting lineup to the captainship. An Academic All-American who would never wow with his speed or size, nevertheless became a staple on the BYU defense for years. Mendenhall once noted that there was "no one he trusted more."
Cameron Jensen – The General was the face of the BYU defense for three seasons. – three seasons that included a regime change at the top of the program. Without Jensen's impeccable leadership and foundational football play, it could be argued that Mendenhall's vision of a new program could never have taken hold. Jensen led the Cougars in tackles for three straight seasons and captained a BYU defense that finished the season ranked in the Top 10
Brandon Ogletree – A first-team all-state high school performer in Texas, Ogletree was recruited by many schools from across the country. BYU, his favorite team, was not one of them. Only after a phone call from Ogletree's father and a change of heart from Coach Mendenhall did O find his way to Provo.  He would go on to lead the Cougars in tackles for two straight seasons and embodied the blue-collar nature that Mendenhall is so keen toward.
DEFENSIVE BACK
Brian Logan – No other athlete at BYU has better personified the all-inclusive, diverse nature of Bronco Mendenhall's mantra better than Brian Logan. While not a member of the Mormon faith, Logan was a prominent example of how the principles of Tradition, Spirit, Honor are applicable to all. Mendenhall encouraged Logan and other non-LDS players to seek out a relationship with God in a way conducive to their background and beliefs. Logan repaid the Cougars with two of the better seasons played by a corner at BYU for sometime.
Ben Criddle – Mendenhall told walk-on Ben Criddle that he was unlikely to see any playing time during the upcoming season. Criddle responded by telling his head coach he'd like to redshirt in order to "start the next two seasons and be All-MWC Conference."  Bronco "discounted it immediately." Determined to meet his goals, Criddle would go on to starting in back-to-back seasons, earning his scholarship, and, even though he was snubbed of All-MWC honors, a player who defined what it meant to be a Cougar.
Andrew Rich – "Until Andrew Rich, the best other safeties I ever coached were Brian Urlacher and Aaron Francisco," Mendenhall said in 2010. " Andrew Rich is in that [trio] now." It was a long road for Rich to get to that point in his life. Rejecting scholarship offers from Boise State and Cal in order to play at BYU, and paying his own way for one year, Rich certainly took the road less traveled by. That unique path continued when Rich turned down a potential NFL career for reasons probably lost on most.
Corby Eason – The JC transfer came to BYU raised by a single mother who taught him all about how to live an honorable life. Eason left BYU a member of the Church of Jesus Christ of Latter-Day Saints armed with all of the tools needed to perfect his mother's teachings. His BYU experience is one of the more edifying you'll ever read. On the football field, Eason started all 13 games of his senior season
Jake Welch: The All-TSH Offense