After a third year of rebirth, congratulations: It's still a Cougar
Updated: September 2, 2013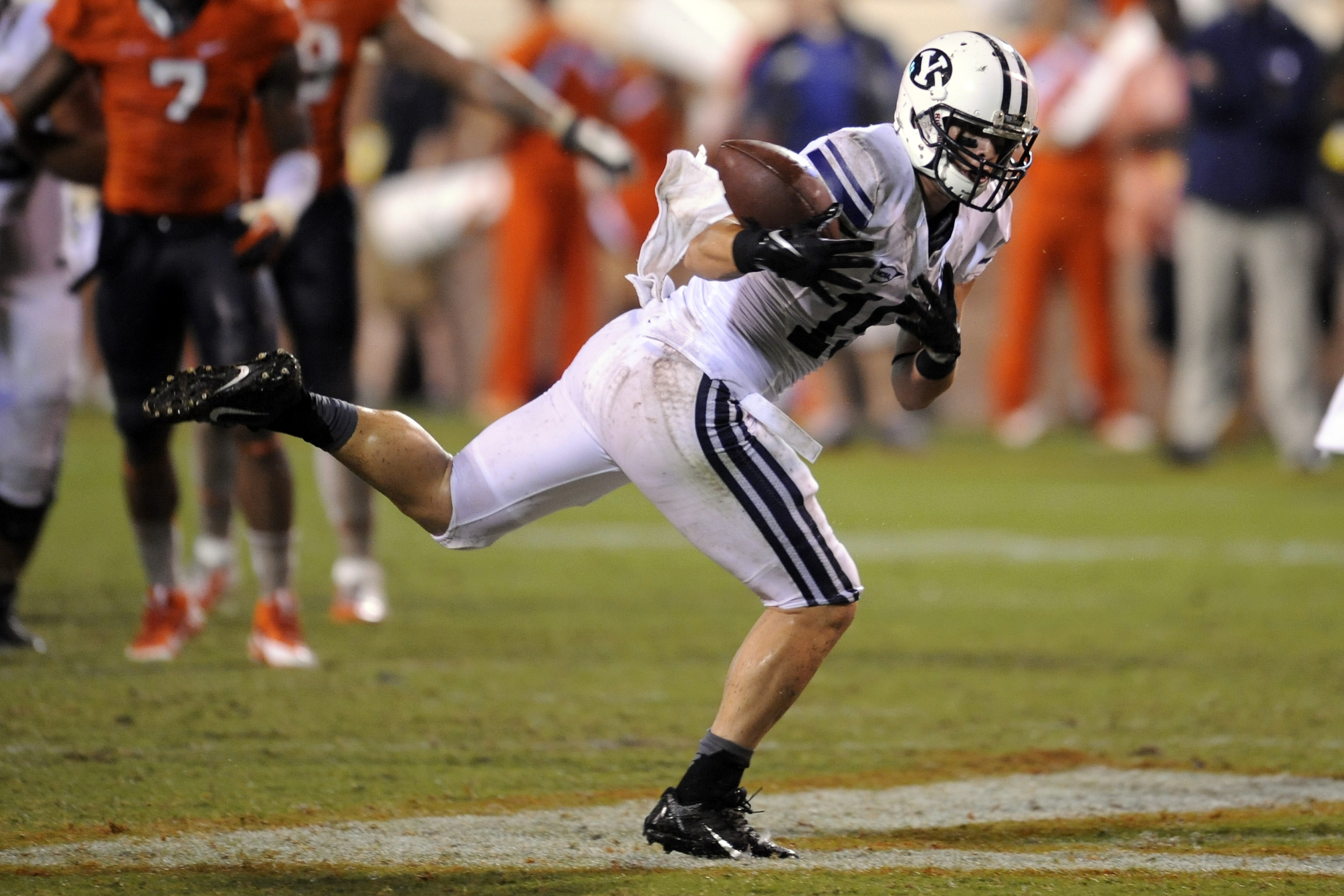 Expecting something new, BYU fans experienced similar events and emotions in the season opener.
I don't know about you, but personally, I'm taking the loss to Virginia pretty hard. I tried taking a walk to calm down last night and only ended up rewriting 100-year old sports poems:
Oh, somewhere in this favored land the sun is shining bright;
The band is playing somewhere, and somewhere hearts are light
And somewhere men are laughing, and somewhere there's lights aglow.
But there is no joy in Provo – BYU – Well, BYU sure can't throw.
I feel for the situation the offensive coaches have been put in. All five of the new offensive coaches are walking into a situation where they have little time this year really as a result of the last three. Coming from the JC ranks, new offensive line coach Garrett Tujague readily acknowledged the speed needed. He told the Deseret News: "I'm used to situations like this where I have guys for two years, but really just for one year to teach a new system and bring them up to speed."
Let's review: After 2010, Robert Anae's offense unexpectedly struggled; the keys were handed to Brandon Doman. He had recruited BYU's quarterback of the future and had been on the staff with the solid offenses produced from 2005-2009, so for eight months, many were hoping this would fix the problems seen in BYU's last year in the Mountain West.
2011 began with offensive ineptitude at Ole Miss, followed by offensive ineptitude at Texas, followed with a massive implosion against Utah filled with turnovers and snapping the ball into our own endzone. Changes were made and the schedule got easier. The offense got a little better and BYU fans were left to hope for a second rebirth.
But then there was 2012. Things started well in game one, but once BYU's quarterback had a broken back and BYU elected to stay with him, we were kind of back to losing games because of turnovers and snapping the ball into our own endzone.
Which, for 2013, is what lead us to the last eight months of hoping for a third rebirth is an many years. My favorite preview of 2013 called BYU's last season "one big pile of frustration;" Frustration caused mostly by poor offense and untimely turnovers.
Out of the gate for 2013, what do we have? After three straight off seasons of Remember The Titans "Change Everything" speeches, the Virginia game looked awfully familiar.
Bronco's defense is amazing and fun. Sadly, Bronco's defense is so good it generally leaves BYU with two options to lose games: give up special teams plays, like a blocked punt against Virginia or punt returns against Utah, or give up offensive points, like a pick-6 to a nose tackle or an interception in front of your own goal line with 3:00 to go.
For the BYU marketing team and some BYU fans, the last three offseasons now feel like a spouse spending 24 of the last 36 months saying, "No, really, honey. I'm going to change." Football programs have to be able to sell hope. Seeing the same problems that caused last year's massive pile of frustration doesn't bode well, but there's 11 or 12 more games left fix it.
Most casinos had BYU's 2013 win total pegged at 8.5, which means only the highly irrational were looking at undefeated season a likelihood. Losses with this team were going to happen. It seems the best-case scenario is for fans to hope that like 2006 or 2007, years where early losses turned into great runs, the coaches and players can still put together an effective, memorable team.
Most BYU fans, I think, had priorities for this season along the lines of: beat Utah, at least split with Texas and Boise State, and don't get tripped up too much otherwise. After yesterday's loss, it looks like the goals still are: beat Utah, at least split with Texas and Boise State, and don't get tripped up too much otherwise.
That's still achievable with this team. I feel for the added pressure on Anae, Tujague, and everyone else. The driving forces of BYU's offense are a sophomore quarterback and a sophomore running back. There's still a lot of great games to be played and each of those big games will be a chance to show that the offense issues can be sorted out and there's hope for the future.