Five reasons not to panic about BYU — yet
Updated: September 2, 2013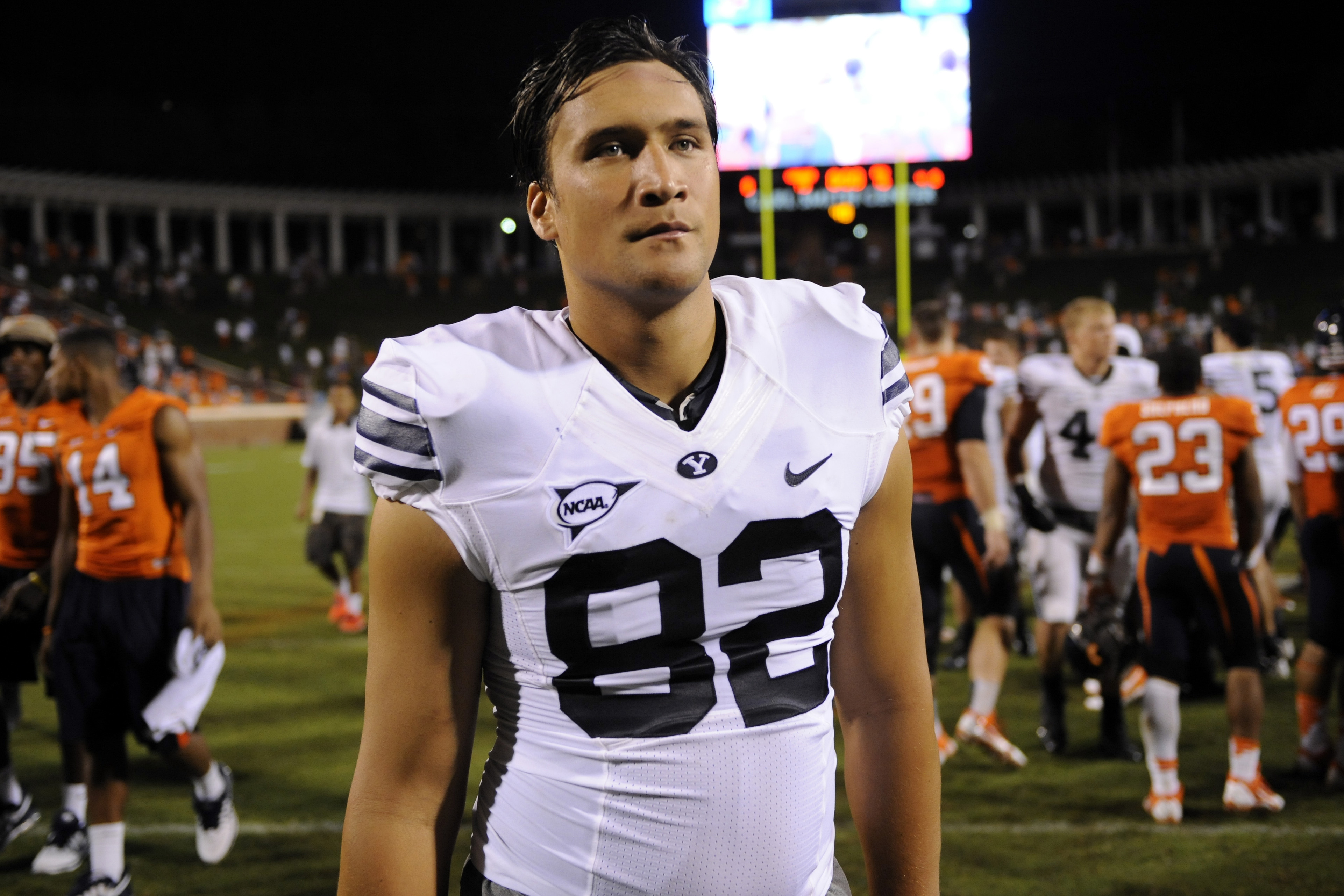 In a frustrating season opener, BYU left opportunities on the table and gifted them to the opponent. But it's not quite time to panic — yet.
In a frustrating affair, BYU grasped defeat from the jaws of victory on Saturday night, losing 19-16 to Virginia and leaving many of us incredulous.
Should BYU have won the game? It's hard to say anything other than "yes." Virginia mounted only one scoring drive of its own, resulting in a field goal before halftime. All its other points came on a safety and touchdown drives of 16 and 13 yards. Ugh.
Yet, I'm not quite ready to push the panic button. Here are five reasons why we can hold hope for the rest of BYU's season.
1. NO HOFFMAN
When you have a sophomore quarterback starting only his third career game, on the road, in bad weather — it's kind of a big deal when your senior All-American-watchlist receiver, who is staring down school records, ends up scratched with a hurt hamstring. Especially in those conditions, having the skilled, sure-handed Hoffman would have changed the game. You know, on like a 3rd & 3 when a first down essentially wins the game.
Hoffman will make a huge difference.
2. WONKY WEATHER
Yes, yes, players should be ready for anything and Virginia faced the same circumstances BYU did (except for their own locker room being a bit nicer, no doubt). But when it comes to evaluating the play of an offense and its sophomore quarterback, a 2-hour lightning delay followed by a downpour that left the field with standing water can't simply be ignored. It affected the game.
A majority of BYU's games will be played in at least okay weather — and without 2-hour delays in the middle of the second quarter.
3. BRONCO DEFENSE
The rock and sure foundation of the 2013 BYU team, like 2012, will be the defense. Again — it took a bad snap (safety), a bobbled punt snap (16 yard field) and an interception (returned to BYU's 13) for Virginia to get anything more than three points. BYU outgained Virginia by 140 yards despite the Hoos having the ball 10 more minutes. 223 total yards from the opponent should result in more wins than not (right?).
4. SORENSEN KICKING
Hey, did you see that? After a false start killed BYU's nail-in-the-coffin drive following a Virginia fumble, Justin Sorensen came in and nailed a 36-yard field goal in wet conditions. This kick was clutch, making it a four-point game and putting pressure on UVa to score a touchdown. He also easily made his only PAT attempt.
So far, so good from the place kicking game.
5. RUN GAME
As much as it struggled at parts, the BYU run game still accounted for 187 yards. The yards-per-carry average was only 3.5, which will need work. But Jamaal Williams averaged 4.4 yards on his touches. If the offensive line can refine its new MO, I still suspect the run game will become a force.
MORE ON LOYAL COUGARS
On 3rd rebirth, it's still a Cougar
Opponent Notebook: Week 1 Results
Women's soccer sets attendance record in shutout of Nebraska