The Cougar Walk: A New BYU Tradition is Born
Updated: September 4, 2013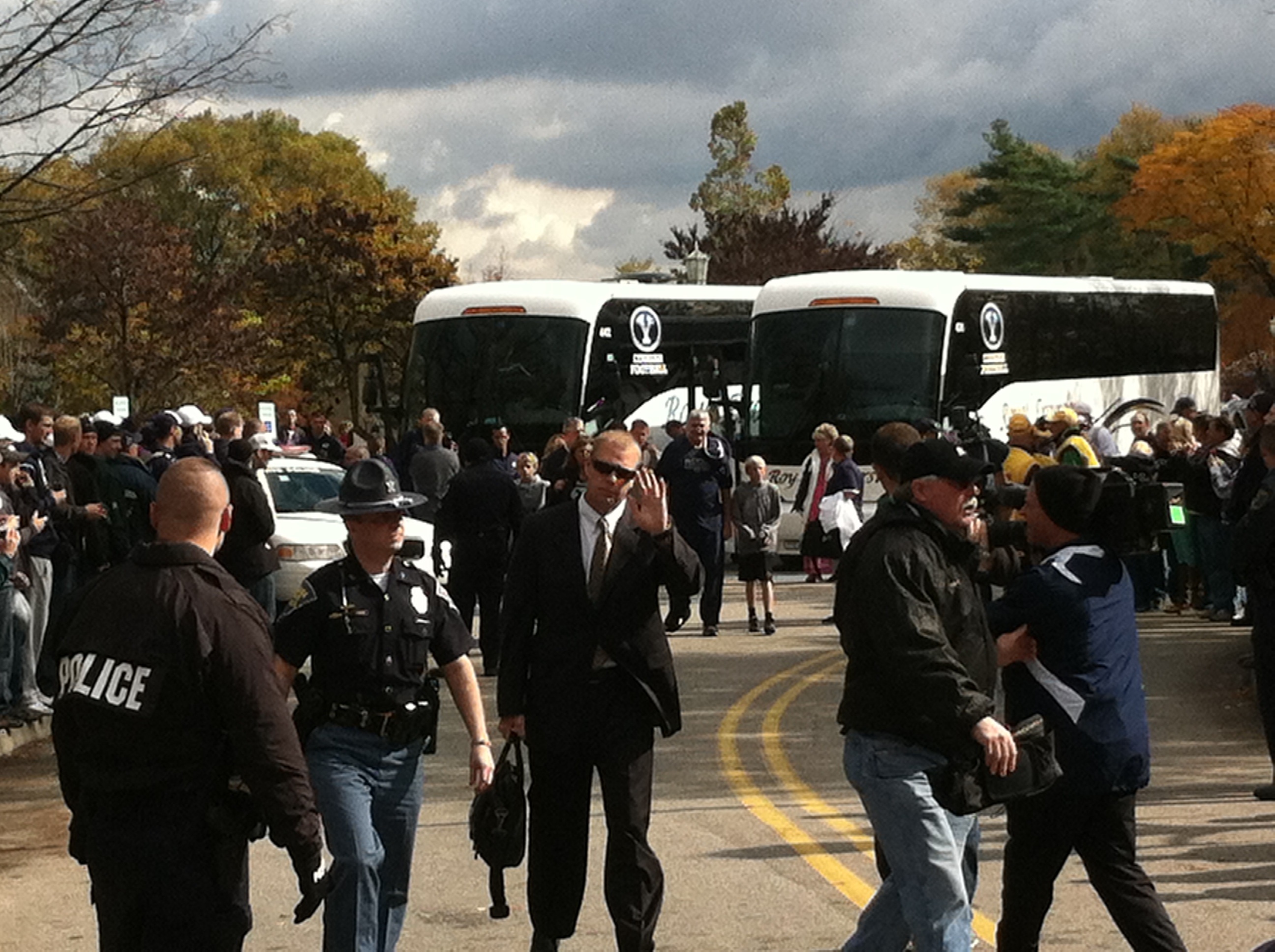 Learn more about BYU's first-ever "Cougar Walk" this Saturday for Texas pre-game festivities.
As I mentioned in my Gameday Traditions piece yesterday, Cougar fans have the chance to do something we don't often get to do this weekend: start a new tradition.
Many of you may have heard about the "Cougar Walk" that was announced at Media Day back in June, but perhaps you some of you haven't. Some may think it's a great idea, others may not understand it? In any case, allow me give you a little background.
There has been a LOT of talk behind the scenes in the athletic department over the last year about BYU's game day atmosphere — or lack thereof. Administrators and the marketing department have done some homework and talked with many fans about this issue (yes, I was one of those fans). Many suggestions have been discussed, some great, some not so great. But a lot of the new ideas on the table will take some time to develop and get approved. One of those ideas, the team walk, was a pretty easy thing to implement logistically.
The concept of a team walk isn't something unique to BYU, but it is something that has became one of the biggest parts of gameday traditions at many campuses across the nation. Notably here in Utah, the Utes have done this for quite awhile up on the hill. Talk to your Ute friends about it and they'll tell you that it's grown from a few random fans each week, to a fairly large event that tailgaters look forward to before every game at Rice Eccles.
I wasn't a big believer in team walks until I visited "The Grove" at Ole Miss a couple years ago. Talk about a great way to bring the fans and team together and get everyone pumped up. It was electric! Nearly 20,000 fans tailgate in The Grove before every Ole Miss home game. Two hours before kickoff, buses drop the entire staff and team off at the student center where they begin "The Walk of Champions." Fans line-up 10-15 deep along the entire brick walkway and cheer the team on as they head to the stadium. They high five players, shout encouragement and really have a good time with it.
Another school who has an AWESOME Team Walk is Notre Dame. Just thinking about seeing it last year gives me chills. Notre Dame's walk is much longer than Ole Miss', as it crosses nearly the entire campus. The team is led by the honor guard in full Irish regalia, a drumline and bagpipes. You can hear the drum cadence and "HERE COME THE IRISH" chant far before you can ever see the team approaching. The excitement builds through the crowd as they get closer to the stadium and the crowds get bigger. Seeing the honor guard lead the Irish into Notre Dame stadium is something that should be on every college football fan's bucket list.
If you prefer alternate samples, here are partial videos I took of my favorite team walks:
Ole Miss players on The Walk of Champions
Notre Dame led by bagpipes and drumline
This past weekend, I was also able to participate in Virginia's team walk. Police-escorted buses dropped the team off a block from thestadium, where thousands of fans, the band and cheerleaders were all waiting. The "Wahoo Walk" is the signal for everyone to end the tailgates and head for the stadium. It's not hard to follow, as the entire path the team walks is marked with these logos painted on the asphalt. Hopefully BYU can do something similar with the Cougar Walk.
When these examples were given and this idea was pitched to the athletic administrators, I didn't really have any expectations that it would gain much ground. However, a few emails, tweets and internal conversations later, it was presented to Bronco and he liked it. So this season, for the first time, BYU will have a Team Walk leading into LES on gameday. It's not the pomp and circumstance I personally was hoping for, but it's okay. It's a start. We can build it to include the band, cheerleaders and 10,000 screaming fans next year.
The walk will start TWO HOURS before kickoff at just east of Utah County Credit Union, at the Northeast corner of the stadium lot. The team will walk down the path that crosses in front of the Legacy Club tent, along the East side of the stadium as they head into the locker room.
Fans need to get there early, line the path, and really show that we are capable of creating our own electric atmosphere. In time, as this grows, it could be something other schools can add to their list of things to see when they visit Provo. But remember, that's not up to BYU, Bronco, or even Tom Holmoe. It's up to as as fans to make this a big event.
As we've all been so boldly reminded recently, TRADITION is one of the core values of BYU Football, and I sincerely hope BYU fans embrace this opportunity to start a new one and make it something to look forward to on game day at LES. We've talked for a long time about wanting some good game day traditions at BYU, and here's our chance to get that ball rolling. Let's blow this event up and prove we can compete with the big boys. Me and my crew will be there this Saturday to greet the team as they get off the bus and ready to battle the Longhorns. I hope you'll be there with me.
MORE FROM LOYAL COUGARS
Podcast: Brian Logan helps review Virginia, preview Texas
Part 1: Ideas to improve BYU's gameday traditions
5 reasons not to panic about BYU