BYU Depth Chart & Injury Report – Week 2: Texas
Updated: September 5, 2013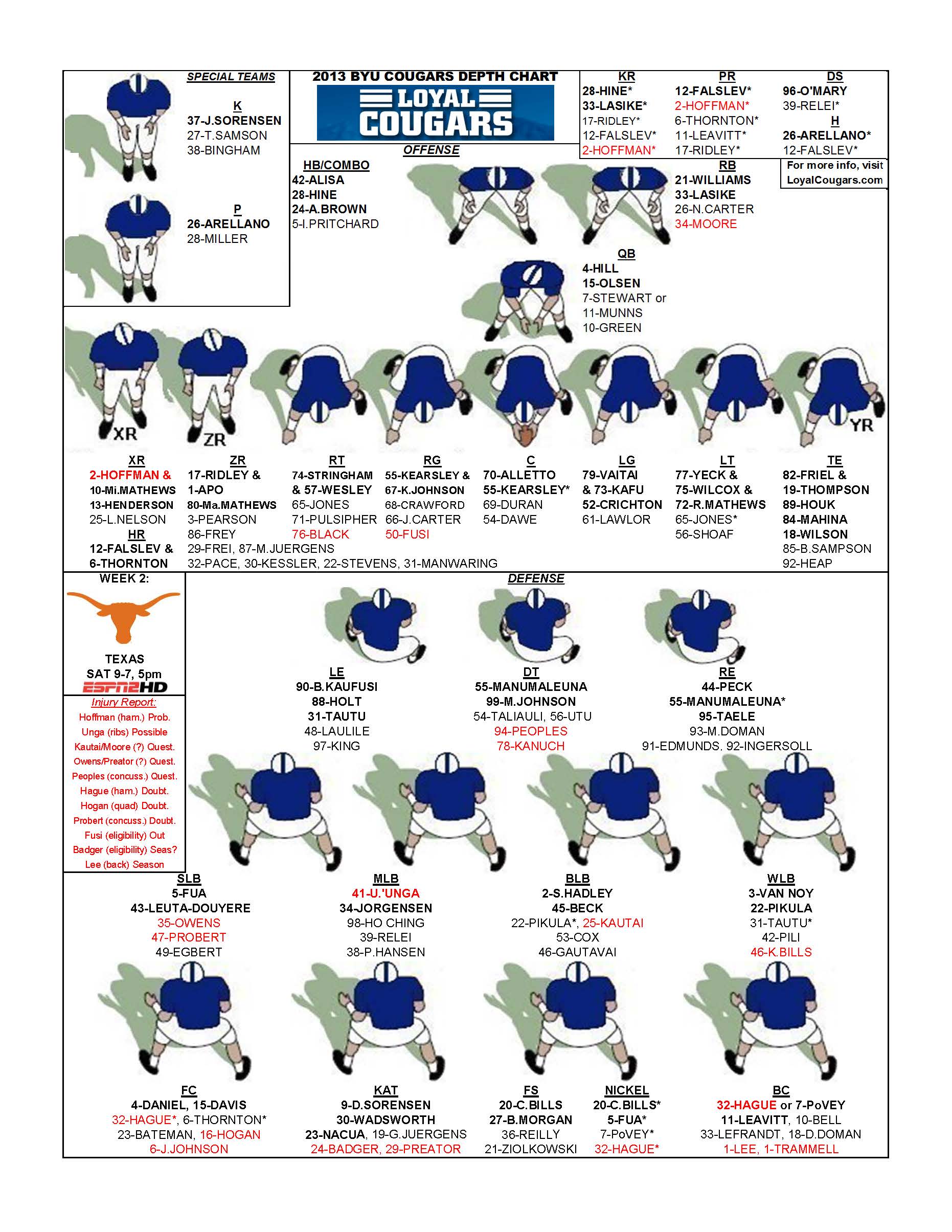 Review the Depth Chart and Injury Report in preparation for BYU's season opener.
Changes to the Offensive Front
The big news out of practice this week was the reshuffling of the Depth Chart along the Offensive Line. The group's only returning starter from 2012, Ryker Mathews, has apparently not completely recovered from offseason hip surgery. Against Virginia, Mathews allowed a Virginia sack just before halftime and in the 3rd Quarter, and also was whistled on a holding call that negated a first down and led to a BYU 3-and-out. Solomone Kafu has also lost his starting spot at Left Guard after two false start penalties and looking woefully overmatched last week, also allowing a sack.
Right Tackle Michael Yeck has been moved to the opposite side of the line to inherit Mathews's LT spot. Brock Stringham will slide over from Right Guard to fill the RT spot. Look for De'Ondre Wesley, Brad Wilcox, and/or Ryker Mathews to get some reps on the outside as well (unless the chemistry between the starters proves too strong to do without).
Terry Alletto remains the starting Center and Manaaki Vaitai will take over for Kafu at Left Guard. It remains to be seen who will start at the other guard spot, but that responsibility would likely fall to either Kyle Johnson or Tui Crichton with Brayden Kearsley having an outside chance. If protection/blocking problems continue, look for Coach Tujague to make in-game unit adjustments in the continued search for the five guys who can provide the best combination of going fast without sacrificing the going hard.
Injury Report
Probable: WR Cody Hoffman (hamstring)
Possible: LB Uani 'Unga (ribs)
Questionable: LB Teu Kautai (unspecified injury), RB A.J. Moore (unspecified), LB Joey Owens (unspecified), DB Jordan Preator (unspecified), DL JonRyheem Peoples (concussion)
Doubtful: DB Mike Hague (hamstring), LB Seth Probert (concussion), DB Adam Hogan (quad)
Out for this week: OL Edward Fusi (eligibility)
Out for the season: OL Jordan Black (shoulders), DB Trenton Trammell (ACL), LB Kevan Bills (ACL), DB Jordan Johnson (ACL), DL Tuni Kanuch (pectoral), DB Sam Lee (back)
Please comment below if you have any questions/comments/corrections or e-mail us here. You can view the Depth Chart at any time by following the "Depth Chart" link in the "FYI" tab. From that page, you can download a PDF document that you can print for your use while watching the game.