Erica Owens, Cougars ready for revenge match with Utes
Updated: September 6, 2013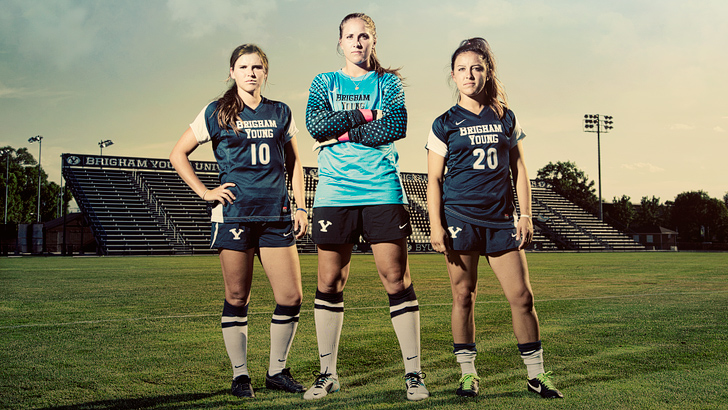 BYU record-setting goalkeeper Erica Owens, a Salt Lake City native, has had a unique view on the rivalry with Utah. Now, the fifth-year senior hopes to end it on a high note.
Growing up in the heart of Ute territory, former Highland High School goalkeeper Erica Owens heard a lot about BYU's rivalry with Utah.
From her father, a Utah grad. From each of her brothers, all stout Ute fans. Even from her LDS ward bishop, who has constantly reminded Owens of last year's baffling 1-0 loss in Salt Lake City over the previous 12 months.
Now, the fifth-year senior with a 1.00 goals-against average and a 3-0 record is ready to get even.
"Getting the opportunity to play against them again, it makes me really excited because I don't want to lose this time," said Owens, who led the West Coast Conference with a 0.53 GAA in 2012. "It fuels the fire."
BYU head coach Jennifer Rockwood agreed there is an added measure to Friday's contest with the Utes (7 p.m. MDT, BYUtv), calling it "the biggest game of the year." Of course, Rockwood will probably say that about a lot of games this year.
"Every game that's right in front of us is the biggest game of the year," said Rockwood, the skipper behind last year's Elite Eight squad. "We just played our biggest game of the year against LSU, and now our biggest game of the year is against Utah. It doesn't matter who our opponent is, we have to prepare consistently, the day before is the same and the day of is the same."
Less than 24 hours after the Cougars' loss to North Carolina in the NCAA Tournament a year ago, Owens met with Rockwood and a few other players to chart out goals and plans for the forthcoming season.A talented senior class that included NWSL first-round draft pick Lindsi Lisonbee Cutshall and team leader Carlee Payne Holmoe would be hard to replace. But Owens was ready to go to work right away, mentoring the new additions and underclassmen, training them to step into bigger roles all summer.
"Last year, Lindsi was a four-year starter, and it was my first year starting. She was the one that had the experience and the confidence," Owens said of Cutshall, who now plays for Sky Blue FC in New Jersey. "I would feed off of her a lot, and rely on her experience to help me learn and progress as a player. Coming back now, I'm the one who has the experience and I'm the one the girls are looking to for confidence."
The underclassmen have responded to that call from Owens and the other team leaders. Freshman Ashley Hatch is tied for second on the team with two goals in the first three games, including the match equalizer at LSU. Freshman Elena Medeiros and sophomore Marissa Nimmer are also among the seven players who have found the scoresheet in the first three games.
"When we knew a couple of years ago that we were going to graduate a very experienced group of players, we knew that this class was important," Rockwood said. "We were very happy with the girls who committed to come here, knowing they would have immediate opportunities to step on the field with some big shoes to fill. They came in knowing that, prepared, and they certainly have proven themselves."
Still, the seniors have taken the lead this season, starting with leading scorer Rachel Manning (three goals, seven shots) and the aforementioned netminder.
Few BYU soccer players enjoyed a season like Owens in her redshirt junior year. Starting in all 24 of the games she played, Owens allowed only 13 goals on the season. The then-junior notched 12 shutouts, tied for the second-most in BYU history. Her 77 saves also led the WCC, and ranks second all-time at the school.
Not bad for a first-time starter, who only played in two games as a freshman before injuries kept her off the field for nearly three years. But Rockwood expects even more from her defensive backstop.
"We've been very fortunate for basically the last 12 years to have a goalkeeper who brings confidence to the team," the head coach said. "Certainly, Erica had a breakout season last year, and she's on track to be as good or better this year."
A tough national schedule that included a trip to then-No. 25 Louisiana State, followed by a WCC slate that will likely feature as many as four teams ranked in the top 25 (BYU, Portland and Pepperdine, while Santa Clara is currently receiving votes after a season-opening road loss at defending champion UNC) will have the Cougars hungry for more. But a strong home environment has BYU hopeful for a return trip to the NCAA tournament.
That all starts with a rivalry match in the friendly confines of South Field.
"There's nothing like our home field; there's no other atmosphere like it," said Manning, the senior midfielder. "To have all the fans behind us, it brings that much more energy to the game. Having all the fans supporting us, behind the lines, watching on TV, it's one of the most exciting games of the year."