Meet BYU football's 2013 walk-ons
Updated: September 10, 2013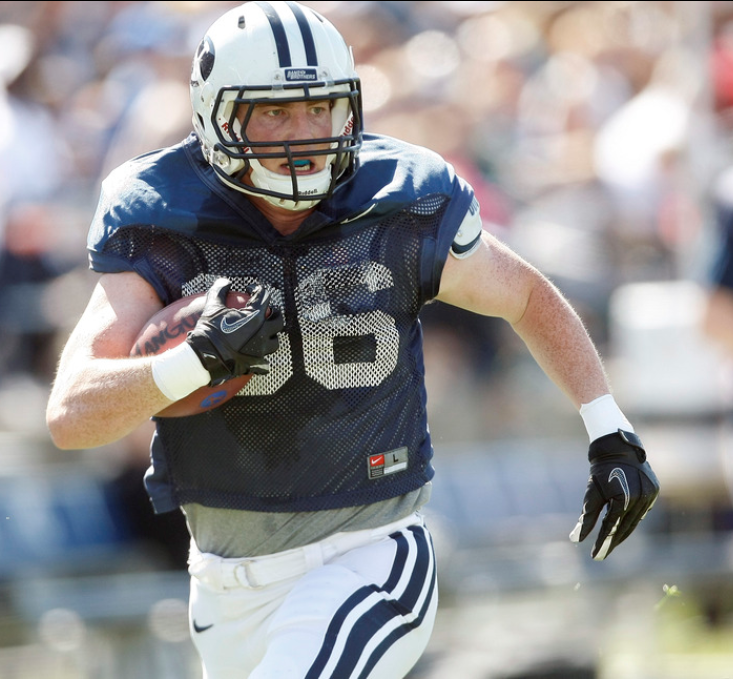 Learn about the 12 players added to the football team last week.
Last Monday, more than a hundred BYU students came out to the practice field in hopes of earning one of seven available spots on the fall football roster. The coaches put the players through rigorous drills at their respective positions. Following the tryouts, coaches met to decide which seven lucky walk-ons had earned the right to join the Cougars on the practice field this fall.
Per true tryout tradition, in the early afternoon, a list was posted in the football offices as the students crowded around to learn whether or not their dreams had come true. The following seven players have earned a spot on the 123-man fall roster:
#29 WR Chase Frei, 6'5″, 215 lbs.
Frei hails from Santa Clara, Utah and graduated from Snow Canyon High School in 2009. He attended one year of college at Dixie State College before serving an LDS Mission to Seoul, South Korea from 2010-2012. In 2012, he was a Wide Receiver on the Dixie State football team, but did not appear in any games. He enters the 2013 season as a RS Sophomore.
#38 LB Porter Hansen, 6'3″, 200 lbs.
Hansen is a True Freshman who played Tight End and Defensive Line in 2012 at Crescenta Valley High School in La Crescenta, California. His senior year, he caught 10 passes for 123 yards. On the defensive side, Porter recorded 59 tackles, 2 sacks, and recovered a fumble for the Falcons. He is expected to serve a mission following the 2013 season.
#92 DL Adam Ingersoll, 6'4″, 230 lbs.
Adam was an All-Idaho Offensive Lineman his Senior year at Centennial High School in Boise. He graduated from Centennial in 2011 and served an LDS Mission to Cleveland, Ohio from 2011-2013. Ingersoll enters the football program as a True Freshman.
#30 WR David Kessler, 6'2″, 200 lbs.
Kessler played Quarterback at Claremont High School in Rancho Cucamonga, California, graduating in 2009. As a Junior, he passed for 593 yards and 4 TDs, completing 53/82 attempts in only four games (sat out the rest of the season with a collar bone injury. He added 200 yards and 2 TDs rushing as well as 6 receptions for 89 yards. Kessler missed his entire Senior season with a shoulder injury. He attended BYU for a semester as a part-time student before his mission to Lisbon, Portugal, returning in 2012. He enters the 2013 season as a Redshirt Freshman. David made the team after trying out at the urging of former Cougar WR David Foote.
#31 WR Benson Manwaring, 5'5″, 180 lbs.
The diminutive Manwaring played WR and DB for Capital High School in Boise, Idaho, graduating in 2008. He served a church mission to Florianopolis, Brazil and attended BYU-Idaho prior to recently transferring to BYU. You can view his High School highlights here. He will be a RS Junior in 2013.
#32 WR Shad Pace, 5'11", 180 lbs.
Pace graduated from Yorba Linda (CA) High School this year. He shined at Wide Receiver, tallying 107 receptions for 1481 yards and 21 touchdowns his Senior year. Shad, a True Freshman, is expected to serve an LDS mission following the 2013 season.
#22 WR Nephi Stevens, 5'11", 190 lbs.
Stevens, from Aiea, Hawaii played QB and Wide Receiver at Kamehameha High School before graduating earlier this year. A True Freshman, Nephi is expected to serve a church mission following the 2013 season.
BYU has also added the following five preferred walk-ons, four of which have been with the team previously:
#91 DL Michael Edmunds, 6'4″, 220 lbs.
RS Freshman, Bingham HS (South Jordan, Utah), Arizona Tucson Mission
#92 TE Brad Heap, 6'3″, 215 lbs.
RS Freshman, Mountain View HS (Mesa, Arizona), Thailand Bangkok Mission
#19 DB Garrett Juergens, 5'10", 185 lbs.
RS Freshman, Langham Creek HS (Houston, Texas), Peru Chiclayo Mission
#87 WR Mitchell Juergens, 5'10", 180 lbs.
RS Freshman, Langham Creek HS (Houston, Texas), Mexico Mexico City West Mission
#24 DB Chris Badger, 6'0″, 197 lbs.
RS Freshman, University of Notre Dame, Timpview HS (Provo, Utah), Ecuador Guayaquil Mission
Love a good walk-on story? Donate to the BYU Touchdown Club, which helps fund walk-ons who earn scholarships.