A more civilized rivalry – Gaius Vaenuku Leadership Scholarship
Updated: September 13, 2013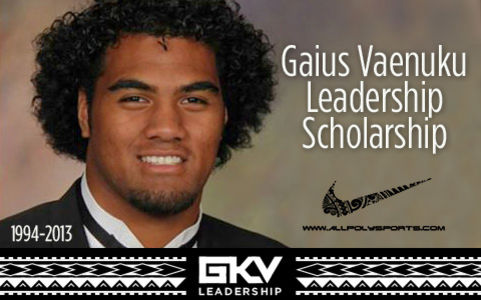 This summer, tragedy struck our community when a vehicle carrying University of Utah commit Gaius Vaenuku drifted off the road, killing him and two of his high school teammates. As you may know, Gaius was a highly prized recruit sought after by many schools, including BYU and the University of Utah. He was also a very impressive young man who set his goals high athletically and academically and was preparing to serve his faith as a missionary.
His heartbroken family is tied deeply with the Polynesian community in Utah and throughout the world. We all love the Polynesian community and admire their devotion to family.
So many looked to him as a wonderful example. The achievements and good character of young people should be celebrated and honored, no matter where they choose to attend school. In a sense, we should foster an attitude of, "Your kids are our kids" as we cheer on the accomplishments of any young person seeking excellence.
A group has gathered across fan lines to honor his legacy and emphasize how much we value our kids. No matter what colors you wear in the rivalry, whether you root in "the valley" or on "the hill," we urge you to stand with us and honor Gaius' memory by contributing to the Gaius Vaenuku Leadership Scholarship fund administered through the All Poly Sports non-profit arm. Their oversight is particularly notable, as Vaenuku's profile skyrocketed due to his performances at the All Poly Camp.
A selection committee made up of leaders from the Polynesian community, the Vaenuku family, and others will oversee the awarding of a non-athletics scholarship. The scholarship will be awarded annually to a high school student athlete who, like Gaius, demonstrates the qualities of leadership and/or academic performance.
There is a time for competition and a time to come together. Let us emphasize our common ground in this worthy cause. 

To honor Gaius Vaenuku and fund a scholarship in his name, you can purchase a GKV leadership wristband at KSL.com Deals, or before the BYU-Utah game in front of the KSL radio booth. Donations can also be made directly to All-Poly Sports.  All proceeds go directly to the scholarship fund.
We will have reporters from KSL radio, KSL.com, and the Deseret News doing stories, and none of the media businesses will be deriving any revenue from this.  I will also be reaching out to the other media channels that cover the region.
A press release will also be going out today.
Thank you & Go Cougars!