BYU Depth Chart & Injury Report – Week 4: Utah
Updated: September 20, 2013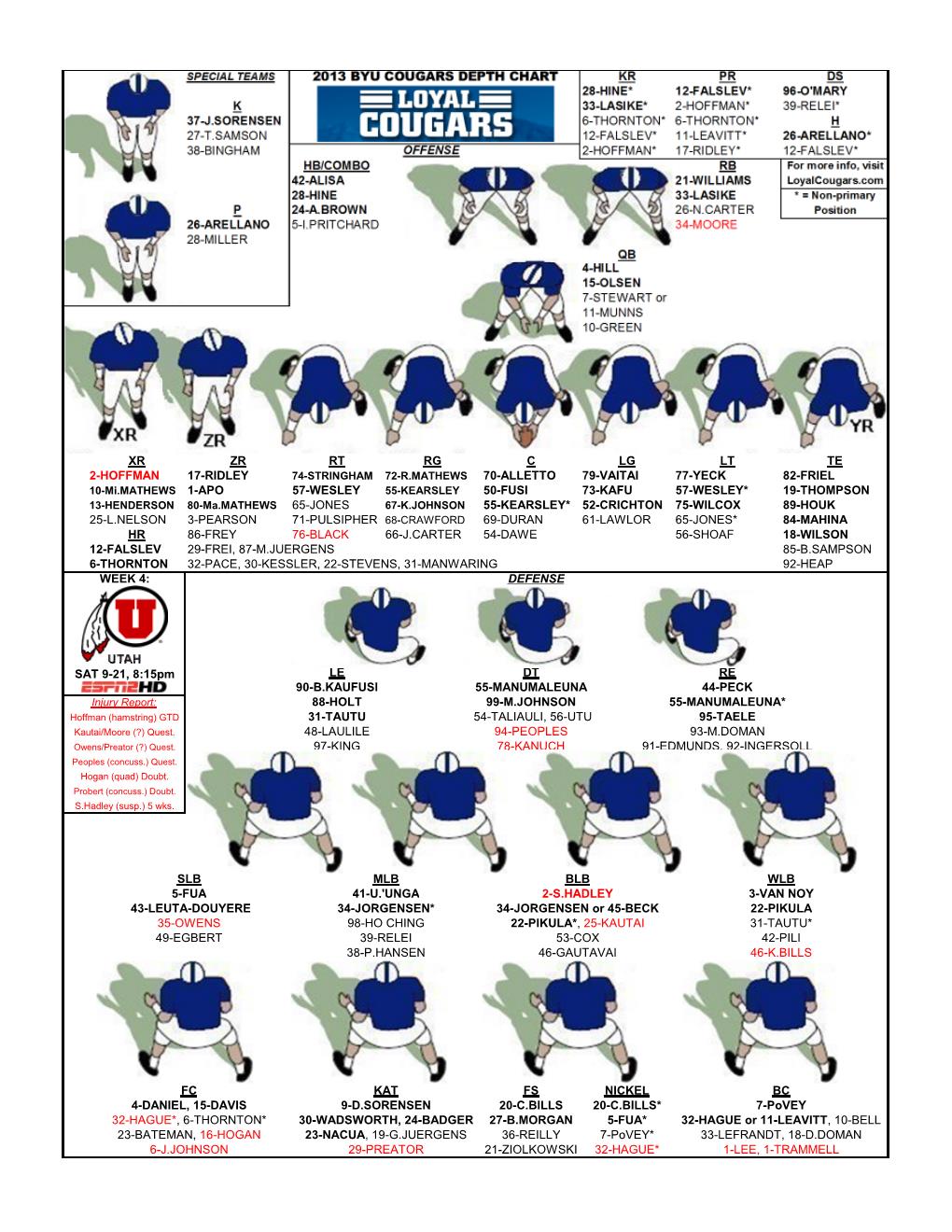 Review the Depth Chart and Injury Report in preparation for Saturday's Rivalry game.
Reinforcements to the Cougar Secondary
Aside from the Spencer Hadley suspension news, the major personnel movement on the team this week involved the return of several players from injury. Mike Hague can play any position in the secondary. He'll likely see most of his reps at Boundary Cornerback and the Nickelback position (or manning the Free Safety spot when Bills slides over to Nickel). Chris Badger received an NCAA waiver and will be immediately available for playing time. But, with only two weeks of time with the Scout Team, Badger is unlikely to see much action right away in the Cougar defensive backfield. At this point, any playing time he sees would likely be on Special Teams. Lastly, Dallin Leavitt has been cleared to return after suffering a concussion against Texas. The return of these players should result in improved cornerback play, especially at the Boundary position, which was targeted often by the Texas pass attack. Hague and Leavitt should add depth and talent to the position to allow PoVey an occasional rest (at the very least).
Offensive Personnel
Jamaal "Gumby" Williams should be good to go after suffering some gruesome-looking stress to his back against the Longhorns. Edward Fusi will also rejoin the offense and will continue his push to overtake Terry Alletto as the starting Center. Cody Hoffman continues to be held back by hamstring troubles, but I expect him to at least match his playing time from the Texas game.
Injury Report
Cleared to Play: DB Mike Hague (hamstring), DB Dallin Leavitt (concussion), DB Chris Badger (eligibility), OL Edward Fusi (unspecified injury), LB Uani 'Unga (ribs), RB Jamaal Williams (back)
Game Time Decision: WR Cody Hoffman (hamstring)
Questionable: LB Teu Kautai (unspecified injury), RB A.J. Moore (unspecified), LB Joey Owens (unspecified), DB Jordan Preator (unspecified), DL JonRyheem Peoples (concussion), DB Adam Hogan (quad)
Out for 5 weeks: LB Spencer Hadley (suspension)
Out for the season: OL Jordan Black (shoulders), DB Trenton Trammell (ACL), LB Kevan Bills (ACL), DB Jordan Johnson (ACL), DL Tuni Kanuch (pectoral), DB Sam Lee (back)
Please comment below if you have any questions/comments/corrections or e-mail us here. You can view the Depth Chart at any time by following the "Depth Chart" link in the "FYI" tab. From that page, you can download a PDF document that you can print for your use while watching the game.