Opponent Notebook: Middle Tennessee Q&A with Adam Sparks of the Daily News Journal
Updated: September 26, 2013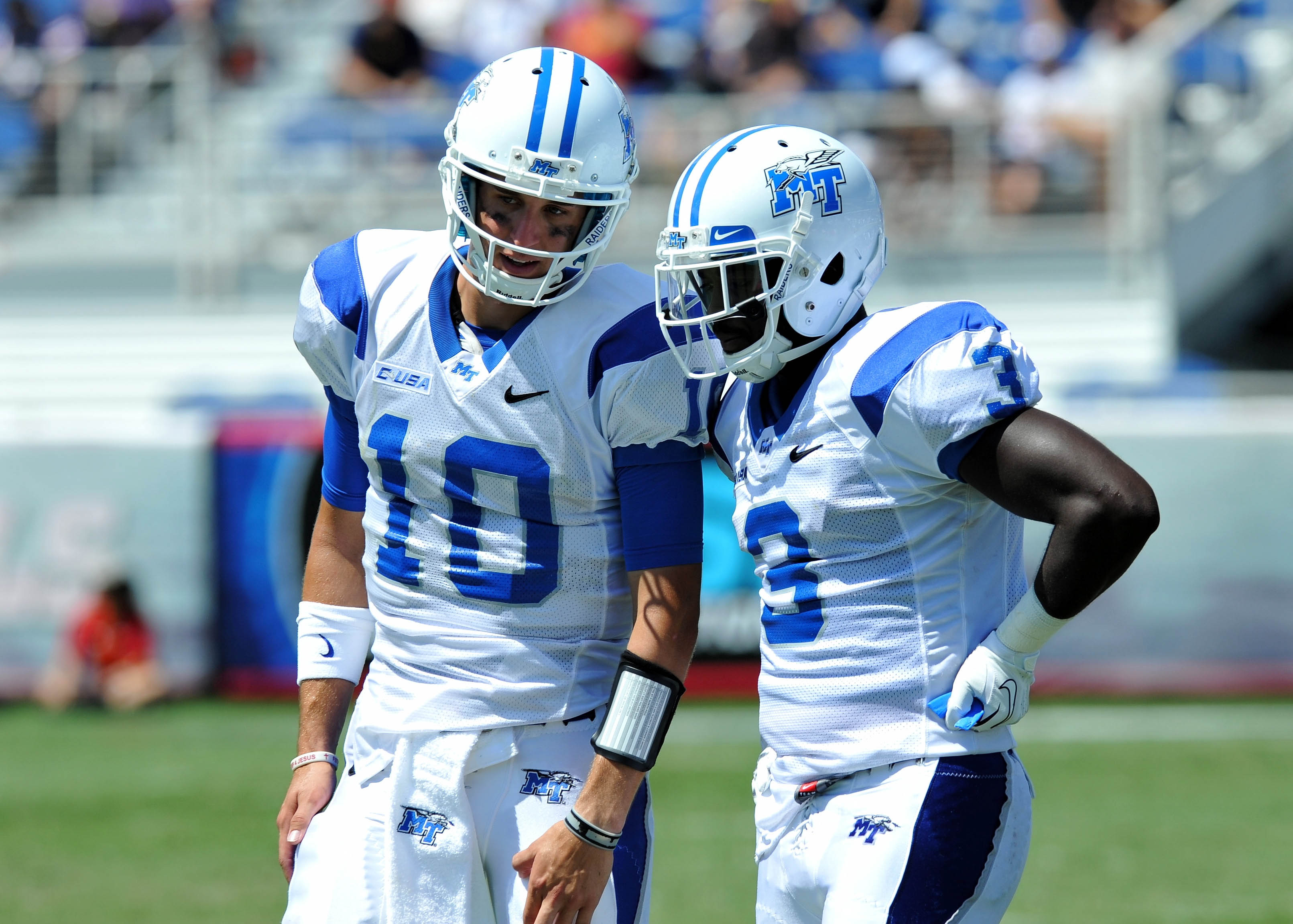 A preview of Middle Tennessee with some help from Adam Sparks of the Daily News Journal.
After last week's disappointment against Utah, the Cougars look to bounce back with a win against the Blue Raiders of Middle Tennessee. We were able to catch up with Adam Sparks, beat reporter for the Daily News Journal, and get his insight on this week's game.
LOYAL COUGARS: BYU and Middle Tennessee are pretty much strangers as this will be the first time the two teams face each other. What should Cougar fans know about this Blue Raider team?
Adam Sparks DNJ: A little about the program overall —  MTSU went I-A (FBS) in 1999. It joined the Sun Belt Conference in 2001 and won a share of the league title that first year. After 12 years in the Sun Belt, this is MTSU's first in Conference USA. MTSU's best wins in FBS have been against Vanderbilt three times (2001, 02, 05), Maryland twice (2008, '09) and a 49-28 blowout at Georgia Tech last season. Under coach Rick Stockstill, MTSU has gone to three bowls (and was shafted out of a bowl last season with an 8-4 record). Stockstill's best season was 2009, when the Blue Raiders went 10-3 with a win in the New Orleans Bowl. The offense is up-tempo, and the defense is built on fast, undersized players. You'll see defensive tackles that look like defensive ends, defensive ends that look like linebackers, linebackers that look defensive backs — but they all can run well. It's a give and take.
LOYAL COUGARS: Through the first four games, the Blue Raiders are averaging 196 yards rushing and 206 yards passing per game. What's the key to maintaining that balance against at stout BYU defense?
Adam Sparks DNJ: MTSU likes to be balanced, but it's only possible with a consistent ground game. The Blue Raiders like to pound the ball with RB Jordan Parker, go a little change of pace with speedy RB Reggie Whatley and then spread the ball out among about eight receivers. QB Logan Kilgore does a good job checking from pass to run and vice versa during pre-snap (the offense is no-huddle), but he needs the run game to succeed in order to throw the ball. The offensive line is pretty solid. The left side has two potential NFL players in guard Josh Walker and tackle Darius Johnson, but there have been injuries elsewhere on the line.
LOYAL COUGARS: To say that the BYU passing attack has been a disappointment through three games would be a massive understatement. Is this a game the BYU can use to get their passing game back on track?
Adam Sparks DNJ: Well, MTSU has had trouble getting off the field on third down, but their pass defense is a hard one to define. MTSU will give up yards and sometimes points, but it also snags plenty of turnovers. The Blue Raiders are ranked seventh nationally in interceptions, and they have piled up plenty of sacks as well. In their first couple of games, opponents hit too many big pass plays on the Blue Raiders, but that has improved the past couple of games. MTSU would like to limit BYU's ground game as much as possible and force the Cougars to pass, especially on third down.
LOYAL COUGARS: We were all glad to see that former Marine Steven Rhodes was cleared to play by the NCAA after initially ruling him ineligible. How has he made a difference on the team thus far?
Adam Sparks DNJ: I broke the Steven Rhodes story and our photographer Helen Comer shot the pics (Rhodes draped in an American flag) that will appear on the ESPNU broadcast. That thing went viral in a hurry, and I'm glad to see how it got resolved so quickly. Rhodes had been out of football since high school, so he's working in slowly. He plays some at defensive end, mostly as a pass rusher. But his primary role right now is on special teams. He's a wedge-buster of sorts on the kickoff teams, runs down the middle of the field and blows up whoever is protecting the returner. He has been very effective there. His role will expand as he learns DE. He was a tight end in high school years ago, so this is new to him.
LOYAL COUGARS: Reggie Whatley is coming off a career day against Florida Atlantic and Jordan Parker is averaging over 100 yards per game on the ground. Which running back is a bigger threat to have a big game this Friday?
Adam Sparks DNJ: Jordan Parker. Since taking over the starting job at midseason last year (after the injury to current St. Louis Rams RB Benny Cunningham), Parker has rushed for 100-plus yards in six of eight games. Whatley could be a difference maker, but his impact is measured in a couple of big plays rather than a full game. Whatley had 154 yards last week on just 10 carries, and he is a dangerous kick returner. But MTSU will be better served if Parker can grind out 100-plus yards because that will prolong drives and set up more play-action passes for QB Logan Kilgore.
LOYAL COUGARS: Although BYU's "go fast, go hard" offense has seen mixed results, what have the Blue Knights been doing to prepare for BYU's frenetic pace?
Adam Sparks DNJ: To be honest, the pace is no different than in the Sun Belt Conference or Conference USA or MTSU's own practices. The Blue Raiders' tempo has been among the fastest in FBS the past few seasons. It's not quite as fast this year as past seasons just yet, but it's getting there. I think the days of up-tempo offenses being an oddity are over. I think it's closer to the norm now. Some run it far faster than others, like Oregon, but it's all relative. Most teams in MTSU's conferences the past few seasons have up-tempo, no-huddle.
LOYAL COUGARS: With the opportunity to play on Friday night on ESPNU, would this be considered the highest profile game for MTSU?
Adam Sparks DNJ: MTSU has played in big atmospheres and on the national stage many times, so the environment shouldn't be a shock. The Blue Raiders have beaten Vanderbilt (three times), Maryland (twice), Georgia Tech, etc, over the years, and play a road game at an SEC or ACC stadium every season. Plus, they have played well and won national TV games. This will be MTSU's 21st national TV game under current coach Rick Stockstill. That being said, this is a new environment. Very few players on the team have even been to Utah before. This will be a neat game for all those involved, mostly because it's simply different from many southern venues. I'm certainly looking forward to it.
LOYAL COUGARS: What is your prediction for the game?
Adam Sparks DNJ: I think MTSU has to win the turnover margin and force BYU to pass to have a chance at winning this game. Both are plausible. That being said, I think BYU pulls away in the second half. BYU 35, MTSU 21.
Thanks again to Adam and Daily News Journal for helping with this article.