Despite errors, BYU cruises past Middle Tennessee, 37-10
Updated: September 27, 2013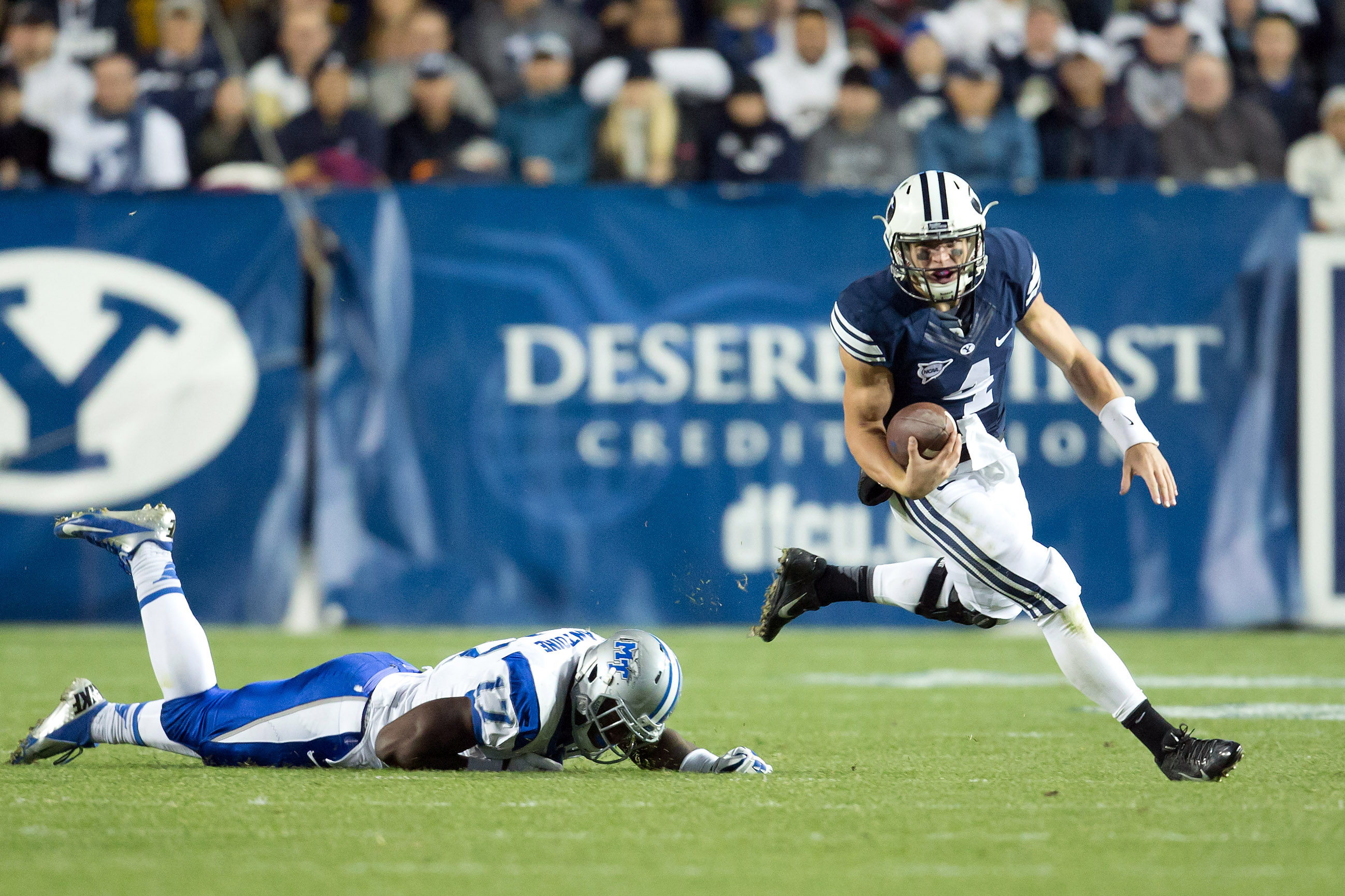 Despite turning the ball over 5 times and without its stars, BYU won big on Friday night.
After a slow, sloppy start, the BYU Cougars (2-2) put their feet down on Friday night, cruising past the Middle Tennessee Blue Raiders (3-2) on their way to a 37-10 victory.
With the focus on the passing game, Taysom Hill was a much-improved 14-19 for 177 yards through the air despite the absence of senior receiver Cody Hoffman, who was suspended for the night for an undisclosed violation of team rules. The performance upped Hill's completion rate to 40.6%.
It was close early. A fumbled punt return by J.D. Falslev — which he did three times, losing two on the night — set up Middle Tennessee with a short field, which it used to take a 10-7 first-quarter lead when Logan Kilgore connected with Marcus Henry for a 16-yard touchdown pass.
After a fumble inside the MTSU five-yard line — a place where BYU turned the ball over twice in the second quarter — Kyle Van Noy got himself in the scoring ledger yet again, tackling Jordan Parker for a loss in the endzone for a safety.
The Cougars took control of the game for good half way through the second quarter when Taysom Hill scored on a 50-yard touchdown run, sprung in part by excellent blocking on the edge by Ross Apo, who returned to action after being limited due to a shoulder injury.
Hill's rushing was excellent as usual, running 18 times for 165 yards and two touchdowns. Through four games, Hill has racked up 565 yards on the ground. BYU rushed for 309 yards as a team even with the absence of Jamaal Williams, who sat out after being concussed against Utah. Algernon Brown (68 yards) and Michael Alisa (55 yards) led the way for BYU's backs.
BYU's return game was bright (in spots) as well. Putting aside his three fumbles, Falslev did make excellent use of quality blocking en route to a 71-yard touchdown on a punt return to finish the night's scoring. Adam Hine set up the Cougars' first touchdown of the night with a 90-yard kickoff return, which miraculously was completed without any penalties on the BYU return team. Unfortunately, Hine left with a concussion after sustaining a big hit on a block that gave Paul Lasike a kick return out to midfield later in the first half.
Even with a rather low 14 completions (not a criticism, though, as Hill's 19 attempts were much more efficient than his 40+ attempt games), seven Cougar receivers caught passes on the night. Mitch Mathews (3 receptions for 47 yards) and Ross Apo (a welcome 4 catches for 38 yards) led BYU receivers.
Of course, BYU's bedrock continues to be the defense. The 10 points scored by Middle Tennessee belies the true dominant performance from the defense. A field goal was set up by a big kick return to start the game, and a Faslev fumble gave the Blue Raiders a 24-yard field, which it would need 7 plays to convert into a touchdown.
Beyond that, the BYU defense allowed just 212 yards to MTSU, 53 of which came against backups on the Blue Raiders' final possession — which was stuffed to a close at the BYU seven-yard line when the Cougars stopped an MTSU run on a 4th & 1.
Logan Kilgore was forced into a poor 13-31 passing effort for 82 yards, and was also intercepted in the endzone. Daniel Sorensen finally recorded a turnover for the BYU defense, just one play after an interception from Hill set up MTSU with a 12-yard field. The Blue Raiders also needed a whopping 41 rushing attempts to reach 107 yards on the ground, a paltry 2.6 yards per carry average.
Another storyline — impacted partially by Middle Tennessee possessing the ball for nearly the entire first quarter — was the pace of play. BYU ran only 74 plays after break-neck paces of 90+ plays in previous games.
Ultimately, it was a very sloppy performance, at least for BYU special teams. Such a game against most any other opponent on the schedule would have doomed BYU to a blowout loss. But since Falslev earned his scholarship based on rock-solid punt-returning as a freshman in 2010, it may be safe to assume such a terrible performance is an anomaly.
With that said, we saw enough improvement tonight to be encouraged. A very efficient passing game, a grinding run game, and solid defense put the game out of question early in the third quarter despite the Cougars being -4 in the turnover margin. With two of its three best skill players out, BYU's offense still churned out 486 yards.
Next Friday, BYU gets back on the road against Utah State. The Aggies (3-2) feature a disciplined defense and a talented offense. Right now, it feels like BYU is headed in the right direction, but next week's game in front of a rowdy crowd (BYU at home is always the Super Bowl for USU fans) and a solid team should tell us more.