Let's Review: Missouri Won and We All Hate Football Now
Updated: November 20, 2015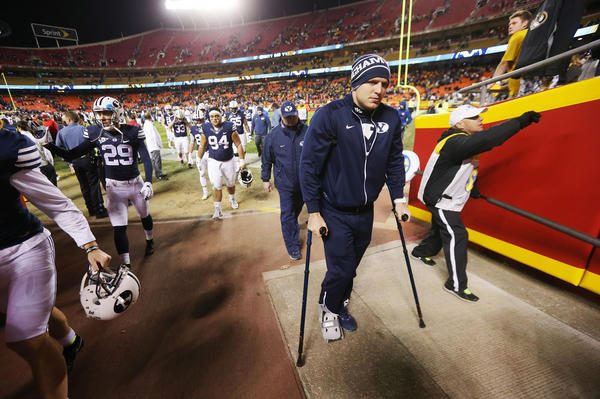 Here's me watching the game last Saturday:
If you aren't familiar with the movie Madagascar, the Penguins head to Antarctica thinking it's going to be amazing and everything they always wanted and there will be celebrations and joy once they arrive.  But when they do, it's not at all what they thought it would be or expected.  And that's how I, and I imagine you, felt watching the BYU vs. Mizzou game on Saturday night.
After the first failed Red Zone attempt (by fail I mean just a FG) I had a feeling it was going to be one of those games.  I'm sure there are better statistical indicators of what makes a great offense, but for me, not consistently getting touchdowns in the Red Zone is a big deal.  Something about not finishing the job I think says something about an offense and the playcalling, and indicates a lack of an unforgiving attitude about putting the ball in the endzone.  And well, it showed.  Between turnovers, nothing happening in the passing game, and only getting a net of 46 yards rushing (46! And that's with most of our O-Line back), this was not the offense we hoped, even expected, to see; it's not the offense we are all looking for!
And what the heck was that trick play at the end of the first half? You run it up the middle at the end of the half, let the clock run down, just so you can run that play?  It was cute and all, but what?!
The Defense Was At Least Good Though, Right?
But how about the defense?  They only gave up 20 points, they met their 24 point benchmark!  Victory!  Or not.  Coming into this game, Missouri was near-worst in just about every offensive category in the country, including third down conversion.  But against BYU, the Tigers converted 65%, putting to shame their previous conversion rate this season.
I said at beginning of the game on Twitter that Kai Nacua would probably lead the team in tackles and that wasn't a good thing.  He wasn't quite at the top, but he was close.  What is telling about this, I think, is that Missouri only completed 19 passes, but the secondary had 30+ tackles, which basically means the guy running the ball got into the secondary a whole bunch of times.
(Sigh) The life of a football fan is interesting.  The highest of highs and the lowest of lows all within the span of a couple of hours, and all over what is, at the end of the day, just a stupid game.  Of all the stuff to complain about, one thing that we can say for sure this season is that it's DEFINITELY not boring.
Things I liked, I guess
Alright, so some things I liked:
Bronson Kaufusi – High praise from Musburger and Palmer, "run away from number 90…he could start for Alabama…who else but big number 90 making the play" lots of things like that being said. It's been great this season to see him do what we all knew he was capable of.
This tackle:
The fans – it was hard to tell from camera shots, but I heard audible chants of "BYU" during the broadcast, so it was clear there was a great showing, as usual, of BYU fans. Well done, people.
Things I Didn't Like
What I didn't like?  See the rest of the post.
Where's Boney?
Perhaps one of the saddest parts of the game was that with all the controversy and protests and whatnot the week heading into the game, Boney Fuller wisely kept silent.  It was a smart move by him, but unfortunate for the rest of us.
Any other gripes about the game?  Anything else good we could talk about?  Like Jesse Palmer's beard or anything like that?  Why did Palmer and Musburger get relegated by ESPN to the SECN anyway?  They are two of my favorites.  Anyway, discuss below.