Opponent Notebook: Utah State Q&A with Kyle Goon of the SL Tribune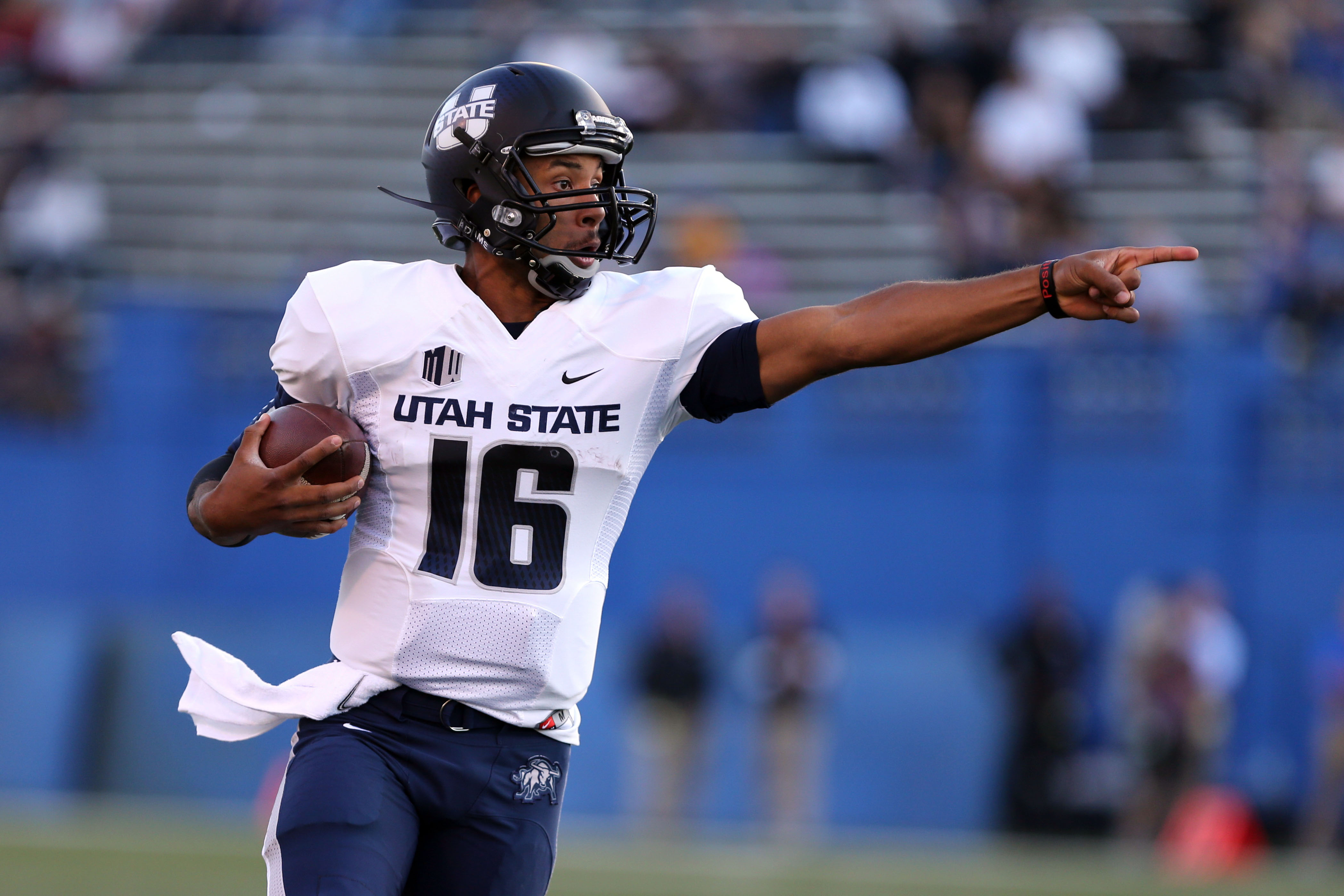 A preview of Utah State with some help from Kyle Goon of the Salt Lake Tribune.
After a sloppy but still convincing win against Middle Tennessee, BYU looks to clean things up against in-state foe Utah State. We were able to pick the brain of Kyle Goon, Utah State beat writer for the Salt Lake Tribune, and get his insight on this week's game.
LOYAL COUGARS: To the untrained eye, Utah State looks a lot like a team coached by Gary Andersen. What are some of the changes the program has seen under new head coach Matt Wells?
Kyle Goon SLTrib: There have not been a lot of changes at Utah State, as far as I can tell. The work ethic is the same, the weekly schedule is pretty much the same. Even most of the schemes are intact, with Wells still having some control on the offensive side and Todd Orlando learning Utah State's scheme and adding to it. The biggest differences seem to be mostly with Wells, who is a head coach for the first time, and perhaps more in the day-to-day interactions between the new position coaches and their players. Utah State's administration kept Wells on for one big reason: continuity.
LC: Most BYU fans are very familiar with Chuckie Keeton and his abilities. Who are the other stars of this Aggie offense?
Kyle: I think BYU will be looking closely at tape of Joey DeMartino, who has been a big-time player for the Aggies in the last three weeks. He's been terrific at following blocks and slipping through holes. He's not the fastest, but his quickness has been a great weapon and helped him bust out some big plays. BYU will also be worried about Travis Van Leeuwen and Travis Reynolds, the two outside receivers who are each averaging more than 13 yards per reception. Brandon Swindall, a tall sophomore, is especially dangerous in the redzone, as are tight ends D.J. Tialavea and Keegan Andersen.
LC: Through the first four games, the key to stalling the BYU offense is stopping Taysom Hill from running wild. How do the Aggies plan on meeting that tall order?
Kyle: Without knowing entirely what the gameplan is, I would suspect Utah State would challenge Hill to throw. Although Matt Wells was pretty cordial when he was talking about Hill, BYU's quarterback hasn't necessarily proven he can be a consistent passer this year. The Aggies gameplan may be similar to the one they had against Air Force, where they dropped an extra linebacker down on the line, pushed a safety into the box, and dared the Falcons to beat them through the air. Utah State can move to the ball pretty well, and the defense also seems to get stronger as the game goes on. The Aggies have allowed only two offensive touchdowns in their last four second halves — only one by the run.
LC: Last year BYU held USU to three points and 243 yards of total offense. What can the Aggie offense learn from that game that will help them this Friday?
Kyle: They have to be able to run the ball. That was their undoing last season. Only 41 yards on the ground, and that can't happen again if the Aggies hope to win. You can bet the Cougars are looking at tape of USC and trying to see what the Trojans did to bottle up Chuckie Keeton. Utah State, in the meantime, is looking at ways they can free him up. The threat of his scrambling ability adds an extra dynamic to the game, as does Utah State's rushing attack at large. The Aggies will also probably look to screens and other plays to draw away pressure and attack when BYU blitzes.
Also: The Aggies can't turn the ball over. Luckily for Utah State, this hasn't been too much of a problem, as Keeton has thrown a single pick against 17 passing touchdowns. The Cougars will be a tough test for him this week in that category.
LC: The Aggies recently lost Senior guard Kyle Whimpey to a season ending knee injury. How much of a setback will that be for Utah State?
Kyle: It's a pretty tough setback, but depth-wise, Utah State can handle it. Sini Tauauve'a and Bill Vavau have been rotating in a fair amount already, so the Aggies are confident that those guys can help carry the water for the rest of the season. Tauauve'a is the probable starter for Friday.
Emotionally, it is much tougher. Kyle Whimpey is funny, well-liked and considered a strong leader. His twin brother plays on the line as well, and Kyle is considered an older brother figure to many of his teammates. His personality and determination will be missed, and there are intangibles and a certain harmony to having five starters who have played about 16-17 games together.
LC: You posted an article about the rivalry between Utah State and BYU. Is the BYU-USU rivalry bigger than that of Utah and USU?
Kyle: I think this game is undoubtedly a more passionate rivalry for Aggie fans. BYU has that Duke basketball aura in that many schools want to beat the Cougars in the worst way. That's certainly no different in Logan, where there's sort of a perceived arrogance in the big brother-little brother dynamic between the schools.
Utah State fans want to be Utah, and as far as conference goes, there's not a bigger game than Boise State. But for the Aggies, BYU just seems to be the team that gets under their skin. The single game tickets sold out in 30 minutes, which tells you how excited fans are to get the chance to play the Cougars in Logan.
I've also heard people say when the Utes and the Aggies aren't playing, they even passively root for Utah (sort of). That obviously doesn't go for everyone, but it's certainly a subset of fans. I have never heard the same sentiment for BYU. It's pure disdain. I don't endorse it, that's just what fans tell me they feel.
LC: How do you see the game playing out?
Kyle: Given how the Cougars have struggled to throw the ball, I see it being tough for them to win in Logan. Every team that has been able to defend the run has been able to beat BYU. Utah State can defend the run pretty well.
I think it should be pretty close, but I ultimately see the Aggies winning the game by a score. The biggest thing will probably be this: Can the offense score on BYU's defense? I think Chuckie Keeton matches up well with the Cougars' secondary. The pass rush might give him trouble, but I would expect Utah State's offense to execute well enough to stay at least slightly ahead.
Thanks again to Kyle and the Salt Lake Tribune for helping with this article.