Houston Q&A with Joseph Duarte of the Houston Chronicle
Updated: October 18, 2013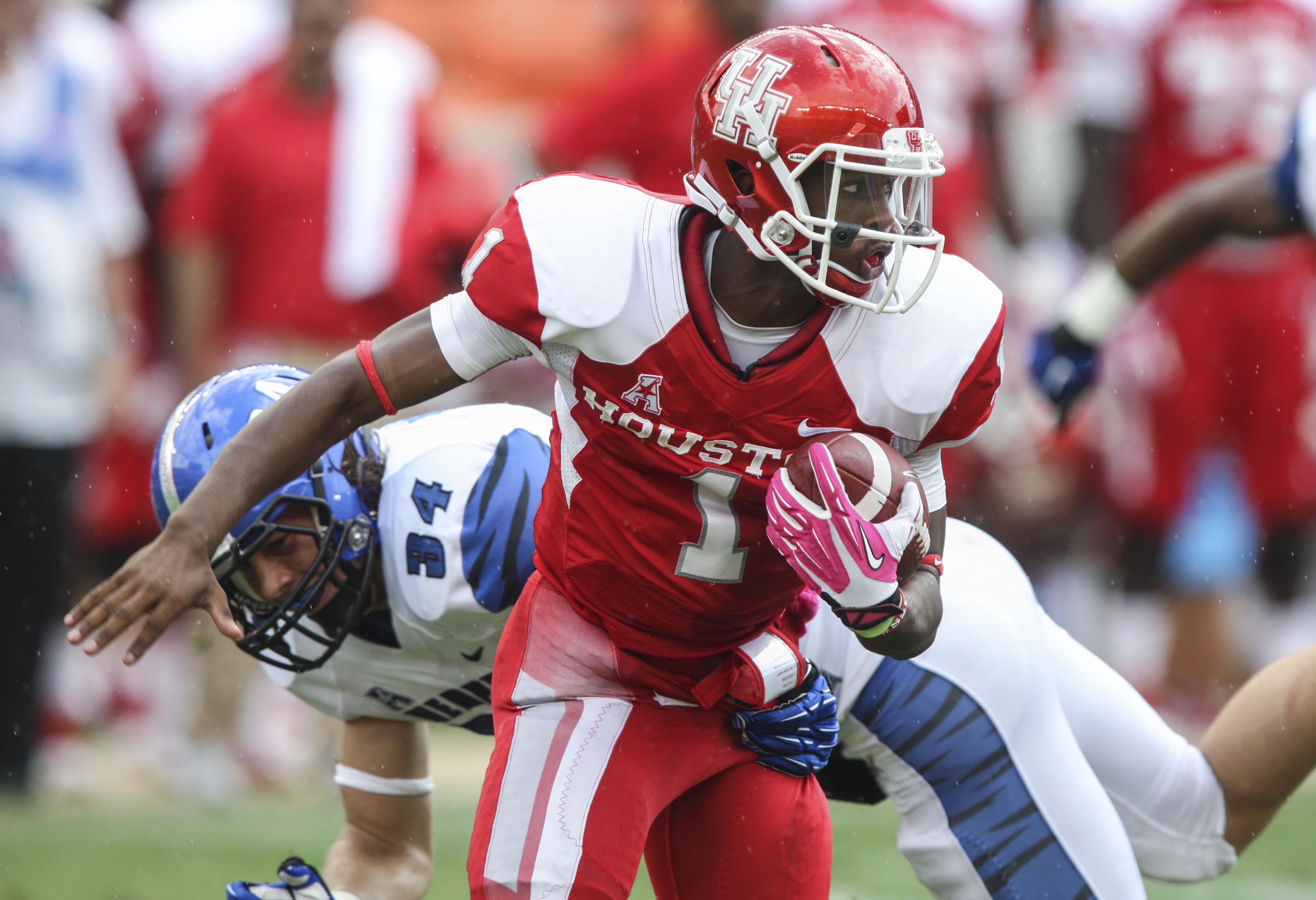 Opponent Notebook: A preview of Houston with some help from Joseph Duarte of Houston Chronicle.
After dominating Georgia Tech for the second year in a row, BYU hits the road to take on another team of Cougars, these hailing from Houston. We were able to catch up with Jospeh Duarte, Houston beat writer for the Houston Chronicle, and get his insight on this week's game.
LOYAL COUGARS: Things are obviously different since Houston's 2011 season, most obviously at head coach. What has Tony Levine changed at Houston since Kevin Sumlin's departure to Texas A&M?
Jospeh Duarte, Houston Chronicle: The Cougars continued to be one of the nation's most prolific offenses in coach Tony Levine''s first season,– but not without some headaches. Levine fired his offensive coordinator, Mike Nesbitt, after an embarrassing loss to Texas State in last year's season opener. Levine filled the spot in the offseason, hiring former Oklahoma State assistant Doug Meacham. UH has been up and down this season but still averages a healthy 39.8 points and 476.6 yards per game.
LC: The Cougars finished 5-7 in 2012 and have already reached that many wins this season. Besides the easier slate of opening games, what is different about this Houston team?
Joseph: The biggest surprises have been the play of true freshman quarterback John O''Korn and an opportunistic defense. O'Korn — the backup to begin the season — was forced into the starting job in Week 2 when starter David Piland suffered a head injury. Piland has since been forced to quit football because of multiple concussions. O''Korn is completing close to 60 percent of his passes and has thrown 11 touchdowns with only one interception. The UH defense has forced 18 turnovers, third most in the nation, and made huge leaps in most NCAA statistical categories after one of the worst seasons in school history. The Cougars have been especially tough in the second half, allowing only three touchdowns.
LC: Houston QB John O'Korn is no Case Keenum but he has proven more than serviceable in these first few games. What's going to be the key to his success against a tough BYU defense?

Joseph: O''Korn has to do what he's done so far  – not commit any mistakes. O''Korn enters the game with a current streak of 91 consecutive pass attempts without an interception. He is poised for an 18-year-old in his first season, much of that attributed to playing on a big stage at one of the nation's top high school programs, St. Thomas Aquinas in Fort Lauderdale, Fla. O''Korn has plenty of weapons at his disposal, namely 6-3, 198-pound wide receiver Deontay Greenberry, wide receiver Daniel Spencer, and the backfield duo of Ryan Jackson and Kenneth Farrow.
LC: After establishing himself as a threat to run, Taysom Hill has some consistency passing the ball in his last two games. Is the Houston coaching staff more concerned with his ability to run or throw the ball?
Ken: UH defensive coordinator David Gibbs warned this week that Hill is equally dangerous throwing the ball. "He''s not a one-dimensional guy," Gibbs said. "He can run it and he can throw it. People knock him for being sporadic with his arm, but the problem is he can make every throw because he has a great arm." Coach Tony Levine also stressed the Cougars must continue to tackle well with Hill a load to bring down at 6-foot-2 and 221 pounds. ""When (Hill) runs the football he''s a big, physical presence we need to get on the ground,"" Levine said. "You better be able to bring him down." UH currently ranks 26th in run defense at 126.6 yards per game and is one of eight teams nationally to not allow a 100-yard rusher this season.
LC: Houston leads the nation with a plus-14 turnover margin. How have they been so successful in forcing turnovers?
Joseph: UH stresses turnovers in every practice and actually dedicates one day –– called "Turnover Tuesday" — to working on ball security and forcing turnovers. The defense has taken a swarming mentality, with usually eight to nine players usually around the ball. They''ve done a nice job being in position for interceptions (including three by defensive linemen) and have forced 10 fumbles. Middle linebacker Derrick Mathews had two in last week's win over Memphis. Just how opportunistic have the Cougars been? In a three-point game to begin the fourth quarter against UTSA, UH forced five straight turnovers and won 59-28.
LC: WR Deontay Greenberry leads the team with 39 receptions and RB Ryan Jackson can run and catch the ball out of the backfield. Who will have a bigger game on Saturday?
Joseph: The Cougars have made it a point to target Greenberry at least a dozen times per game. His numbers were down last week against a Memphis defense that ranked 15th nationally. It snapped a streak of three consecutive 100-yard games. Greenberry is currently among the national leaders in receptions per game (7.8) and yards (121.2). Jackson is a big part of the Cougars'' offensive plans, but he''ll have to share the backfield duties with the return of Kenneth Farrow (two TDs last week) from an ankle injury. For that reason, I expect Greenberry to have a bigger game.
LC: How do you see the game playing out?
Joseph: This is the Cougars'' toughest game to date so it will be interesting to see how they respond. If UH can limit mistakes, force a few turnovers, and keep BYU''s running attack from doing too much damage I think it will be a close game decided in the fourth quarter. If it goes down to the wire keep an eye on UH kicker Richie Leone, who has been clutch this season.
Thanks again to Joseph Duarte and the Houston Chronicle  for helping with this article.