BYU's independent bowl future taking shape
Updated: November 6, 2013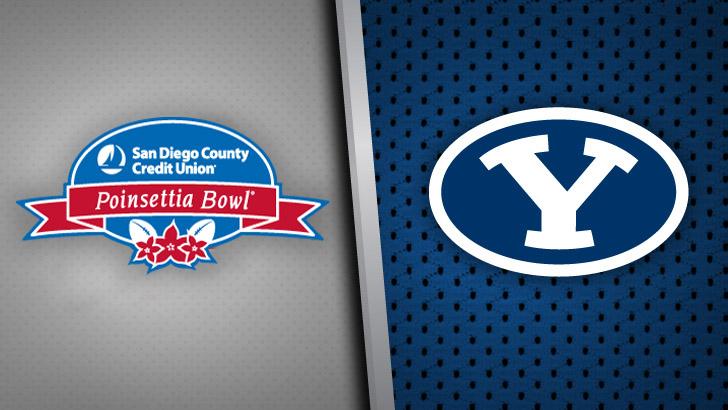 BYU's bowl future became more clear on Wednesday, and interesting arrangements may yet be in store.
Bowl contracts for all schools and conferences have been renegotiated over the last year. While BYU has yet to offer much publicly about its future, reporting about other conferences, particularly the Mountain West, offers some insight into BYU's bowl future.
It appears that of BYU's bowls for the next six years, two years are finalized with the Poinsettia, two years are finalized and yet to be announced (potentially in Las Vegas and Hawai'i), and for two years, BYU may perhaps be an ESPN free agent.
BYU confirmed today that the Mountain West would face BYU in the Poinsettia Bowl in 2016 and 2018. Back in June, BYU announced they would return to the Poinsettia bowl in 2015 and would make a second appearance that had yet to be determined.
Bowl contracts that have been signed by conferences for this cycle have covered six years. Piecing together the other four years of BYU's bowl future requires one to read between the lines a bit. In addition to the Poinsettia Bowl, Tom Holmoe spoke with BYU Radio last week and said, "Then there's two other games that we'll be locked into."
So far, there has been no confirmation on what the other two years will be. However, when the Mountain West announced its bowl lineup earlier, it left two years open in its rotation. That press release said, "In two years during the cycle, the MW will rotate a team into the Bell Helicopter Armed Forces Bowl to take on a Big Ten opponent – opening up the Las Vegas Bowl one year and the Hawai'i Bowl in another."
Connecting the dots, BYU says it has all but finalized a deal for two more years, and the Mountain West is leaving one year of the next six open in the Las Vegas Bowl and another one year open in the Hawai'i Bowl.  Should BYU slide into those spots, it would expect to face a Pac-12 opponent in Vegas and either an American or Conference USA opponent in Hawai'i.
For the final two years, it appears BYU may not be signing to a predetermined bowl. Holmoe also told BYU radio last week that the final two years of the next cycle "will be something interesting for the fans. It's something that we're working on with ESPN right now for the future that is different than what we've done in the past."
ESPN broadcasts nearly all of the bowls and, through ESPN Regional Television, owns a number of them as well. Could BYU and ESPN be working on some kind of a deal where BYU would be a free agent of sorts and land wherever it best belongs? If you're going to partner with someone to find a bowl for you, ESPN is a good place to start.
Historically, ESPN has shown a willingness to move teams around in bowls they owned. Boise State was able to play Utah in the 2010 Las Vegas bowl thanks to ESPN's renegotiation. As a member of the WAC at the time, Boise State had no contract with the Las Vegas bowl, but at 11-1 it deserved a better bowl — and ESPN found one. It likely means BYU will get what it earns, much like with its current regular season broadcasting contract. It will be interesting to see the final details of this bowl arrangement.
Based on the new college football playoff rules starting next year, the criteria for the playoff bids are the same for all schools: get rated in the top 4 of the country according to the selection committee. Most of the slots for the remaining major bowls are committed to major conferences, but there are a few slots for at-large bids depending on who qualifies for the playoffs and where they are played that year. It would take a special season for BYU to qualify for those games, but certainly BYU is not making a bowl deal that would prevent them from accepting a higher-profile invitation.
With independence so far, BYU has been able to upgrade its schedule, visibility and revenue. There were much more dire predictions for BYU's independent fate that being able to "only" get the same kind of bowls as independent as they got in the Mountain West. If that is the worst part of independence, it seems BYU is doing just fine.
One of the factors of that bowl future may depend on how well BYU can travel to this year's bowl. Negotiating bowl contracts is typically done with conferences. Getting a bowl to signup with a single team, instead of having their choice from a conference of 12 or 14 teams, is a tough sell.
For this year, Holmoe specifically said, "The more people we can get to (the Fight Hunger Bowl), the more it will help up in the future with other bowl games."