BYU falls to Wisconsin in physical battle
Updated: November 9, 2013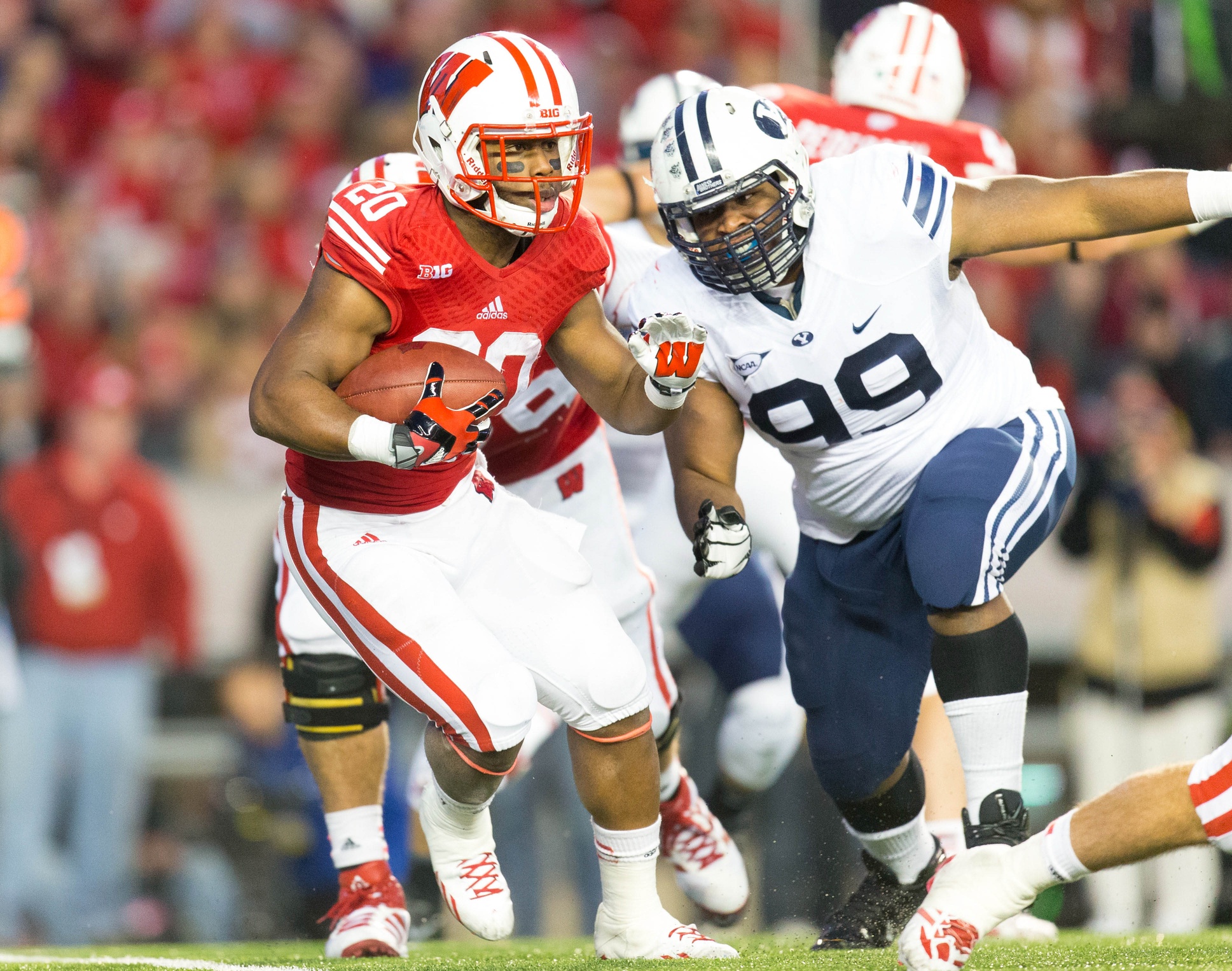 Prognosticators thought the game would be decided in the trenches and the prognosticators were correct. The three-time defending Big Ten champion Wisconsin Badgers dominated both lines of scrimmage and defeated the BYU Cougars 27-17 on a chilly night in Madison, Wisconsin. The big, bruising Wisconsin offense had 425 yards of total offense had BYU on its heels all game long with an effective combo of power running and play-action passing.
Leading 10-3 with just over two minutes to go in the first half, the Badgers converted three third downs and Joel Stave found James for a 5-yard touchdown pass with just 30 seconds before the halftime whistle. It was a seismic momentum shift and one that BYU never really recovered from. With the offensive struggles in the first half, trailing by seven points was manageable — trailing by two touchdowns was just too much to overcome.
BYU went three-and-out on its first possession of the second half and Wisconsin receiver Kenzel Doe returned the ensuing punt 26 yards to the Cougar 23. There, as it has so many times, the Bronco Mendenhall-led defense bowed up and prevented the opponent from scoring seven points.  Trailing 20-3, the BYU offense was given its final reprieve. It responded with a great drive, finished off by yet another spectacular touchdown catch by Cody Hoffman.
With the Cougars within ten points, the defense forced yet another punt and BYU's offense had a chance to cut the deficit to one score. A sack, incompletion, and three yard rush on 3rd down effectively ended any chance at a comeback. Wisconsin put the nail in BYU's coffin by taking the ensuing possession and capitalizing with seven points. The 92-yard drive ended with a James White 14-yard touchdown rush. The Badger backfield of White and Melvin Gordon combined for 223 yards on the ground.
Taysom Hill's offensive production was simply not where it has been in weeks past and Gary Andersen's defense had a lot to with that reality. The Badger defense was not going to allow Hill to beat them with his legs. The scheme called for more guys in the box and forced Hill to make plays with his arm. Hill finished 19-for-41 with 202 yards 2 TD's and 1 INT, along with 53 yards rushing on 17 carries. The numbers are inflated, however, as a sizable chunk were compiled during the final moments of the fourth quarter.
BYU loses yet another road contest against against a ranked-BCS squad. The Cougars were outclassed in all three phases of the game. While the game planning on the offensive side of the ball was questionable, and the time-management of the team during the fourth quarter was disappointing, it is difficult to be upset about the outcome because Wisconsin is simply a better football team.
The Cougars will face Idaho State next Saturday in Provo.