Three-Man Weave: Forecasting BYU basketball's big week ahead
Updated: November 20, 2013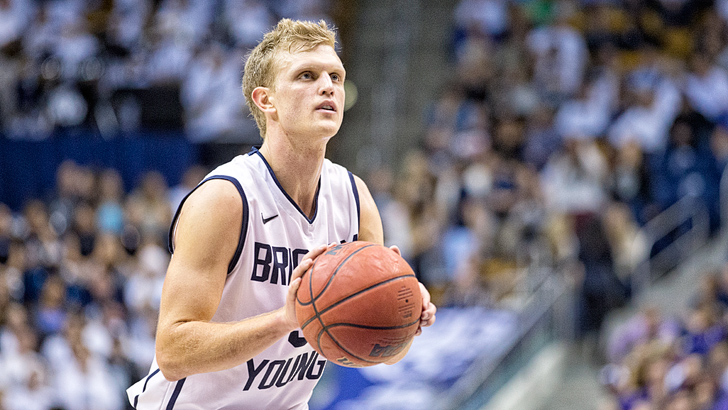 The Cougars are facing perhaps the most important week of their young hoops season — and our team is ready to break it down in the latest edition of the Three-Man Weave.
This is a big week for the BYU men's basketball team. Looking to build on an impressive 4-0 start to their season, the boys in blue now enter what could end up being one of the most important weeks of their season — at least in the eyes of the NCAA tournament's selection committee.
In the span of just six days, the Cougars could have three huge opportunities to build their tournament resume, including Wednesday's home game against No. 21 Iowa State, and two neutral site games in Kansas City against Texas and (potentially) No. 16 Wichita State. If the Cougars survive this week undefeated (or heck, maybe even with just one loss), chances are good that they'll enter the national conversation and earn a spot in the Top 25. And if they lose a few too many games? Well kiss that early-season buzz goodbye.
Those are some high stakes, to be sure — which makes this a perfect topic for one of our patented Three-Man Weaves, in which three commentators offer their opinions and analysis on three roundball-related issues for your reading pleasure. For today's installment, I am joined by Ben Wagner and Evan Hall — both regular contributors to our hoops coverage on Loyal Cougars — to dish on what we've already seen from the Cougars and what we expect to see over this next stretch of games.
1. Four games into the new season, what's the biggest thing we've learned about this Cougar team so far?
EVAN HALL (@the20thmaine): That they can be a really good team. I didn't expect Kyle Collinsworth to be this polished this quickly and to be an equal-part contributor with Haws and Carlino, albeit in much different ways, but I really didn't expect the team as a whole to play this well together. Some of the fast breaks that they ran against good competition (Weber State and Stanford) showed a chemistry with players who had never played together, like Winder and Collinsworth, or Collinsworth and Frank Bartley IV. We're only four games in, but this roster might fit Dave Rose's style of play better than any we've seen.
BEN WAGNER (@ben_wagner): I think we can safely say that Kyle Collinsworth is a really good all around player. He's currently averaging 13 points, 8 rebounds and 6 assists per game — phenomenal numbers for a sophomore who just spent two years in Russia. I don't think Collinsworth will ever be the Cougars' go-to scorer during his career at BYU, but his ability to contribute in every facet of the game stands out. He can defend four positions, handle the ball, rebound, make smart passes, and score both in the paint and at the three point line. (At this point, his only glaring weakness is his free throw stroke, which — at 61 percent — needs to improve.) It feels like Collinsworth is a triple-double threat every night, and that might make him the most complete player BYU has had in a long time.
STEVE PIERCE (@PostJimmer): It's deeper than we thought. With only 10 scholarship players, many (myself included) were legitimately concerned about the talent level on this squad. Through four games, some of those questions have been answered. Anson Winder is looking every bit like the sixth man that fans always hoped he'd be — tenacious as ever defensively, but showing off an expanded offensive game that can keep opponents honest. Eric Mika and Nate Austin have collectively proven to be an effective frontcourt, each bringing his own unique strengths to the table to complement the other — and Frank Bartley IV and Skyler Halford have both shown they can provide solid minutes on the guard line when called upon. Hawrlinosworth™ has some help.
2. Come March, this next week may be looked back on as the single biggest week of the season for BYU's at-large hopes. What needs to happen (or what needs to improve) for you to feel confident about the Cougars' chances to get a slew of statement wins?
HALL: Well, Tyler Haws needs to play. There's no way BYU wins against Iowa State without Tyler Haws. In fact, I shouldn't say anything here except to beg for sweet mercy that Tyler Haws' abdominal strain really is minor. But with Haws, BYU needs to run Iowa State out of the gym. BYU can't win this game with less than 75 points. The team just doesn't play good enough defense to win low-scoring games, especially against teams as good as Iowa State.
WAGNER: Assuming Tyler Haws is OK and will play this week, BYU needs to consistently make 3-pointers against this level of competition. In the win against Stanford, the team went 8-for-15 (53 percent) from behind the three point line — but they paid for it against Colorado Mesa, shooting just 1-for-21 (4.8 percent). That game was the second half of a back-to-back without Tyler Haws, so we can (hopefully) count that performance as an outlier. But the Cougars need the 3-point shots to fall in order to open up their offense, and if the team can shoot 38 percent or more from beyond the arc in each of the next three games, they have a chance to really make a mark on the national stage.
PIERCE: First and foremost, Tyler Haws has to be Tyler Haws. Yes, he has to actually step on the court, but he also has to be able to play his game while doing so. If he is physically limited because of the injury, BYU will struggle. They need a healthy Haws as the focal point of their offense to reach maximum effectiveness. If Haws is at his most potent, he indirectly opens up opportunities for everyone around him. Matt Carlino has more open lanes to the basket; Kyle Collinsworth can focus on creating opportunities for Haws and Carlino in the halfcourt; and Mika has his most deadly kick-out option roaming the perimeter when he posts up. Everything just works when Haws is on the floor — and BYU likely can't win big games without him.
3. Bold prediction time: What do you think happens over the next week? Can BYU beat a hot Iowa State team at home? Do they overcome Texas to face Wichita State in Kansas City? Does going 3-0 vault them into the Top 25?
HALL: Going 3-0 absolutely puts BYU in the Top 25, but unfortunately, I don't think that's likely. I say 2-1 with wins against Iowa State and Texas and a loss against Wichita, if for no other reason than that perennially, BYU has been a much better team at home than on the road. I'm probably being too optimistic about the Iowa State game, but for Texas Dave Rose could outcoach Rick Barnes from his bed using nothing but five-word text messages sent to his assistants — plus, BYU will be Texas's first game against a tournament-caliber opponent. (Texas's four wins? Mercer, South Alabama, Stephen Austin, and Houston Baptist.)
WAGNER: Last year, BYU absolutely had a chance against Iowa State, but somehow Will Clyburn turned into Steph Curry and the Cougars got run off the court in the second half. I expect things to be different at home, and BYU should get their first home win against a ranked non-conference opponent in almost 30 years. But the experience of the Chicago Invitational two years ago, and the Coaches vs. Cancer Classic last year, gives me little hope for this year's CBE Hall of Fame Classic. I won't get my hopes up until BYU proves they can get wins at neutral sites in early season tournaments against good competition. I'll hope for a 3-0 week with wins over Iowa State, Texas and Wichita State — but I expect they'll go 1-2.
PIERCE: I wasn't completely sold on this team before the season. There were serious question marks, and I (and others) were caught looking past this group of players and pining for the possibilities of the distant Lone Peak Three-filled future. But this Cougar team has jolted us all — including the national media — back to the present with their stellar early play. I believe in this team now. I love the vibe and confidence they have. I love their pace and versatility. They will beat Iowa State at home and handle Texas in Kansas City, then match Wichita State blow-for-blow in a close game in the finals. I don't know if they'll come out on top or not, but I'd be surprised by anything less than a 2-1 record. Now, hand me another glass of that blue Kool-Aid.