BYU overcomes offensive woes to top Colorado Mesa, 84-60
Updated: November 16, 2013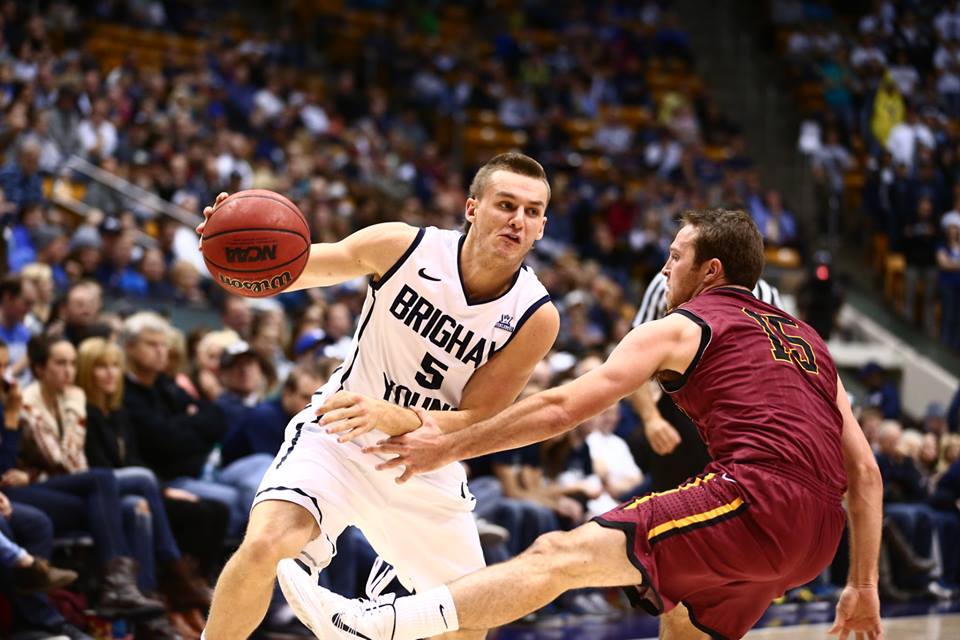 It wasn't very pretty, but the Cougars eventually pulled away from the Mavericks for a comfortable victory.
To no one's surprise, BYU's basketball team beat Colorado Mesa on Saturday by more than 20 points.
But there were some surprises in the game.
One surprise was that Colorado Mesa was able to dictate the tempo most of the night. BYU won the game 84-60, but that 84 points was well below the more than 100 points BYU had scored in the previous two contests. The visitors from Grand Junction chewed up clock on the offensive end and diligently sent multiple players back in transition to slow the pace down. Their strategy kept the game close for most of the first half, but a big BYU run to start the second half put the game out of reach.
Here are some bullets of the good, the bad and the ugly from BYU's victory.
The Good
BYU showed some excellent defensive tenacity in the second half. The Cougars held the Mavericks to just 1 point for the first 8 full minutes of the half, while the Cougars scored more than 20 points. After that run, BYU cruised to the victory.
Frank Bartley continues to impress. The kid is strong, fast and aggressive. On Saturday, he scored 10 points in 17 minutes off the bench. I expect he'll be an important role player all season.
BYU scored 42 points in the paint and only gave up 12 points in the paint.
BYU scored 23 points off of turnovers and only gave up 4 points off of turnovers.
BYU held Colorado Mesa to just 35 percent shooting on the night
BYU still scored 84 points on a team determined to slow the pace as much as possible — and that was 84 points with only one three pointer (more on that later).
Matt Carlino continues to be tremendously creative with his passing and driving to the basket. Sure his aggressiveness becomes reckless at times, but the kid is getting it done this season. He finished with a team high 16 pts to go with his 5 rebounds and 2 steals.
Kyle Collinsworth continues to be a stat stuffer. His return has made BYU better. A lot better.
Skyler Halford continues to prove that not all JC transfers are busts. Skyler played a terrific game and finished with 12 points.
BYU got the easy win again with their best player, Tyler Haws, still on the bench nursing an injury.
The Bad
BYU WENT 1-FOR-21 FROM THREE! One for twenty-one from three. Uno for veintiuno from three… That is so, so bad. Egregiously bad.
It's not good when you let a D-II team come in to your house and control the tempo. But if you win by 24 anyway, it's not that bad.
BYU is still shooting poorly from the free throw line. The Cougars went an anemic 31-for-43 for 72 percent. Gotta hit those free ones.
No Mika dunks tonight. That's always bad in my book.
Haws is still hurt and Collinsworth was grimacing in pain at the end of the game from an elbow to the hip. This team is terrific but can't afford injuries with only 10 scholarship guys available.
The Ugly
BYU WENT 1-FOR-21 FROM THREE! One for twenty-one from three. Uno for veintiuno from three… That is so, so ugly.
Kyle Collinsworth's hair. What on earth is going on there? He seems to have modified his mini mullet this week by taking a #2 shear guard to the sides of his head only. This creates some unholy mullet/mohawk effect. A MullHawk, if you will. It is vaguely reminiscent of an early '70s British rock star 'do at this point. Shades of Ziggy Stardust. In fact his hairdo has become so ugly that it is almost crossing into mesmerizingly glorious territory. Perhaps that is his strategy… to lull opponents into a trance. If he take this any farther, ALL SHALL BEHOLD HIS 'DO AND TREMBLE.
BYU gets back to playing at the big boys table next week as Iowa State rolls into Provo on Wednesday. The Cyclones crushed the Cougars last season, so hopefully Dave Rose's squad will have everyone healthy and ready to win a tough game on national TV.