BYU falls to Notre Dame, 23-13
Updated: November 23, 2013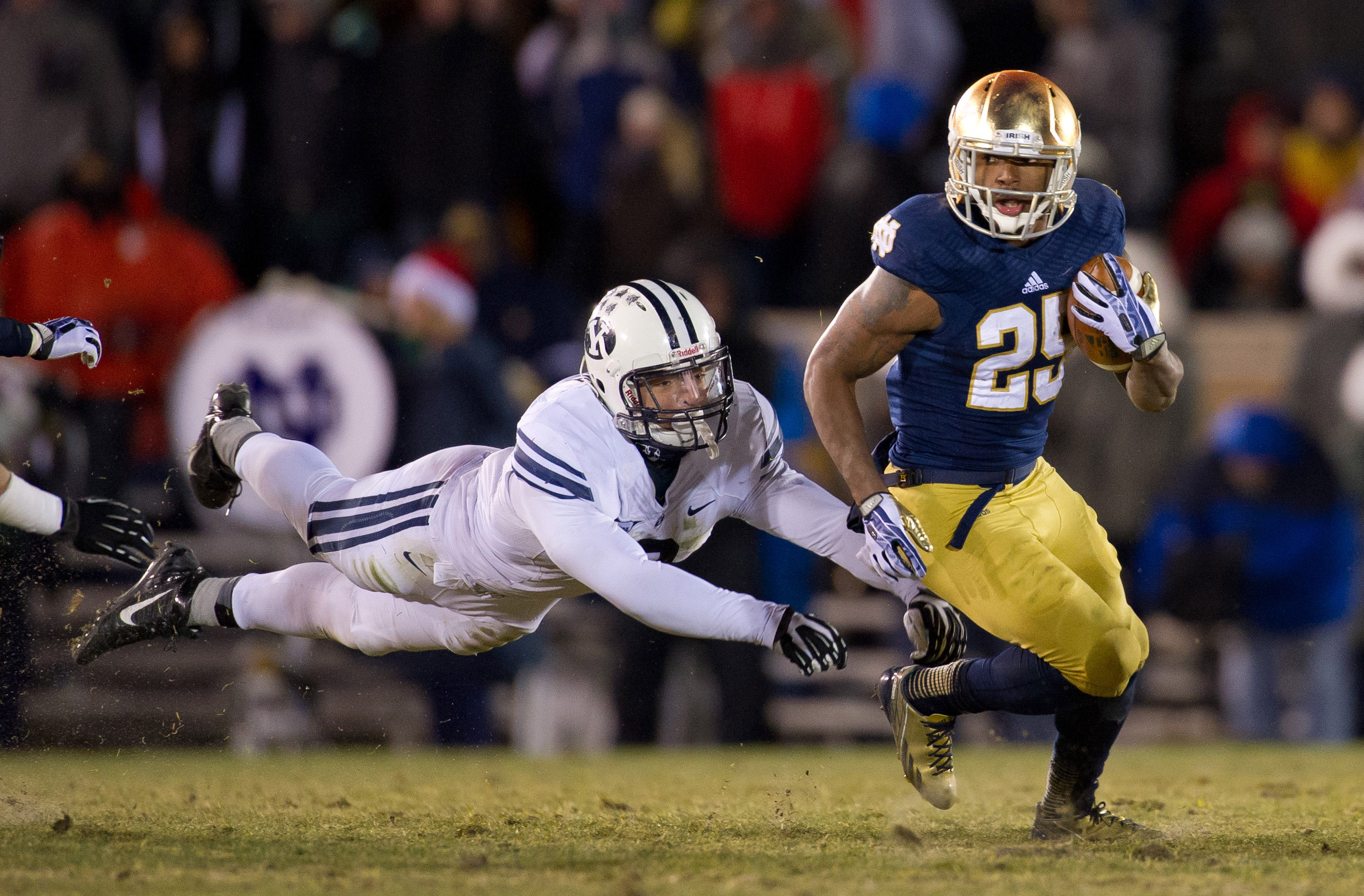 Continued red zone woes doom BYU to disappointing loss at cold, windy Notre Dame.
In 2012 it was ineffectual quarterback play; in 2013 it was inefficient red zone scoring. The BYU Cougars were defeated by the Notre Dame Fighting Irish, 23-13, on a cold, blustery evening in South Bend, Indiana. The score differential was the same as BYU's loss to Wisconsin a few weeks ago, but will be all the more bitter for the Cougars who failed to capitalize on yet another opportunity to make a statement on the road against a quality opponent.
It did not begin well for the BYU defense. Not yet five minutes into the contest, Tommy Rees found DaVaris Daniels for a 61 yard touchdown pass and the Irish took an early 7-0 lead. BYU answered back with a terrific drive of its own, capped by a JD Falslev 7-yard touchdown reception from Taysom Hill. Unfortunately for the Cougars, it would be the last time they would see the end zone all evening. But it was not for a lack of opportunity.
Notre Dame took a 17-7 lead into the locker room, and extended to 20-7 after scoring a field goal on its first drive of the second half. Give the BYU offense credit for fighting back and making enough plays to make the game competitive in the second half. Were it not for the redzone miscues, the Cougars may very well have put themselves in a position to win the contest.
Trailing the entire second half, the BYU offense drove inside the Notre Dame 20 on three of its first four drives. The Cougars came away with just six points. The final redzone sting of the evening came with BYU having a field goal blocked with 4:15 left in the fourth quarter and trailing by ten points. It was the end of the line for BYU's chances of a comeback victory.
BYU ran the ball for nearly 250 yards and had 415 yards of total offense, but those yards felt awfully hollow given the inefficiency of the offense in the red zone. Tommy Rees threw for 235 yards and a touchdown, and Notre Dame halfback Cam McDaniel rushed for 117 yards as the Fighting Irish were perfectly balanced on offense with 235 yards both rushing and passing. Notre Dame moved to 8-3 on the season.
BYU is 7-4 and finishes the regular season next week in Reno against Nevada.