A Led Zeppelin Analysis of the 2013 BYU Football Season
Updated: December 4, 2013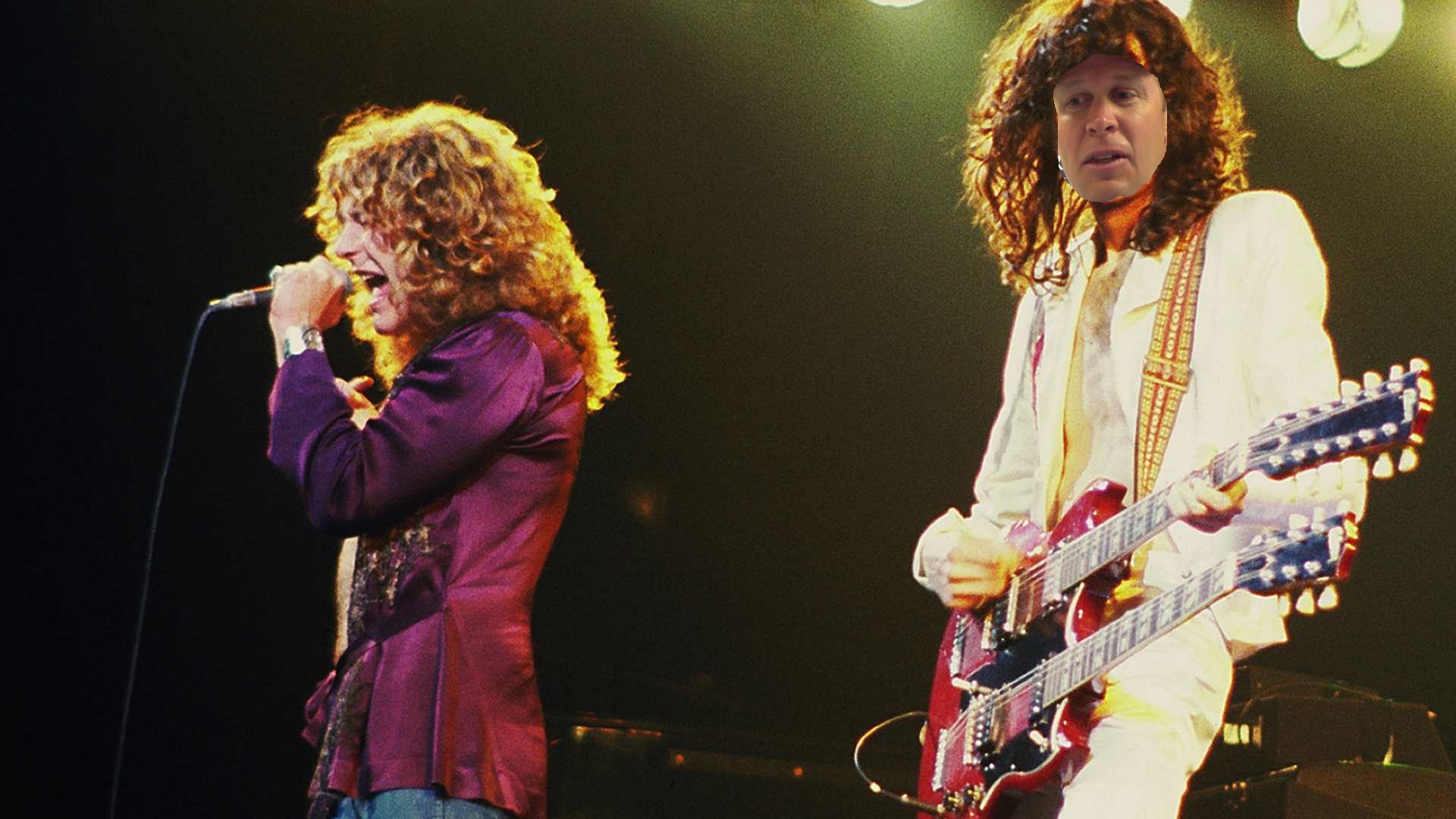 Ryan Teeples helps us get the Led out, pairing each 2013 football game with a song from the gods of rock.
Is there any band better than Led Zeppelin? Sorry, that's not a rhetorical question. The answer is unequivocally "no."
There's also no better band to walk us through the BYU football season that was. See, there's a Zeppelin song or lyric for every situation of life, and the Cougar gridiron season that had so much potential is no exception.
Without further ado, I give you a game-by-game breakdown of BYU's entire 2013 football season, set to the strains of the Mighty Zeppelin.
BYU at Virginia – Loss – 16-19
Led Zeppelin Theme Song: The Rain Song
The rain is clearly a metaphor for the precipitous outpour of scoring offense in the debut of Robert Anae's new offense. That was a joke, by the way.
It's actually a literal reference to the torrential downpour that plagued both teams in the second half, AFTER sitting for two-plus hours in a crowded locker room on a lightening delay.
Somehow Virginia's defense made the weather seem like a minor nuisance, yet the Cougars struggled ahead, holding the ball and a 16-12 lead with just 2:45 left in the game. Unfortunately, a third-and-long resulted in a tipped-ball interception and subsequent go-ahead touchdown for Virginia.
Virginia would not beat another FCS team. In fact, they would never even get close. The Cavaliers made every ACC team feel like Florida State for a week.
This horrible loss—probably the worst in Bronco Mendenhall's career—is likely what Robert Plant sang about in this verse from The Rain Song:
"These are the seasons of emotion and like the winds they rise and fall
This is the wonder of devotion – I see the torch we all must hold.
This is the mystery of the quotient – Upon us all a little rain must fall"
Honorable mention: Fool(s) in the Rain
BYU vs. Texas – Win – 40-21
Led Zeppelin Theme Song: Misty Mountain Hop
This timeless classic from the rock masters starts off:
"Walking in the park just the other day baby, yeah."
And for BYU, this game was little more than a walk in the park. Actually, it was more like a run in the park.
In what was the complete antithesis to the game the week before, BYU simply couldn't be stopped on offense and Taysom Hill was splitting Longhorn DBs like cord-wood.
The Texas defense basically quoted Zeppelin from the beginning, saying to Taysom: "Hey, boy do you wanna score?" And he did. Repeatedly.
The Cougars racked up over 500 yards rushing on a defense that wasn't as bad as it played, and immediately made Mack Brown recall this line from the song:
"Folk down there really don't care, really don't care, don't care, really don't
Which, which way the pressure lies."
BYU vs. Utah – Loss – 13-20
Led Zeppelin Theme Song: What is and What Should Never Be
Sure, the lyrics to this song are actually about forbidden love of the sister of the composer's spouse. But just forget all that and focus on the title:
"What is, and what should never be."
What is (or was): Utah beat BYU yet again in another close game where the Cougars shot themselves in the foot at every opportunity.
What should never be: BYU loses to Utah for a fourth straight time. Enough said.
Honorable mention: Heartbreaker
Honorable mention 2: From Utah's point of view the song is That's The Way: "I don't know how I'm gonna tell you, I can't play with you no more."
BYU vs. Middle Tennessee State – Win – 37-10
Led Zeppelin Theme Song: In the Light
After the Utah loss, BYU fans were feeling pretty low, with the team sitting at 1-2, the offense reeling and fans calling "Go Fast, Go Hard" "Fall Fast, Fall Hard."
This line from the song summarizes fan feelings:
"And if you feel that you can't go on. And your will's sinkin' low"
However, the next couple lines are very apropos.
"Just believe and you can't go wrong.
In the light you will find the road. You will find the road"
"The Light" turned out to be a visit from Conference-USA's Middle Tennessee State who came into Lavell Edwards Stadium and were easily handled by their hosts.
"The road" was the road to a winning season, which this game kicked off.
BYU at Utah State – Win – 31-14
Led Zeppelin Theme Song: The Song Remains the Same
While the game in Logan in 2010 (BYU barely showed up, losing 16-31) could be called Trampled Under Foot, this installment of the game was just business as usual for the Cougar-Aggie "rivalry" game.
BYU has now won 13 of the last 14 meetings. Same old song and dance. Wait, wrong band. The Song Remains the Same.
P.S. There is a Wikipedia page for the "BYU-Utah State Football Rivalry" but it's probably created and  maintained by USU's Hyrum, Utah Alumni Chapter.
BYU vs. Georgia Tech – Win 38-20
Led Zeppelin Theme Song: Ramble On
Sometimes this is just too easy. BYU welcomed the Ramblin' Wreck of Georgia Tech to Provo by dominating them in the first half.
But the Cougars must have figured that was enough because the offense barely came out in the second half. Either way, they sent the Jackets back to the ATL with nothing more than a pleasant stay.
"Leaves are falling all around
It's time I was on my way
Thanks to you, I'm much obliged,
For such a pleasant stay…
…But I got one thing I gotta do: Ramble on"
BYU at Houston – Win – 47-46
Led Zeppelin Theme Song: How Many More Times
This epic song begins:
"How many more times, treat me the way you wanna do?"
And that line aptly describes how Cougar fans felt after the first half of the Houston game where those Texas-based Cougars repeatedly abused the Cougars on defense—often with the exact same play over and over—taking 38 points into the half.
Luckily, as per-usual, Bronco Mendenhall made adjustments and limited the Conference-USA/Big-East/AAC/Question-Mark team to just 8 points in the second while the BYU offense did enough to win.
BYU v. Boise State – Win – 37-20
Led Zeppelin Theme Song: When the Levee Breaks
BYU fan angst for the growing rivalry against Boise State was at a breaking-point. After last year's nail-biter finish in which the Cougars lost by a point, fans' anticipation was at the brink by kickoff this season.
And the levee finally broke.
In a game that was almost a carbon-copy of the previous home matchup with Georgia Tech, BYU got off to a big lead, drowning the Broncos on offense and defense, taking a 24-3 lead to the locker room.
After a third quarter TD, BYU decided they'd had enough offense and went three and out pretty much the rest of the game.
Either way, the levee had finally broken and Boise State was weepin' and moanin'.
BYU at Wisconsin – Loss – 17-27
Led Zeppelin Theme Song: In My Time of Dying
"And I see them in the streets
And I see them in the field
And I hear them shouting under my feet
And I know it's got to be real"
BYU fans who made the trip to Madison certainly felt this way before the game. They didn't know that was the best it was going to get.
In a game that was like death by a thousand needles, BYU stayed close, let it get away, got back in again, only to see inexplicable decision-making keep it from ever being close.
BYU v. Idaho State – Win 59-13
Led Zeppelin Theme Song: No Quarter
After the frustration of the Wisconsin game, BYU held no quarter for the Bengals, pounding them for 49 points in the first half alone before letting up, and by the fourth quarter they had put in the third-string equipment managers.
OK, so BYU did give them quarter, actually two of them, but for that one half BYU just let the dogs of doom run free.
BYU at Notre Dame – Loss – 13-23
Led Zeppelin Theme Song: Houses of the Holy
This one might be a stretch, but I couldn't find a Led Zeppelin song that was about a team who played in inhumanly cold conditions in a miserable part of the country and couldn't stop the run and also couldn't get anything going on offense because its offensive coordinator refuses to call quick-pass plays.
So, playing on the religious aspect of this game, I opted for this classic song from the Physical Graffiti album.
It fittingly has a line for Cougar fans to consider following tough losses like this one:
"Said there ain't no use in crying. Cause it will only, only drive you mad"
BYU at Nevada-Reno – Win – 28-23
Led Zeppelin Theme Song: Good Times, Bad Times
In games where two halves are so drastically different for BYU, this one is second only to the win over Utah State back in 2002.
In the first half, it was all Bad Times for the Cougars, who looked like they had flown to Reno about 30 seconds before kickoff. Sure, nobody is at his best in Reno. But this performance was inexcusable.
"No matter how I try, I find my way into the same old jam."
But the second half, BYU let the Good Times Roll (oops, wrong band again) scoring touchdowns on all four drives and keeping those pesky wolves at bay.
BYU certainly felt Robert Plant's words when, after the game they looked around Reno as they drove away.
"I sure do wish I was at home."
BYU at The Kraft Fight Hunger San Francisco Bowl – TBD
Led Zeppelin Theme Song: Going to California
"Made up my mind to make a new start
Goin' to California with an aching in my heart."
If there's a better synopsis for the way BYU fans feel today, I can't find it. As always, Led Zeppelin delivers.