Fight Hunger Bowl: Washington Primer
Updated: December 9, 2013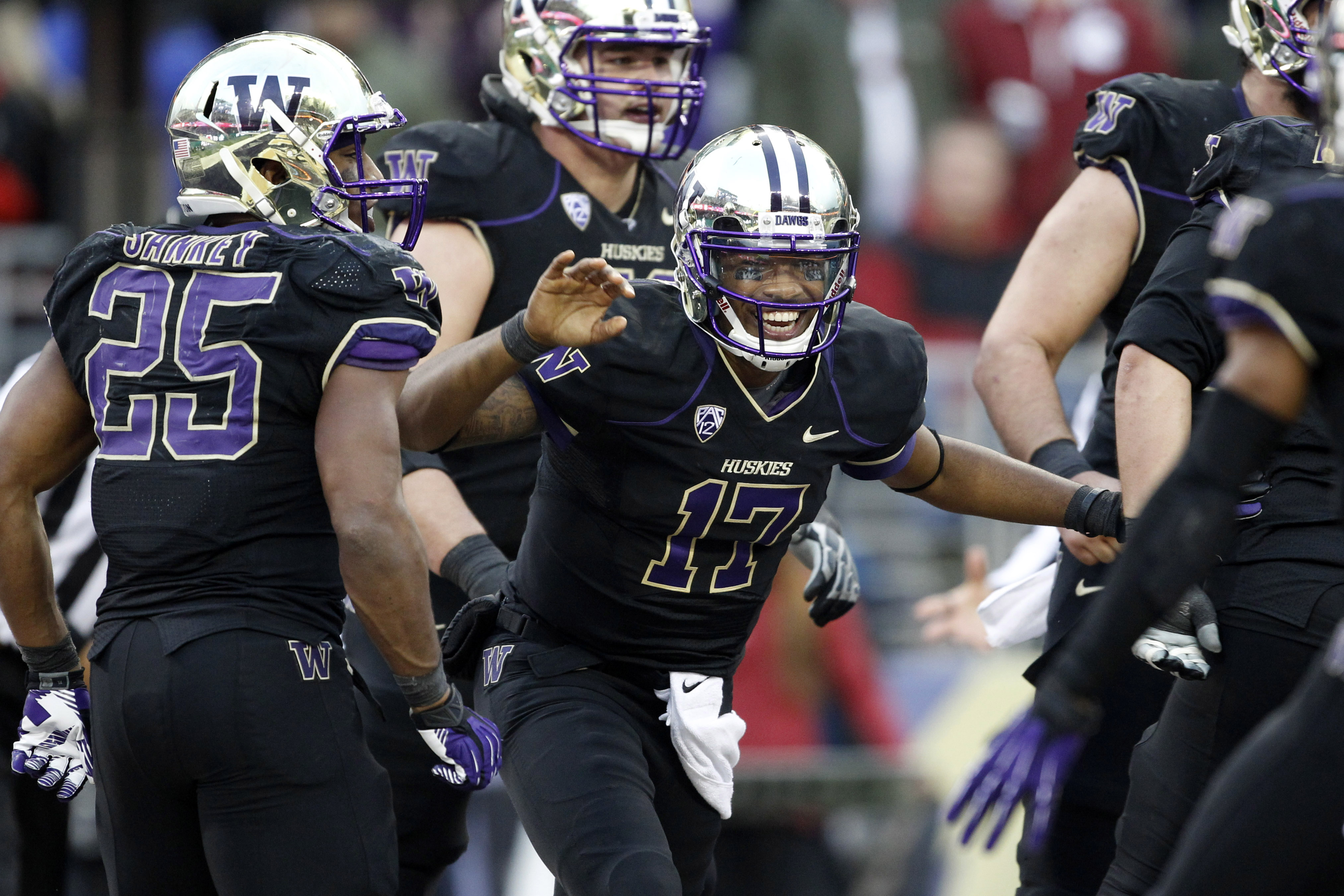 Get familiar with all the basics for BYU's bowl game foe, the Washington Huskies.
BYU is set to play in its ninth-straight bowl game at a new locale against a familiar foe. The Pac-12's Washington Huskies travel south to San Francisco to battle the Cougars in the Kraft Fight Hunger Bowl.
Here's a primer for everything Washington, your basics in studying BYU's opponent.
BIO
Name: University of Washington
Nickname: Huskies
Colors: Purple and Gold
Conference: Pac 12
Location: Seattle, Washington
Enrollment: ~42,500
Venue: Husky Stadium, cap. 70,138
Bowl Appearances: 31 (15-15-1 record)
Last: 2012 Las Vegas Bowl (lost 28-26 to Boise State)
BEST SEASONS
1991: Washington split the national championship with Miami. The Huskies went 12-0, beat three top-10 teams, won the Rose Bowl over Michigan (10-1), and dominated the Pac-10 — winning eight conference games by an average of 36.5 points.
1984: The Huskies went 11-1 and finished #2 in polls (U MAD?) after losing by nine on the road against a USC team that would finish ranked #10.
COACH
Marques Tuiasosopo, QB coach, named interim head coach after Steve Sarkisian (5 seasons, 34-29) was hired by USC. The Huskies have hired former Boise State head coach Chris Petersen (8 seasons, 92-12) to a five-year contract.
HISTORY VS. BYU
Record: 4-4 (3-2 at home, 1-2 on the road; first neutral-site matchup)
The schools matched up twice shortly after BYU's 1984 national championship nod over UW left many Huskies upset. The Cougars dominated the 1985 game by the score of 31-3, but Washington returned the favor the next season to the tune of a 52-21 blowout.
Washington exacted revenge for 1984 in 1996, being the only team to defeat the Cougars squad that would finish 14-1 and ranked #5.
BYU has won the last three contests, beginning in 1999 when Feterik-to-Hale put BYU ahead late for a 35-28 win over then-Huskies-quarterback Marques Tuiasosopo.
In 2008, Jan Jorgensen (in)famously blocked a PAT with time expired to secure a 28-27 win for BYU in Seattle, and the Cougars won again in 2010 at home. Bronco Mendenhall is 2-0 against Washington.
2013
Record: 8-4 (5-4 Pac-12)
Defeated Boise State, Illinois, and Idaho State in non-conference play.
Conf wins: Arizona, California, Colorado, Oregon State, Washington State
Conf losses: Arizona State, Oregon, Stanford, UCLA
Ranked: NR
FO's F/+ rating: 19
Sagarin rating: 12
AVERAGES
POINTS
Scored:
38.5
Allowed:

23.4

YARDS/GM
Offense Gained
Defense Allowed
Rush
Pass
Total
Rush
Pass
Total
243.1 (14)
271.3 (30)
514.3 (8)
F/+: 20
159.8 (58)
221.8 (46)
381.5 (50)
F/+: 21
STAT LEADERS
QB Keith Price (Sr) – 216-330 (65.5%), 2,843 yards (237/game), 20 TD 5 INT
RB Bishop Sankey (Jr) – 1,775 yards (5.8 ypc), 18 TD
WR Jaydon Mickens (So) – 62 rec, 681 yards, 5 TD
WR Kevin Smith (Sr) – 45 rec, 722 yards, 4 TD
TE Austin Seferian-Jenkins (Jr) – 413 yds, 7 TD
TIME/TV
Kickoff: Fri., December 27 at 7:30 p.m. MT
AT&T Park, San Francisco CA
TV: ESPN