Jamal Aytes chooses BYU after UNLV transfer
Updated: December 13, 2013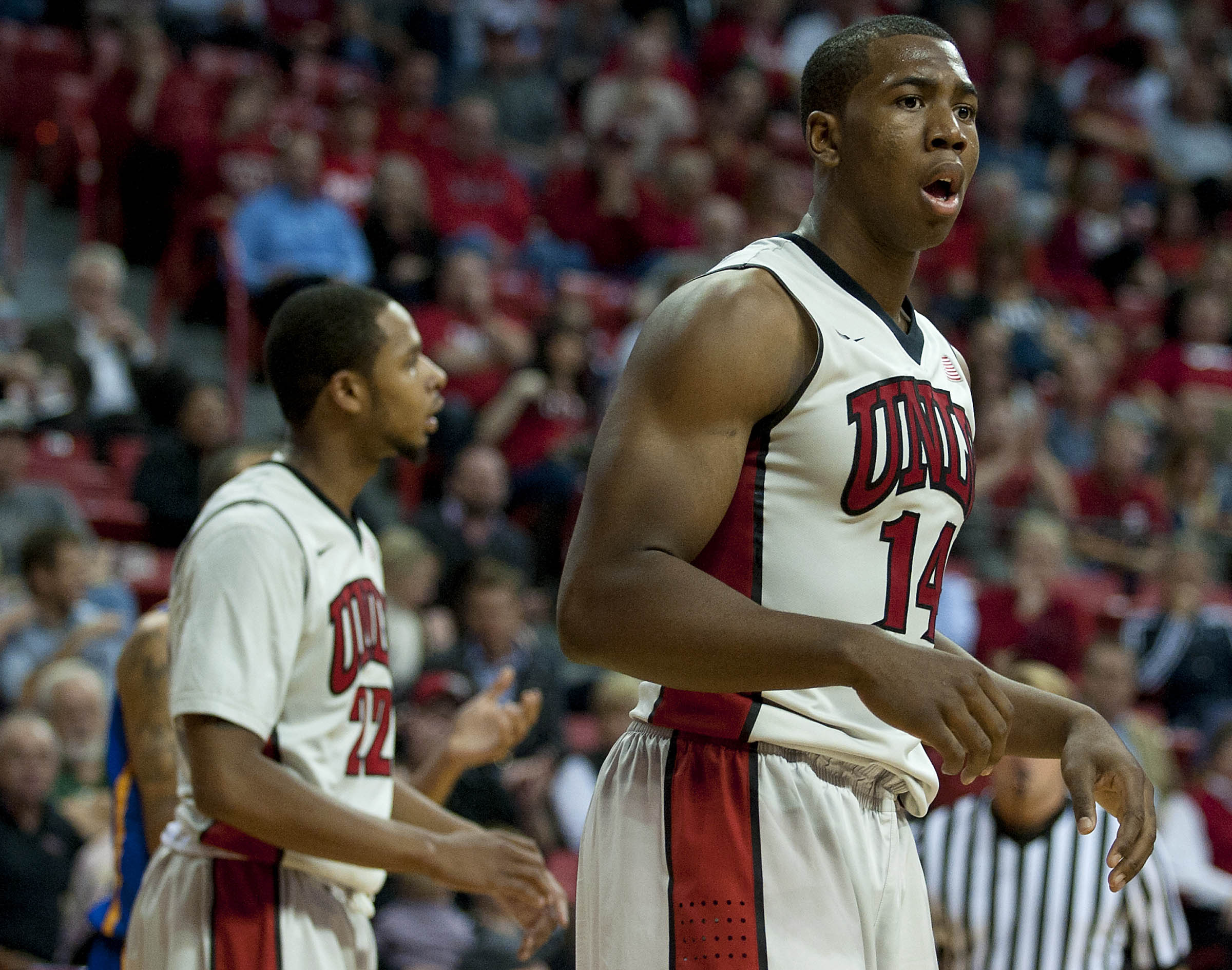 Freshman forward Jamal Aytes will indeed play at BYU, leaving UNLV after a change of heart.
After announcing his intention to transfer from UNLV, freshman forward Jamal Aytes made quick work in choosing his new home. As many expected and even heard within the last 48 hours, Aytes has chosen to continue his basketball career at BYU.
Aytes will join the team at the beginning of 2014 (in three weeks) when he will be eligible to practice. It seems likely he will become eligible to play as soon as Fall 2014 finals conclude, similar to the mid-year transfer of Matt Carlino.
At the time of his transfer, Aytes had appeared in four of the Rebels' seven games, but only seeing the floor once in the last four contests. A late riser, Aytes chose in August to play for former BYU assistant Dave Rice in Las Vegas instead of at BYU.
At 6-foot-6, the Californian was a three-star prospect with other offers from Kansas State, Miami, Boston College, and San Diego, with Gonzaga pursuing late in the game as well.
Aytes quick decision to choose BYU after all speaks volumes about Dave Rose (for fun, you could inventory how many times a Loyal Cougars writer has said something similar. You really can't say enough about Rose.) A talented non-LDS player has chosen to attend BYU and agree to the Honor Code after already experiencing a 'normal' college experience (in Las Vegas, no less). Aytes said, via BYU's press release:
"I'm looking forward to being a part of BYU basketball. I feel very comfortable with the coaching staff and I think I'll fit in really well. This is where I want to finish my college career."
The only downside, in coulda-woulda-shoulda territory, is that Aytes didn't originally choose BYU. The power forward position is definitely the weakest spot of a talented Cougar squad. In August, Loyal Cougars columnist Ben Wagner explained what Aytes would have meant to Rose in 2013-14:
A BYU team with Aytes would have given Dave Rose incredible flexibility in his lineups. When BYU went small, a lineup of Matt Carlino, Kyle Collinsworth, Tyler Haws, Jamal Aytes, and Eric Mika would have given the Cougars a very athletic group with four ball handlers—a lineup that would have been almost unstoppable in transition[2].

On the other hand, Rose would have the option to go big, with a lineup of Collinsworth, Haws, Aytes, Mika, and Nate Austin. This lineup would have been a rebounding machine and a defensive nightmare for most squads in the West Coast Conference.
As it is, though, the Cougars will have the services of a good rebounder, an above-average ball handler for the position, and an all-around solid post presence for next season's conference play, and Aytes will be an important talent infusion to bridge this season with the golden 2016-17 season fans are anticipating.
That year tracks to be Aytes' senior season, when he, along with Frank Bartley IV, would provide leadership and experience to BYU's first roster year with Nick Emery, T.J. Haws, Eric Mika, and Payton Dastrup all together (reminder: four top-100 recruits). Or, Rose could opt to redshirt Aytes in 2014-15 season to get a full three years of service from him, which would make him a junior in 2016-17 — but that would also mean sitting Aytes for a very prolonged period of time.
Once again, the future of BYU basketball keeps getting brighter, and there doesn't seem to be a better man to lead the program than David Jack Rose. I'm excited for Aytes to be a part of that future.