One More Surprise: Payton Dastrup signs with BYU
Updated: November 13, 2013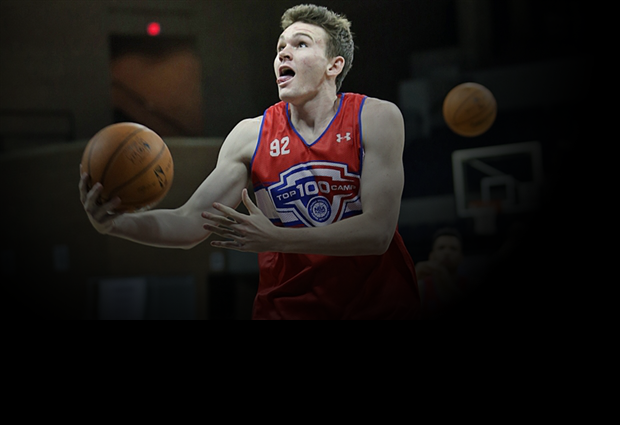 Payton Dastrup shocked BYU fans for a second time on Wednesday when he decommitted from Ohio State and signed with the Cougars.
Payton Dastrup may not have made this past week easy on BYU fans, but I'm fully confident that he will make our temporary anguish worth it in the long run.
The highly touted big man, who shocked the college basketball world last week when he announced his verbal commitment to Ohio State, apparently had one more surprise left in his 6-foot-9 frame — he signed a National Letter of Intent on Wednesday morning to play basketball at BYU.
I'll give you a second to catch your breath, defibrillate your heart, pick your jaw up off the floor, etc.
This is obviously a huge development for BYU. Huge might not even be a big enough word. This is a watershed moment in the program's history. Dastrup's reversal now gives coach Dave Rose four ESPN Top 100 recruits in his last two classes, all of whom figure to be on campus together for three full seasons (2016-2019). That's the makings of a couple very, very good basketball teams.
I don't really know how much more I can say right now. Just as I was getting over the gut-punch of Payton's original decision, this latest news has floored me (and, I assume, many others) in the complete opposite direction.
I'm ecstatic. I'm jubilant. I'm downright giddy. I'm having trouble writing complete sentences.
To compensate for my lack of loquaciousness at the moment, I have included (without changes) the article I wrote prior to Dastrup's original announcement last Thursday below. You know, the one I mentioned here that I said would never see the light of day once he committed to Ohio State.
Some of it will undoubtedly sound familiar to folks who read my piece on him last week — but if there were ever a time for an article (even if it's a partial retread) that unabashedly celebrates Payton Dastrup, Dave Rose and the incredible future of the BYU basketball program, that time is now.
Enjoy.
—–
It's no secret that BYU basketball's future is exceptionally bright these days — and with the addition of yet another top-notch recruit, it may have just gotten even brighter.
After a long and pressure-packed process, highly touted Mesa, Ariz., prospect Payton Dastrup ended his recruitment on Thursday by committing to play his college ball in Provo. The four-star, 6-foot-9 forward chose the Cougars over many prominent programs, including Florida, Ohio State, Kansas, Virginia and UCLA, among others.
Dastrup's commitment appears to provide coach Dave Rose with the final piece to a recruiting puzzle that's taken him several years to assemble — one that now includes four ESPN Top 100 recruits and a slew of strong role players. The picture on the box? A deep, talented Cougar team that could legitimately threaten a Final Four run or two during its time together — if not more.
Granted, BYU fans will have to wait a little longer to see this potential juggernaut in action. Due to the timing of their LDS missions, standout recruits Nick Emery, T.J. Haws, Eric Mika and Dastrup likely won't be on campus together until the 2016-2017 season. However, once they do collectively descend on Provo, those four foundational pieces will potentially have three full years (2016-2019) to wreak havoc on the West Coast Conference and anyone else that mistakenly steps in their path.
Much has already been written about Emery, Haws and Mika — the vaunted "Lone Peak Three," who smashed top teams coast-to-coast and re-wrote record books as high school teammates in Alpine, Utah — but Dastrup is equally essential to any dreams that Cougar fans might harbor of their team reaching the Big Dance's final weekend.
Not only is he preternaturally talented in his own right — a true power forward with broad shoulders, long arms and good feet — but he also fits perfectly alongside his future teammates. While Emery and Haws will anchor the BYU guard line for the foreseeable future, Dastrup's "stretch four" game with range out to the 3-point line should slide in nicely next to Mika's more post-centric, back-to-the-basket approach. Both players can rebound like Hoover vacuums and neither is afraid of contact down low, giving the Cougars the kind of stout, physical frontcourt that they've long lacked.
If you're not excited yet, please dial 9-1-1 immediately because you may not have a pulse.
Dastrup's commitment is a big deal for Rose's program — not just because they landed one very good player, but because of the larger context. As previously noted, Payton is the fourth ESPN Top 100 recruit to commit to the Cougars in the past two years. That may not seem like a lot when juxtaposed to teams like Kentucky or Duke, who seemingly have their pick of the country's top talent year in and year out, but it's a huge deal for a school like BYU.
Playing in a mid-major conference and dealing with a unique recruiting environment that many coaches only see in their nightmares, even just one top recruit would be considered a major coup. But four? That's a testament to Rose's tireless commitment to pounding the recruiting trail and his work rebuilding BYU into an elite college basketball program.
Some will say that Emery, Haws, Mika and Dastrup choosing BYU isn't notable because they are all active, mission-bound Mormons, and those kinds of kids usually wind up in Provo more often than not. That's true, but it wasn't always that way — and we take that history for granted now. For the benefit of those with short memories, I'll remind you that this kind of haul was inconceivable not too long ago.
In the 1990s, the Cougars often didn't get the top LDS athletes. Players like Chris Burgess and Mark Madsen — top recruits in their day — chose to play for traditional power programs like Duke and Stanford, while BYU slipped further and further into mediocrity. If you would have suggested BYU could beat out schools like Florida, Ohio State and Kansas for a highly touted prospect, you would have been laughed out of the room. It just didn't happen.
That's why Dastrup's commitment is so huge. It's not just about him. It's about him and Mika and Emery and Haws. It's about all of them choosing to play their ball in Provo, spurning offers from many of the nation's top programs to represent their faith's flagship institution. They symbolize the massive sea change that has taken place in the intervening years since Roger Reid was whiffing his way through the '90s, striking out with every reasonably good LDS athlete, and turning in 1-25 seasons.
It's impossible to overstate the revolution that has occurred in Cougar hoops over the last 15 years — but who deserves the credit? Steve Cleveland probably gets some for his yeoman-like work pulling BYU out of Reid's morass. Jimmer Fredette certainly deserves his share for capturing the imagination of millions of people and single-handedly making the Cougars nationally relevant again. But most of all, the credit goes to Dave Rose.
There have been considerable ups and some intermittent downs, but Rose is responsible for constantly pushing, shaping and molding this program into what it is today — a program that people talk about, a program that top players want to play for, a program that is now poised to take its place among college basketball's elite in the very near future.
And even though Dastrup's commitment might have completed his puzzle for the time being, Rose isn't done yet — not by a long shot. Cougar fans should probably consider investing in some shades.