The legacy of Taylor Sander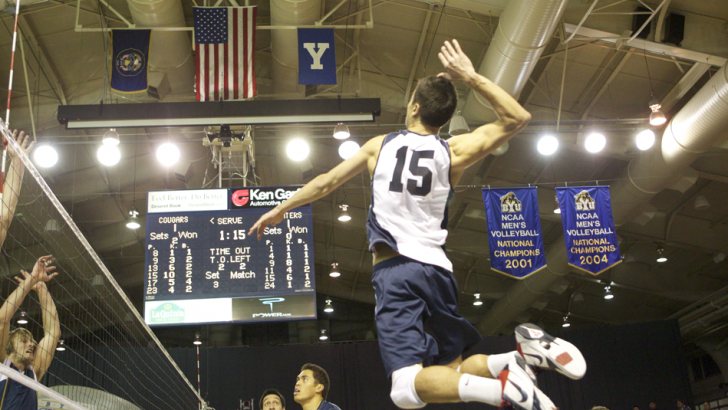 Guest writer Rachel Konishi highlights BYU volleyball great Taylor Sander as BYU preps for the MSPF semifinals Thursday.
by Rachel Konishi
Taylor Sander's career as a BYU Cougar is coming to a close, but he will leave a lasting legacy on all of college volleyball. Whether his career ends with a national title remains to be seen.
A native of Huntington Beach, Calif., Sander came to BYU determined to succeed. In an interview with the Press Enterprise his freshman year, Sander's goals were to become an All-American and help his team win an NCAA title.
Sander's goals were never too lofty, as his freshman team included five AVCA All-Americans, led by three-time All-American Futi Tavana. Yet BYU's last national volleyball title came in 2004.
Now at the end of his collegiate career, Sander is a three-time All-American.
Many thought last year would be the year Sander claimed the coveted NCAA title alongside seniors Russ Lavaja, Ryan Boyce, and Freshman Player of the Year Ben Patch. But UC-Irvine took the championship trophy in three sets. Seniors Lavaja and Boyce graduated, Patch left to serve an LDS mission, and Sander is still without an NCAA title.
"I want that so badly that I can hardly stand it," Sander told the Salt Lake Tribune. "We came up one game short last year and for a lot of us, it was the worst feeling of our lives. In my mind, that's the only thing left to accomplish."
In order to get there, Sander and the Cougars will likely need to win the Mountain Pacific Sports Federation tournament to get a berth into the national tournament.
The end of the MPSF tournament will also be Sander's last game at the Smith Fieldhouse.
"My last match in this place is eventually going to happen, so I just stay positive and enjoy every minute that I am out there," Sander said. "No negative thoughts.
Thursday (and hopefully Saturday's MPSF final) will be fans' last chance to see Sander in person. Forget the statistics, rankings, and numbers; Sander is simply fun to watch.
After BYU took down Stanford in January, BYU coach Chris McGown told the Deseret News, "He was flying around the court, jumping all over, and all of the sudden when that happens the team just sort of follows what he does."
BYU's career kill leader in the rally-scoring era deserves all the praise he's been given. Sander's legacy will live on after he leaves Provo whether or not he gets a national title. And if he does?
It will be that much sweeter.
Follow Rachel on Twitter @hobocita