BYU rugby wins third straight national title, beats Cal 43-33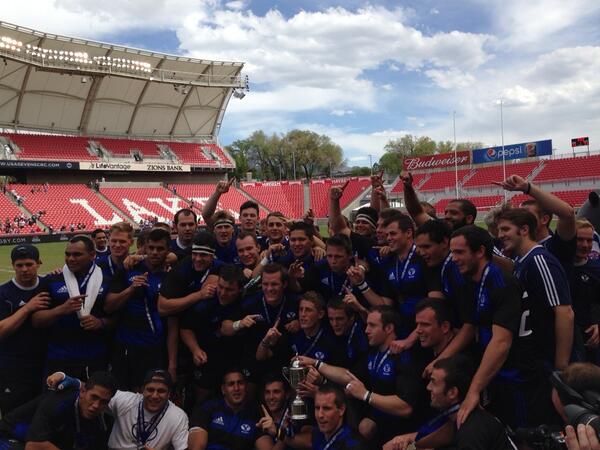 BYU's rugby team capped off its third straight national championship with a 43-33 victory over Cal in the Varsity Cup finals at Rio Tinto Stadium in Sandy, Utah.
SANDY — Kyle Sumsion has only lost two games in four years with the BYU rugby team.
The senior team captain capped off his final season the only way possible Saturday at Rio Tinto Stadium: by helping the Cougars to their third straight national championship.
"It's something I'll remember for the rest of my life," said Sumsion, who was named Most Valuable Player in the finals against Cal. "I'll tell my kids about it, for sure."
BYU knew it had to strike early against the Golden Bears, its opponent in eight of the past nine national title matches. Cal's 80-minute-long attitude wouldn't allow the Cougars to come from behind, especially with the wind playing to the local team's disadvantage on the weekend.
But whether early or late, the Cougars pulled  scores from six different players and went on to a 43-33 win to claim their third straight national championship at Rio Tinto Stadium in Sandy, Utah.
"We're very happy, ecstatic with a win," BYU head coach Dave Smyth said. "I thought the boys played tremendously well today. Our plan was to get out of the gates as early as we could; we got a try after four minutes. But all credit to Cal; we knew we were in for a battle, and they made us work hard for it. But our boys had a little bit too much will to win today.
Paul Lasike helped the Cougars strike first, taking a pass from Josh Whippy only four minutes into the game to pull in the Cougars' first try and build up a 7-0 lead. Cal's Andrew Battaglia would respond on a breakaway less than three minutes later — but the score only helped BYU score three straight tries by Jordan Lowry, Joe Pikula and Chris Wernli as the Cougars built up a 22-14 halftime lead.
Still, Cal's Miles Honnen dived toward the goal line at the halftime buzzer to bring the Golden Bears within 8, and coach Smyth's team knew it had a battle on its hands.
"The key was not giving up," Paul Lasike said. "Cal-Berkley is an 80-minute team, and we have tended to die our late in the second half. But we kept our foot on the pedal for the full 80 minutes. That was the main thing."
Cal responded with Battaglia's second try of the match six minutes after halftime — but the scoreboard belonged to BYU and the hardly non-partisan 10,172 fans for the rest of the day.
"It was incredible," Sumsion said of the crowd, comprised mostly of BYU fans barely 40 minutes from its campus. "I think that helped so much for us, hearing the B-Y-U chants from the fans. We have the best fans in the world, if you ask me. Even at our away games, we get more fans for us than most teams. This is a big win, not only for us, but for our fans, as well."
Josh Whippy and Johnny Linehan took over in the second half, with Whippy scoring two tries — including a scamper down the left side of the field after a perfect pass by Linehan. Whippy's second try with 2:14 remaining helped BYU ice the game away with a 43-26 lead.
"It's pretty special, playing in Rio Tinto Stadium," said Linehan, a sophomore whose last-second drop kick helped BYU beat Cal a year ago at South Field. "It's extra special this year, and every year will get more special. I feel more a part of the team. We have a brotherhood here, a unity on the team, and it makes every year get more special. I'm grateful for the boys who get the highlights this year, and not just me."