Q&A: Trent Hosick talks transfer, Honor Code, and 'unwavering desire to win'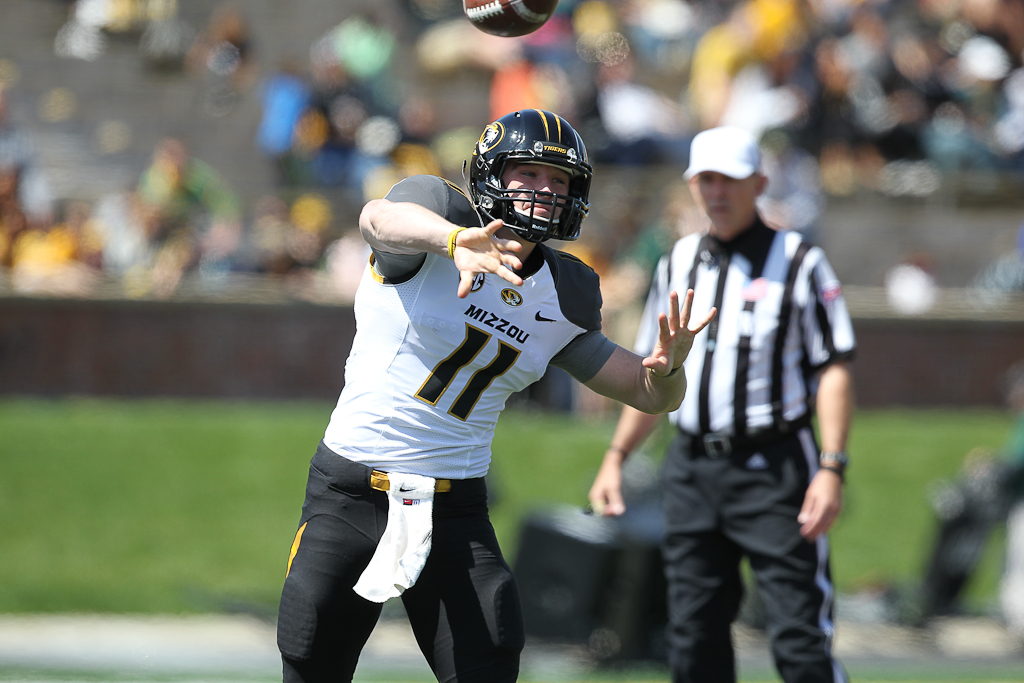 Trent Hosick dishes on his faith, his transfer from Missouri, his decision to play junior college football, and his goals for BYU.
BYU doesn't have a long history of taking transfers from Power 5-conference schools. So when Missouri quarterback Trent Hosick announced his intention to transfer to BYU by January 2015, it sent ripples through the Cougar community.
Hosick will play for Northeastern Oklahoma A&M College in the fall of 2014, then join BYU in January and in time for spring camp. The unique move will allow him to play for an entire junior college season with the Golden Norsemen while "sitting out" his required one season of Division-I football, per NCAA transfer rules.
The 2013 Staley High (Kansas City, MO) graduate enrolled early at Missouri to be involved in spring camp with the Tigers. He was rated the No. 19 dual-threat quarterback and No. 35 pocket passer in the country by Rivals and ESPN.com, respectively. Hosick was also one of 12 finalists for the Wendy's High School Heisman, which is given annually to the student-athlete who meets various criteria in athletics, academics and community service.
Hosick will enroll at BYU as a redshirt sophomore and have three seasons of eligibility remaining.
Loyal Cougars caught up with Hosick to talk about his decision to leave Mizzou, play a semester's worth of junior college football, and what he thinks about BYU's Honor Code and the unique place that is Provo, Utah.
LOYAL COUGARS: A lot of Mizzou fans were surprised when you announced you were transferring. What went into your decision to leave the Tigers?
TRENT HOSICK: Obviously, when I committed to Mizzou, I never expected to be making the decision to transfer. These decisions are never easy. Though some people speculate that my leaving Mizzou was due to depth, that really was not the case. When I met with (Missouri coach Gary) Pinkel to tell him I would be transferring, he mentioned to me that I was on pace to be the No. 2 quarterback in the fall and would be getting playing time. So depth wasn't the issue.
Mizzou wasn't the right fit for me, and it was best to leave.
LC: It's a lot of stress for high school players to go through the recruiting process; you've done it twice now with the transfer. What was it like the second time?
TH: There is a very fun and exciting part of the recruiting process, and that is when several schools are, in a sense, fighting over you to come to their school. As a young man, that can be a very flattering, and ultra-humbling, thing. But personally, I have never liked the recruiting process — only because I am someone who puts a lot of myself into relationships with people. One of the hardest things for me to do is to tell someone, "No." To develop relationships with coaches, and then to tell them "no," is one of the hardest things I have ever had to do. And like you said … I've had to do it on two occasions now. I am just glad I won't have to do it again.
LC: Did the unique decision to transfer to Northeastern Oklahoma A&M College help in your decision? How did you make that decision, which is rarely been done in college football?
TH: The decision to go to NEO was well thought out, but was an easy decision to make. Transferring from Mizzou to another BCS program, I would have to sit out of play for another year. To be honest, as a competitor, that didn't sit well with me, so my desire to get on the field played into the decision. But to take emotion out of it, it came down to the question of "what would be best: play scout team for my university for a season in order to be around the system, or spend one semester getting actual game time reps in preparation for playing in 2015?"
When it came down to it, both my family and Coach Mendenhall felt it was best for my preparation, and BYU's future, for me to spend a semester preparing for 2015. Now I'm just excited to get the chance to really improve for a few months, and make sure I am the very best I can possibly be for my coaches and teammates at BYU when I get there in January.
LC: Describe your experience visiting BYU. What did you most enjoy about the school and the football program?
TH: My visit in Provo could not have been any better. My parents, my brother and I got to experience the spoils of being on an official visit — but for us, the best part was getting to know the people in and around the BYU program. We were looking for a community of like-minded people, and finally finding one was the most rewarding part of our trip. For me, getting to meet Terrance (Alletto), Mitch (Mathews), and Nick (Kurtz) was the most telling part about the BYU community. To see what solid men they were reassured me that BYU was the place that I needed to be in order to be built up in all areas of life, and not just in football.
LC: BYU is unique in its mission and atmosphere. Did the religious nature of the school affect your decision in any way? What about the Honor Code; how was it explained to you?
TH: As someone who has been very outspoken about my faith all throughout my life, the so called "uniqueness" of BYU was a very attractive quality to me and my family. My entire life I have walked different paths, thought in different ways, and done different things than people around me — which happens to be why BYU was a great fit for me. The Honor Code may be something that is claimed by the LDS community, but other than not drinking tea and coffee, my parents have had me living by that code my entire life.
The Honor Code was not something that scared me as it may have others. It was something that made BYU stand out as a wonderful place to live.
LC: How would you describe your style of play? In other words, what do you expect to bring to BYU every Saturday?
TH: As a player I feel I bring a few things I hope the BYU fans will love to see: an absolutely unwavering desire to win; a work ethic that will not be matched by any quarterback in the country; a passion and love for BYU and football that will hopefully bring joy to all the fans who decide to cheer us on to our next national championship.
To the tangible things, there is no doubt I play quarterback in a unique way. But BYU fans have already seen part of what makes me unique in watching Taysom Hill play. I am someone who can make any throw a quarterback needs to make. My ability to throw is often overlooked because of my ability to run and extend plays with my feet. I am very hard to bring down, so plays often last longer for the offenses I have been a part of. And hopefully I can follow in Taysom's steps in the area of leading an offense that puts up a lot of points. I will continue to work and train and become a quarterback that will help BYU win, and one that BYU fans will love to watch.