BYU State of the Program: No big news, lots of little news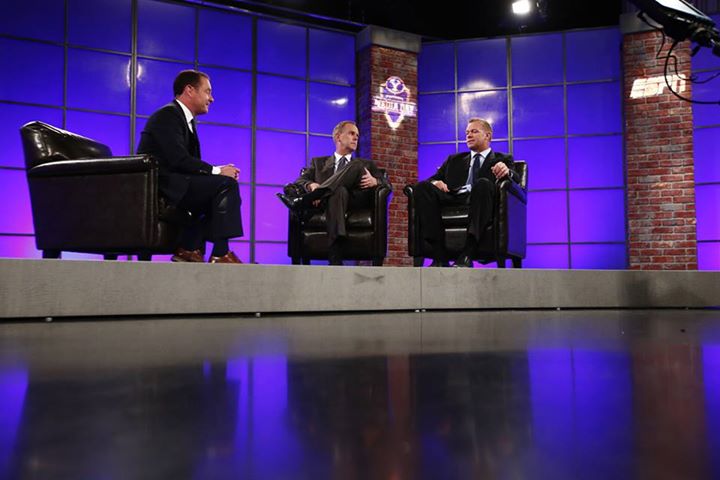 Sean Walker and Brandon Jones recap BYU's 2014 State of the Football Program broadcast.
No big news can be good news. During the 2014 BYU media day, that was definitely the case for the football program.
After an offseason riddled with rumored NCAA violations, alleged drunk driving questions, scheduling talk, and fear over being left behind by the "Power 5," BYU athletic director Tom Holmoe and football coach Bronco Mendenhall addressed those topics but made no major announcements at the annual media day Monday.
Exhale, BYU fans — it's all good news now.
"It's not football season, but it's really good to be talking about football," Holmoe said. "I'm really excited about it."
Holmoe again noted BYU's national presence, television contract with ESPN and BYUtv, and exposure on a broader scale that has come alongside its three years as a college football independent. It's something BYU never had as a member of the Mountain West or Western Athletic Conferences, and the expansion of its 'footprint' alone is worth the cost of independence. Mendenhall even said as much, all while admitting he's been truthful in recent remarks to Texas media about wanting a spot in the Big XII.
In fact, Mendenhall's comments shouldn't be seen as an indication that the program thinks independence is failing. Quite the opposite.
"I like independence; it's a tremendous launching place," Mendenhall said. "It's moving us closer to inclusion (into big 5 play). Until then, we're one of the more talked about independents. BYU's brand stands alone."
Holmoe also addressed BYU's recent internal investigation into NCAA violations. He said the program has wrapped up its investigation, and sent the findings to NCAA overlords in Indianapolis — and he believes that those findings were minor and the NCAA will respond with fairly insignificant punishments within a month or two.
"I don't think it goes on for years and years," Holmoe said. "This is a potential violation that goes in the lower category."
The only reason the violations were a story, according to Mendenhall, was because BYU's standards are "among the highest in the world." As such, the football coach said he was "proud" of the speed at which the athletic department and university moved to handle the investigation and alleged reports of misconduct.
After an offseason of panic among BYU's fanbase, media and the blogosphere, the tone was relatively subdued in Provo as the 2014 football season kicked off. And that's a good thing for BYU football. The team can focus on getting ready for a schedule significantly lighter than the one it faced 365 days ago. With a good showing this season, scheduling concerns involving members of the ACC, SEC and other "big 5 conferences" should be subdued, as well.
Win, and you're in. It's a philosophy the college football playoff committee has expressed multiple times in its short tenure. And it's a philosophy BYU's football program — increasingly lonelier in affiliation — is taking to heart at the start of the 2014 college football season.
A slew of topics were discussed, so here are notes on other items of interest:
Despite recent pronouncements by the SEC and ACC that games against BYU would not count towards a Power-5 non-conference scheduling requirement, AD Tom Holmoe affirmed that BYU is continuing to schedule and talk with schools from those conferences. Added Holmoe: "I'm not going to say it's 'business as usual,' but we will continue to play teams from every [Power 5] conference. They're calling us to want to play those games."
Holmoe hinted that he had planned to make a major scheduling announcement, but that it wasn't quite finished in time. "There are a couple of games on the horizon–too bad they weren't ready for today–there are a couple of games that we're going to have some fun announcing. I think that will settle a lot of people's minds." He also mentioned that he is working on a change to the 2015 schedule, which currently shows 7 road games and only 5 home games.
Mendenhall reiterated that in his mind, a double-digit win total and Top 25 ranking would be the baseline for a good season at BYU. A result better than that would qualify to him as "special."
Offensive coordinator Robert Anae said that in an effort to improve BYU's red zone efficiency, he is focusing on improving the passing completion percentage and having more efficient run plays (runs resulting in four yards or more). His conclusion is that improving those two areas will shorten the required distance to gain on third down and give the offense a better chance to extend drives.
Anae mentioned a slight shift in philosophy regaring offensive line personnel, noting that he would like to stick more with starters who execute better over fresh-legged backups.
Anae discussed plenty more offensive items as well. Namely, he qualified changes based on better personnel as "major tweaks" and specifically mentioned downfield passing and the pass/run game on the perimeter/edge as places BYU will be good. He pegged the aforementioned O-line improvement as a way BYU will take more shots on deep balls and said the Cougars will be "borderline great" in that part of the offense.
Defensive coordinator Nick Howell said of the defensive backfield that there is "more depth than we've ever had," and hinted that the depth may allow the defense to give more man-to-man looks this season.
Though Holmoe and Mendenhall are united in their desire to best position BYU for success, Mendenhall seemed less patient and more vocal in his desire to obtain membership in a Power 5 conference. "I like independence as a great place to launch from, meaning that we're making sincere and absolutely credible strides…with tremendous exposure, with more difficult games on bigger stages with more people watching. We're making a clear statement of not only who we're playing, how we're playing and where we're playing, with more people watching…and that's moving us closer to inclusion [in a Power 5 conference]."
Finally, a new Depth Chart was released showing the following changes along the Offensive Line: Terrance Alletto and Brock Stringham are now listed as Starters (at Left Guard and Right Tackle respectively). Michael Yeck has shifted from starting Right Tackle to backup Left Tackle. Ului Lapuaho has moved from the #2 Left Tackle to the #2 Right Tackle. Brayden Kearsley has rejoined the 2-deep as the backup Left Guard. Kyle Johnson has been shifted back to his natural guard position, being shown as the backup Right Guard. Solomone Kafu and Parker Dawe have fallen off the 2-deep, but will still compete in Fall camp to regain their spots on the depth chart.