Opinion: BYU gets a basketball win over Utes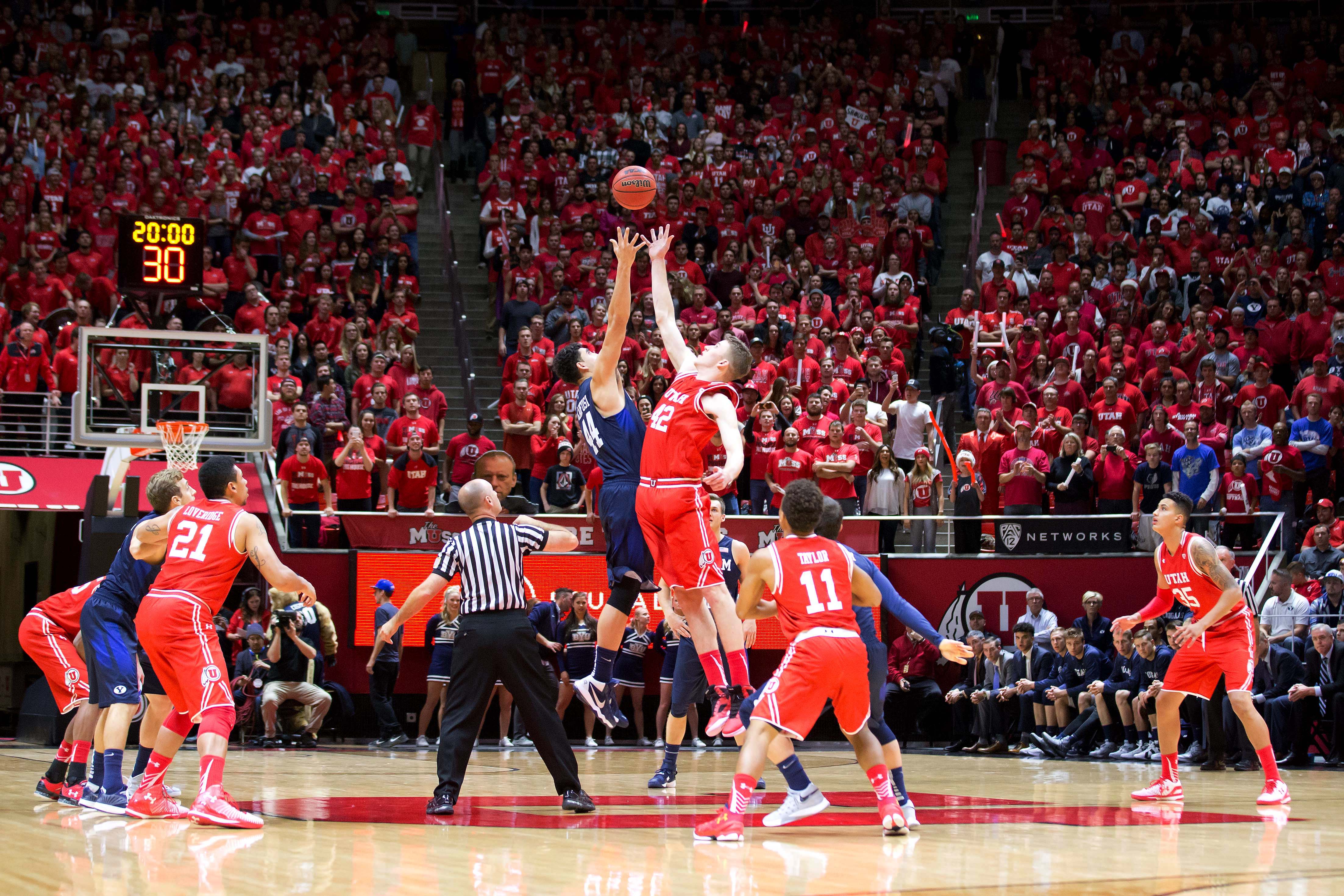 By now we've all heard the news: Utah men's basketball coach Larry Krystkowiak has requested the cancellation of the second game in the BYU-Utah basketball series that was scheduled to be played in December of this year in the Marriott Center. Krystkowiak cited concern for the safety of the players as his reason for taking a break from a rivalry that has been played every year since 1909 with the only hiatus being a one-year break in 1944 due to World War II.
Based on the reaction from fans, media (inlcuding national writers Kami Mattioli, Jeff Eisenberg, and Jeff Goodman/Andy Katz), and even Utah Governor Gary Herbert, you would think another World War had begun.
Let me begin by dismissing Coach Krystkowiak's stated reason for the cancellation for the obvious BS that it is. I haven't heard a single person who believes that the safety of the players is an issue. It's not even up for debate. Are the games intense? Of course; but that's what makes it a great rivalry! I haven't seen any injuries suffered away from the course of play or even any bench-clearing brawls, similar to what happened with Cincinnati and Xavier in 2011. And guess what? Those teams still play each other every year! So, I'm sorry, but player safety is not the reason why Utah cancelled this series. And nobody seems to buy that it is. To quote Greg Wrubell:
Universal non-Ute disdain for Utah's decision. Fans backing the bailout are unified more by spite for BYU than endorsement of reasons cited.

— Greg Wrubell (@gregwrubell) January 7, 2016
While series cancellations seem to be quite common in the football world, they rarely occur in basketball. In fact, BYU Head Coach Dave Rose said that in his 32 years of coaching, this is the first time he has seen a series cancelled before it was played. And while it's certainly not the million-dollar cancellation fees we hear tossed about in football contracts, the $80,000 that Utah will pay to BYU is more than just pocket change, even for the P5 Utes. So, then, what could be the reason for the cancellation?
I believe that Coach Krystkowiak looked ahead to the matchup in 2016-17 and did not like what he saw. At the end of this season, Utah will lose four of its best players: Utah's leading scorer, rebounder, and shot-blocker Jacob Poeltl will most certainly be gone, along with seniors Jordan Loveridge (2nd in scoring, #1 3pt shooter, #3 in rebounds and assists), Brandon Taylor (5th in scoring, #1 in steals and assists, 2nd-best 3pt shooter), and Dakarai Tucker (7th in scoring, 3rd in steals, 3rd-best 3pt shooter). So, entering the 2016-17 season, the Utes will be without four of their best seven scorers (including the top two), three of their top four distributors (including the top two), four of their top five in steals, two of their top three rebounders, and their top three 3-point shooters.
And while BYU loses three seniors of its own in Kyle Collinsworth (#1 in steals and assists, #2 in scoring and rebounds, #3 in blocks), Chase Fischer (#1 in scoring and 3pt shooting, #2 in steals, #3 in assists), and Nate Austin (#3 in rebounds, #4 in blocks, #5 in assists) as well as departing missionary Zac Seljaas (#3 3pt shooter, #5 in points and steals), the Cougars also bring in four key players in true freshman Yoeli Childs and returned missionaries Eric Mika, T.J. Haws, and Payton Dastrup.
The idea of matching his rebuilding Ute squad up against a superior BYU roster IN PROVO in 2016 seems to have been too much for Krystkowiak to swallow. And so, with Utah AD Chris Hill's blessing, Coach Krystkowiak placed a call to Coach Rose to inform him of the cancellation. A man whose job it is to shape and mold young men has shown them, by his example, that it's perfectly fine to back down from a fight. It's OK to give up when you don't think you're good enough. And it's all right to go back on a signed contract in which you agreed to do something. And lastly, it's OK to waste $80,000 of Utah taxpayer money to do something that none of the taxpayers want to do in the first place.
So, while Utah has won the past five football games and the most recent three men's basketball contests against BYU, the 2016 hoops game will go down, at least in my book, as a Utah forfeit. It's not how I prefer to get wins against the Utes, but at this point, if this is how they want to do things, I'll take it. BYU is the winner of the 2016 BYU-Utah men's basketball game due to the Utes not showing up for the game.
If that's not what Utah intended, I encourage Hill and Krystkowiak to contact Tom Holmoe and Dave Rose and play this year's game in the Marriott Center in December 2016 as originally scheduled.
Until then, Coach Krystkowiak, we accept your surrender.
And congrats to Coach Rose and his team on the victory.