Film Session: The exciting return of the RB Option Pass Route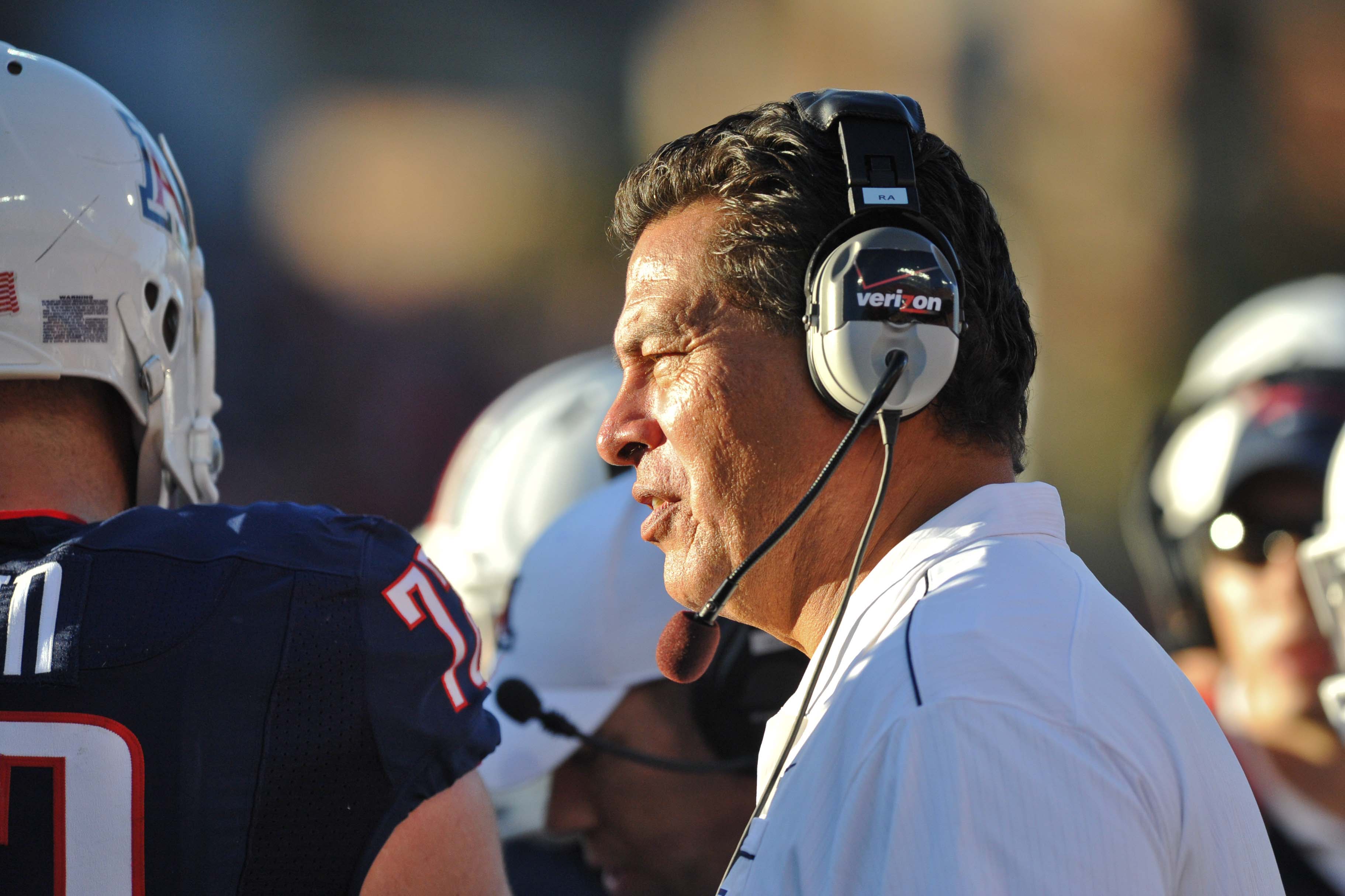 Examining the possible return of an Anae 1.0 offensive staple.
When it became known that offensive coordinator Robert Anae was returning to BYU prior to the 2013 season, memories from the Anae 1.0 era (2005-10) came rushing to fans minds: a very successful zone run game with Curtis Brown and Harvey Unga, deep dig routes and go routes to Austin Collie, Dennis Pitta finding every hole and seam in the middle of the field, and John Beck and Max Hall delivering passes accurately and often.
But before we knew what new ideas Anae had after spending two years at Arizona, and before he introduced us to the phrase "Go fast, go hard," I was thinking about one thing: the running back option pass route. In a high-powered offense with so many things for which to cheer, I had grown to love this little, unstoppable nuance.
I was therefore rather disappointed when it appeared that would not be utilized by Anae 2.0. But hope in seeing the RB option route has been renewed by Alema Harrington, radio host of Cougar Sports 960. As detailed by a user on Cougarboard:
The RB option routes that Harvey was awesome at were not run last year cause they weren't ready to execute those well enough yet according to Anae. But this year he said Brown is the best out of our rb's at those and will be running quite a few of those and will be a weapon out of the backfield in the pass game.
Color me delighted.
That RB option route that Anae used in his first stint was the #1 thing I wanted to see back. I feel like we should be more excited abt this

— Loyal Cougars (@LoyalCougars) June 25, 2014
What is the RB read or RB option route in the passing game? Essentially, any time a running back enters a pass route he will be covered by (in zone) or isolated against (in man) a linebacker. This can present itself in several formations, but the formation is not so important.
What is important is that the RB option route gives all the power to the back running the route. Instead of executing a predetermined route, the running back reads the linebacker and then runs the route most likely to get him open.
The running back can stop his route to sit in a zone, or move quickly to the nearest hole by reading the linebacker's body position. If the defender is playing him on the outside, the back cuts inside, either across the middle or up a seam. If the defender is playing to the inside, the back can cut outside to the flat area vacated by the wide receivers who are now downfield.
As soon as the back makes his decision, the quarterback fires away.
This is simple in theory, but it's also not difficult to imagine that it takes plenty of repetitions, timing, and QB-RB familiarity and comfort, which is alluded to by Harrington that BYU was not ready to execute those well enough last season.
When perfected, it becomes nearly unstoppable, especially when defenses are occupied with other weapons on the outside (like Pitta and Collie, or say Nick Kurtz and Devon Blackmon).
Let's examine some examples from Max Hall and Harvey Unga to illustrate the effectiveness of the play. (I have split the following videos on to a second page to optimize site performance and load time.)
Here, Unga is lined up on Hall's right. You'll see him proceed past the defensive line and force the LB to decide:
One thing that will become apparent with Unga is that he had a fantastic ability not only to read a linebacker, but to force him into being out of position and creating the open option with his footwork. Here's a slower replay from the endzone:
This replay shows exactly how the running back can manipulate his man into an open position. Also, at the bottom you can see the safety's indecision on whether to help with receivers or step up to help with the running back. If he steps up decisively, it's a 5-7 yard gain — still a successful play. His indecision provides a bonus of a big gain and a touchdown.
Pages: 1 2