Let's Review: Tanner Mangum beats the Pirates
Updated: October 13, 2015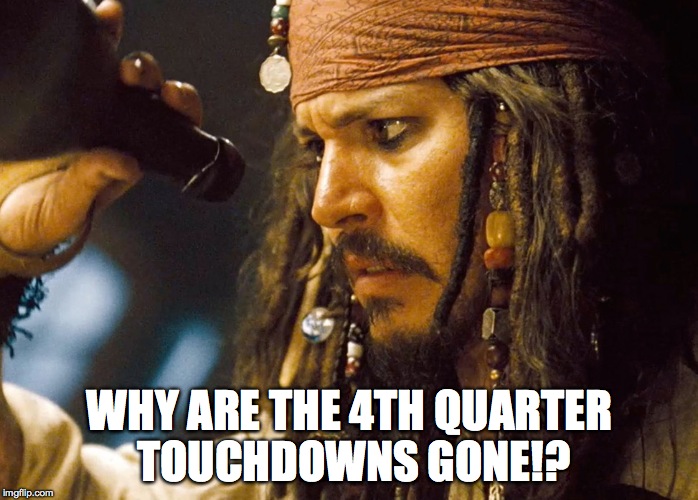 So, the Michigan game aside, BYU has been involved in 5 pretty dang close games. Even the UConn game last week was tied going into the 4th Quarter. And while it makes for some great TV and memorable wins, I'm not sure how much more of this I can take.  I guess I'll take them as long as the Cougars keep winning.
I will say though, unlike some potential game winning drives in the past, once Tanner trotted back onto the field, I actually had a confident feeling that the Cougars would come away with a win. The kid is definitely a game changer.
Also, I know I've said it before, but I don't know that I can say enough for how great the ROC is doing!  Here's a look at the non-student section "celebrating" Takitaki's fumble recovery for comparison:
Now, as with any game, there were some good things, some bad, and some downright weird. Like having two blocked punts in a row; what are the odds of that?! And how about those Royal Blue uniforms?  Count me with the group that wouldn't mind that being the team's permanent color again.
Let's see how I did, though, with my predictions from last week: I said Tanner would keep INTs to 1 or less, check!  I said BYU would get at least one, check!  I did also say BYU would win by two TDs, which they didn't.  They didn't even cover the 8-point spread.  I also said ECU would have it's lowest rushing total of the season, which was a complete whiff.  Apparently the Pirates had -13 rushing yards against Florida…that's what I get for not looking up the stats before pulling out a prediction!
(BYU gifs via @Cougazul on Cougarboard.com)
Three Things I Liked
Tanner Mangum – It probably goes without saying, but it seems to me that the dude has already made great improvements since stepping in for Taysom in Week 1.  I still think he gets a bit antsy in the pocket, and loves to go for the long ball.  But he got high praise from broadcaster Dan Hawkins (the former BSU coach who pretty much greased the wheels for Chris Petersen to do what he did in Boise).  There were a lot of "that's an NFL throw, right there" and "he makes the extraordinary look ordinary" comments.  And they were well earned: 24/33 passing for 332 yards, 3 TDs, 0 INTs (good for a QB rating of 187!), plus the gritty return with a tweaked hamstring to lead the game-winning drive (apparently grit is a good thing for QBs not named Nelson…who knew!).


Travis Tuiloma – It's SO good to have Tuiloma back for the defense. He was limited in his playing time, but still had an impact when he was out there.  Coach Mendenhall is still saying that he believes Travis is the best player on defense.  It sounds like he will be getting closer to full-time on Friday, so here's to him staying healthy, and eating up blockers! Check out the push on the center and then, not sure if the QB or the RB has the ball, he tackles both!
Devon Blackmon – I thought he looked great this game. Blackmon finished with 9 receptions for 142 yards. A couple of them were so close to a TD, but not quite there, so he is somehow still without a TD.  I'm calling it now though, he'll have two of them against Wagner!


Three Things I Didn't Like
Turnovers – specifically fumbles (I'll give Beau Hoge a pass on the INT.  It's always a lot to ask of a new true freshman QB to come in with a tight game on the line and make something happen.  No shame in his performance…Tanner is the rare exception.). Now, while Algie Brown did have a great game, he put the ball on the ground twice. That is one of the many elements Jamaal Williams brought to the team; the kid was near perfect when it came to ball security. I'll be honest, that last drive I was worried about another fumble. Thoughts of RBs past that will go unnamed flashed through my mind.  Also, I know that statistically the blocked punt doesn't count as a turnover, but in my mind, it may as well. Blocked punts are very rare because, well, they shouldn't happen.
Sacks – 4 of them!  Now, I know that a couple of them were probably coverage sacks and showed one of the few ways that Mangum can still improve.  We actually saw that a few years ago with Taysom when he was developing.  It was mentioned during the broadcast, but I wonder if that hamstring thing might actually help him out with that, and in a way force him to step up in the pocket instead of rolling out more.
ECUs second QB – Blake Kemp came in with about 2 minutes left in the first half, and then proceeded to throw for 371 yards..in basically half a game!  3 turnovers in the 3rd quarter saved face for the defense (though honestly, those were probably more ECU mistakes than great BYU plays).  I know that Shelton and Preator weren't out there, so you had guys playing out of position, and youngsters filling in, but it just showcased the real lack of depth in the secondary, I think.  Unfortunately, that isn't anything very new for BYU.
Favorite Play of the Game
Tanner's checkdown throw to Algie Brown for a TD. Everyone loves the deep ball, but honestly, this to me shows Tanner's progress.  First, the O-Line gave him plenty of time, but Tanner didn't freak out and scramble; he went through his progressions, saw Brown open for the outlet pass, and the rest was Algie seeing the green and taking it home.
Least Favorite Play of the Game
The blocked punt – I already talked about it. It shouldn't happen.  It basically gifted the Pirates a TD.  You can't quite tell from the clip below who was supposed to block the guy (go to the 19-second mark if it doesn't start there automatically), but it was a complete whiff.  He went right between two blockers on the wall.
Anyone else have a favorite or least favorite play of the game?  Things you liked or didn't like?  There is a comment box below, just waiting to be used!
Boney Fuller Tweet of the Week
There were several really good ones this week.  I mean, Pirates?  Easy target, right?  It was hard to pick one, so I've got 3.
Second runner-up
When the team doc says you don't have scurvy. #BeatECU @Beau_the_Show @b_williamsNC @stephenbaggett pic.twitter.com/gdUtBI3z9l

— Boney Fuller (@boneyfuller) October 7, 2015
First Runner-up (especially since some Twitter Ute thought it was serious)
The @byutv censors never sleep. #BeatECU pic.twitter.com/08SDTbfX4W

— Boney Fuller (@boneyfuller) October 6, 2015
Finally, my personal favorite:
ECU's mascot or the cover of one of your mom's secret novels? The answer may surprise you! #BeatECU pic.twitter.com/ccMneO6xtX

— Boney Fuller (@boneyfuller) October 5, 2015