BYU on the mind of Texas at Big 12 media day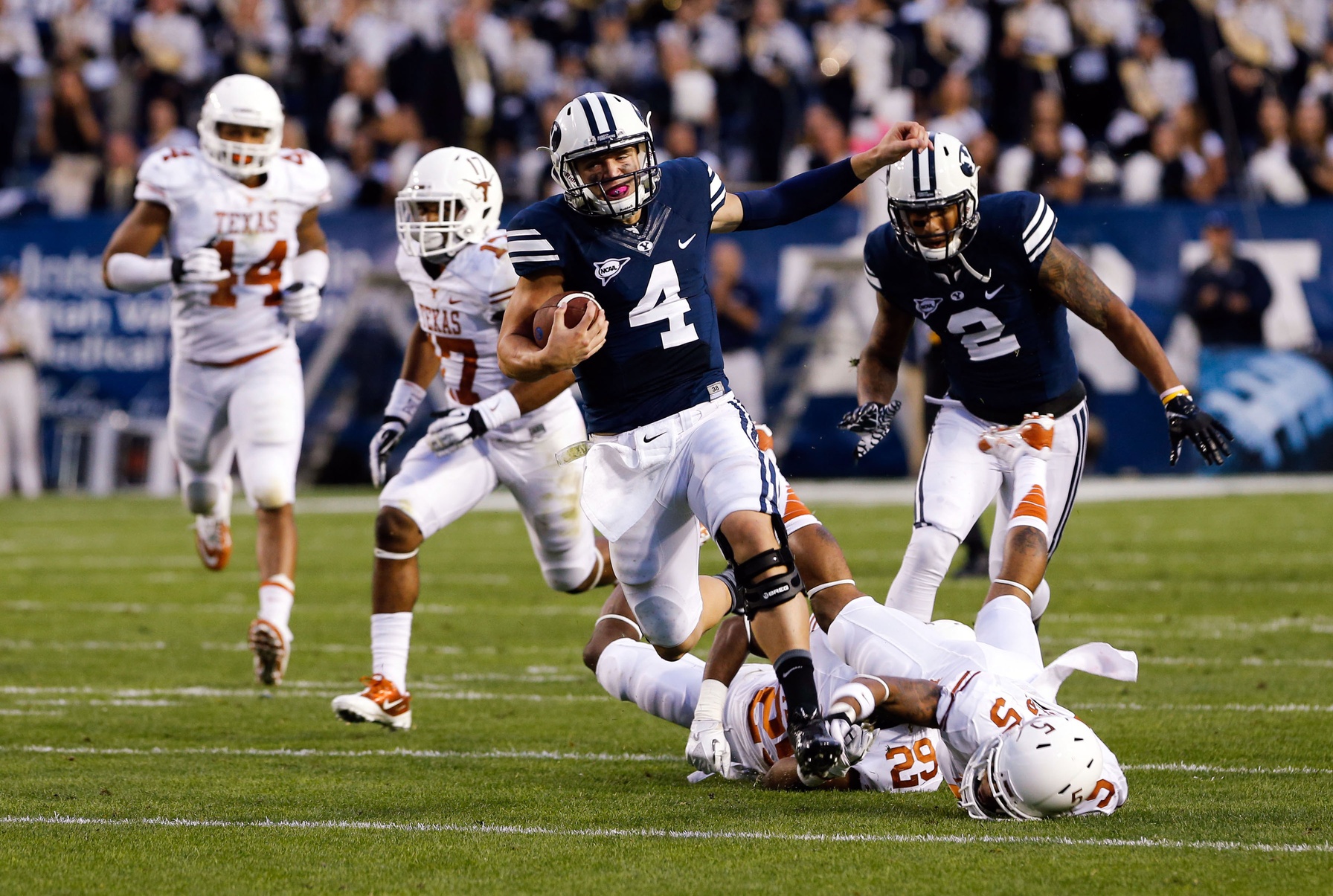 BYU's run game is still stuck in the minds of the folks in Austin.
Two Texas players separately talked about this season's upcoming BYU-Texas game at Big 12 Media Day on Tuesday as a game the Longhorns have circled on their calendar.
The game is certainly pegged by BYU fans as one of, if not the biggest game for them, but it seems there has been more chatter from BYU coaches about potential conference membership than looking forward to the rematch so far.
Here's a pair of quotes from Texas players about BYU:
Texas CB Quandre Diggs: "I'm a mature trash talker." Also said "if you're a man," players will be ready for BYU.

— Brian Davis (@BDavisAAS) July 22, 2014
Cedric Reed admitted BYU loss was used repeatedly this offseason by new coaching staff. "That's all we heard about – BYU."

— Max Olson (@max_olson) July 22, 2014
It's been interesting to watch this summer as the legend of Taysom Hill's record-breaking performance last September has grown in the offseason. It's a game people remember.
Midway through the first-half drubbing Germany was giving Brazil in the World Cup a few weeks ago, the very funny fake Dan Beebe twitter account put the epic soccer beat down in the proper context:
ITS LIKE WATCHING TAYSOM HILL GALLOP ALL OVER THE LONGHORNS AGAIN

— Dan Beebe (@DanBeebe) July 8, 2014
So why are Longhorn players and the Texas coaching staff hyping the BYU game and using it to motivate their players?
Perhaps because it's an early game. With all due respect to the North Texas Mean Green, I don't think anyone is expecting an upset when they come play in Austin. BYU then visits in week two. Texas then plays UCLA in Arlington, followed by nine Big 12 games.
But if it's not just the first real game of the season, why bring BYU up at Big 12 Media Days? Specifically, why are the coaches the ones using BYU as motivation for their players?
It certainly appears BYU's romp over Texas played a role in the upheaval of Texas football. Texas has played a lot of football games, but no team has ever rushed for more yards against them in any game than what the Cougars did in Provo last fall. Defensive coordinator Many Diaz was immediately fired and by the end of the season both athletic director DeLoss Dodds and head coach Mack Brown were also gone.
To make those moves, the Dallas Morning News calculated that Texas spent almost $13 million: $5 million for Charlie Strong's 2014 salary, $4.375 million to buy out Strong's Louisville contract, $3.25 million to buy out Mack Brown's contract, and $267,000 to a coaching firm to tell them to hire the coach on the top of nearly everyone's list already.
Texas didn't spend $13 million to be the same as last year. If you were a coach that has been brought in to overhaul the program and get them back to competing regularly for national championships, as Texas fans expect to, than you probably don't want to lose to the same team that just helped to get everyone else fired.
Even if BYU players weren't directly calling out Texas as much at their media day, the game is also huge for the Cougars. Bronco Mendenhall's history of slow starts remains a less-positive part of his resume.
Even with the pressure being applied by fans and coaches in Austin, BYU would love to see a breakthrough season as well, and Texas appears like one of the biggest two obstacles standing in its way.
BYU coaches could even play the payback card themselves a bit if they would like to. After settling for field goals instead of touchdowns in 2011, BYU missed out on a chance to take out one of the more beatable Texas teams anyone will ever see the last time the Cougars were in Austin. BYU fans, players and coaches would certainly like to improve on that performance if they can.
But from the sounds of things, it seems Texas coaches are certainly planning on being ready when September 6 rolls around.