The case for Taysom Hill returning to BYU
Updated: October 19, 2015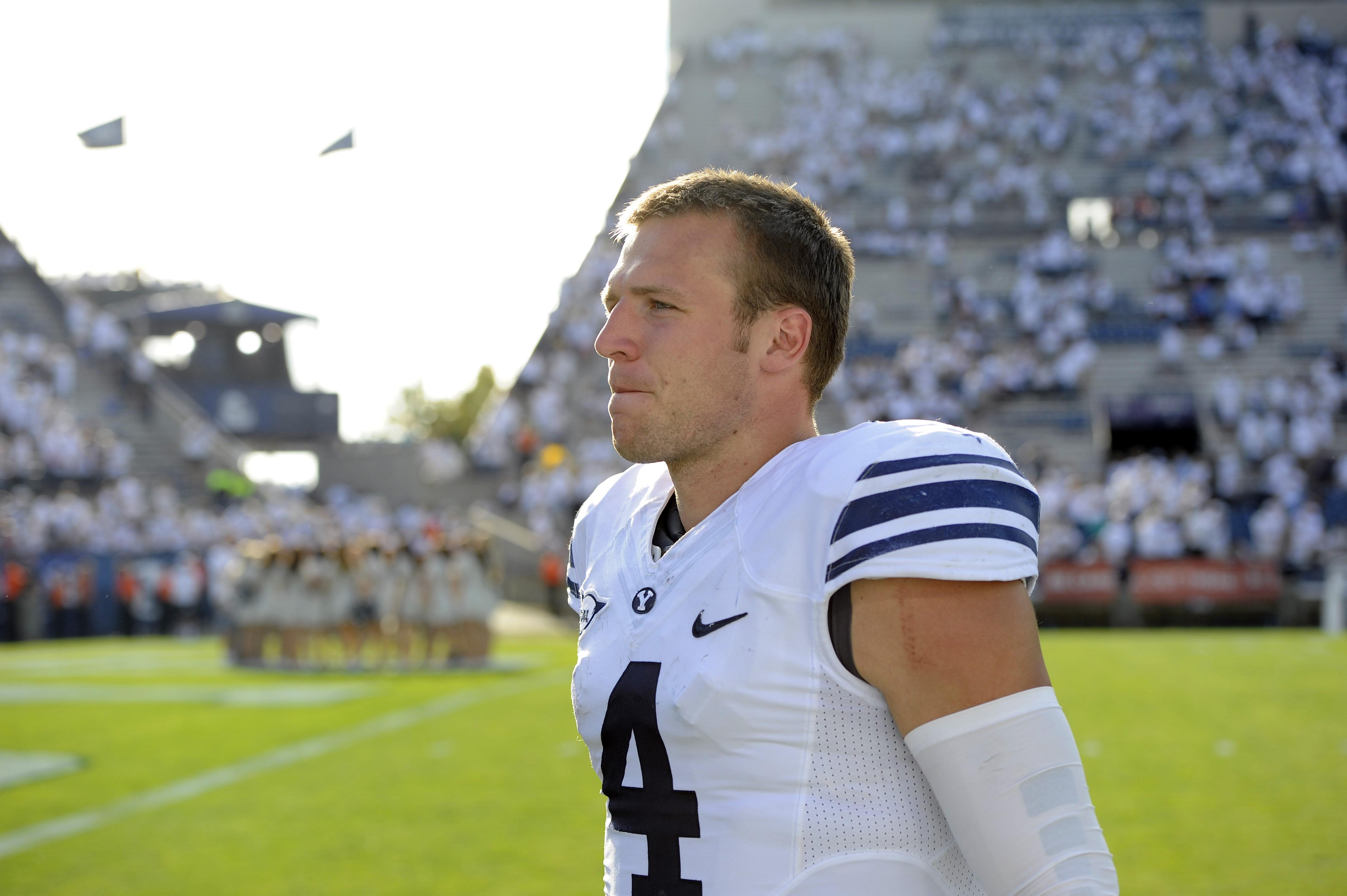 Last month, after BYU quarterback Taysom Hill went down with another season-ending injury in the first game of his senior season, BYU fans almost immediately began debating the best options for Hill and for BYU in 2016. Here are the four basic routes Hill can consider this winter:
Seek a medical redshirt and return to play one more season for BYU as a graduate student.
Enter the NFL draft.
Seek a medical redshirt and play one more season at another school as a graduate transfer.
Retire from football entirely.
None of these options appear to be out of the question for Hill, so here are some thoughts on each option.
Option #4 — Quit Football
If Hill decides he truly wants to walk away from football now then he should. The end.
But I suspect he's not ready for that yet. He hasn't had a string of brain injuries or anything like that and he is still a freakishly good athlete. If he is willing, the young man is certainly still capable of football greatness.
Option #3 — Transfer and play another year
This option is not without appeal if a big name program recruits him hard. But it is not without perils either. First, he'd have to learn an entirely new offensive system. Second, he'd have to form a new set of relationships with a new team in a short time, dealing with the quirks and politics of a new locker room where he is supposed to step in as the leader. Third, there is no guarantee he would win the starting job at his new school.
Basically, moving sucks. Hopefully that fact deters Taysom from transferring. I cringe at the thought of Hill leading some other school to gobs of glorious victories next season.
Option #2 — Enter the NFL draft
This one depends a lot on the feedback Hill gets from NFL folks. If he gets some basic assurances he'll be drafted in the first 4-5 rounds of the draft, this might be the way to go. But absent those assurances, I suspect a full healthy year as a star college QB with his improved passing on display would help his draft stock tremendously, despite his age.
Option #1 — Triumphantly return to BYU
Assuming that Taysom's draft prospects are questionable as expected, I contend that returning to BYU is Hill's best bet and BYU's best option as well.
Here are some of the reasons Hill's returning is easily the best outcome for BYU:
Hill is a senior leader with an unmatched skill set. His dual threat capabilities alone could easily win BYU 2-3 extra games next season.
The 2016 schedule makes the 2015 schedule look relatively easy. 2016 looks stunningly difficult on paper. BYU needs all the freak athletes it can get.
Tanner Mangum need not sit out the year in 2016, even with Hill as the starting QB. With a little creativity the BYU staff could figure out a way to get Mangum meaningful reps even as Taysom reclaims his lost senior season.
Without Hill on the roster, where would BYU be next season if (heaven forbid) Mangum were to go down with a season ending injury? Answer: BYU would be hosed. With Hill and Mangum available, that meat grinder schedule seems much more manageable.
Here are some of the things returning to BYU would give Hill:
Another chance at that Heisman-contending season that fate (and bad luck) stole from him this year.
Another year to lead his band of brothers — probably including Jamaal Williams. As noted above, BYU would be vastly better off with Hill than without.
A chance to beat the Utes!
Returning to an offense he already knows inside and out. Plus next year he'd have a more experienced O-Line, an unusually talented stable of running backs (Williams, Canada, Brown, Bernard, and Burt), and another highly talented receiving corps.
A crack at several of the top college football programs in the country. The 2016 schedule includes Michigan State, Mississippi State, UCLA, West Virginia, Arizona, in addition to close-to-home rivals like Utah, Boise State, and Utah State.
One final chance to wow the NFL scouts with his arm strength, accuracy, and decision-making, while proving the injuries of the past were flukes.
I've seen some BYU fans worrying that Hill returning would hurt team chemistry or would stunt Tanner Mangum's growth. I think those concerns are unfounded. Hill is an incredible leader that BYU players would happily rally around. And Mangum seems to be an unusually mature and humble athlete. Yes, Hill returning and staying healthy would limit Mangum's reps next year, but Hill's return would be vastly better for BYU and Mangum never planned on being a four-year starter to begin with.
BYU wanting Hill to return is a no-brainer. It is basically the equivalent of getting an extra year of Steve Young back in the 80's. I'm just hoping that in the end Taysom Hill will agree that returning to BYU is his best option as well.